The dos and don'ts as civilian life to resume amidst COVID-19
By Sandun Jayawardana
Officials in different service sectors spell out guidelines, adding that all won't be smooth at the beginning as the Western Province and Puttalm District begin to open up tomorrow while a curfew is still in effect
View(s):
As the country gears up  for the resumption of civilian life from tomorrow, questions remain regarding  how a host of measures aimed at restoring normalcy in the country will fare, with  COVID-19 still an ever-present threat.
As this article was being  written on Saturday, Health Minister Pavithra Wanniarachchi was due to issue an  extraordinary gazette notification laying out new regulations and guidelines that  various entities and members of the public are expected to follow once civilian  life resumes.
Government officials this  week cautioned that it will be unrealistic to expect everything to work like clockwork  from May 11 itself. Depending on the success of the new measures however, they  are optimistic that it will be possible to lift more restrictions as the weeks  go by.
Nevertheless, they stress  that the public will have to adapt to the "new normal" when going about their  daily lives in a post-COVID-19 situation. "We can't go back to the life that existed  before COVID-19, at least not yet," an official from the President's Office told  the Sunday Times, pointing out that  civilian life and work will resume next week while a curfew is still in effect  in the Western Province and the Puttalam district.
While most parts of the  country have slowly started to open up under health and social distancing guidelines  with periodic relaxations of curfew over the past two weeks, the Western Province  and the Puttalam district, identified as high risk areas for the spread of the  disease, have remained under an indefinite curfew for almost six weeks. Given  that the Western Province, particularly Colombo district, is the economic hub  that drives the country, the Government has been making plans to gradually open  it up since late April. Accordingly, the goal is to open up the Western Province  for civilian life as well as for state and private sector activities while curfew  is still in effect.
The President's Office  had earlier made plans to resume civilian life from May 4, but these were pushed  back to May 11, with the Government stating the decision was taken on account  of there being four holidays this week due to Vesak. In its media release issued  on April 25, the Presidential Secretariat instructed heads of State organisations  including Departments, Corporations and Boards that they should call in only ⅓  of their workforce, with the others working from home. This was revised in the  release issued on May 1. Accordingly, the heads of each State organisation were  given the responsibility to decide who should come into office and determine their  number.
"While instructions that  only a minimum number of workers needed to run the organisation should be called  in still stands, a decision was made to revise the earlier directive stating only  ⅓ of the workforce should come to work as some State organisations told us it  would be difficult to conduct day-to-day activities with such a small workforce,"  the official from the President's Office explained. For example, he revealed that  the State Pharmaceuticals Corporation had notified that it would need more of  its workforce to be present given that it required personnel to sort out medicines  needed by a large number of people.
Heads of private institutions  can also choose the number of people needed to come to work each day. While carrying  out operations in their workplaces, they, as well as heads of the State sector  organisations must ensure strict adherence to guidelines issued by the Director  General of Health Services and other health authorities to minimise the spread  of COVID-19.
Private sector institutions  have been requested to open for work at 10 a.m. daily.
Health Services Director  General Dr Anil Jasinghe has instructed heads of all institutions to refer to  the "Operational Guidelines on Preparedness and Response for COVID-19 Outbreak  for Work Settings," an interim set of guidance issued by the Health Ministry.  The document sets out guidelines to modify work practices and work environments  to prevent any possible transmission of COVID-19 in workplaces. The guidelines  can be downloaded from the websites of the Health Ministry and Prime Minister's  Office.
Many employees who work  in offices in Colombo reside outside the Colombo district. While travel between  high risk districts continues to be prohibited, Police Spokesman, Superintendent  of Police (SP) Jaliya Senaratne said it will not apply to those travelling to  Colombo for work, though they would need to present proof that they have been  called into work.
"Even during curfew, we  have allowed those from essential services to travel between districts using their  Service ID as a curfew pass. This practice will continue. Employees of supermarkets,  shops and delivery services who already have curfew passes issued to them can  continue using them. Others going to offices for work will need to present some  proof, such as by way of a letter from their company stating that they have been  asked to report to work. We know that many may not have such a letter by May 11.  We will brief them when entering Colombo about this and tell them to get a letter  from their employer as soon as possible," he explained.
Those who are undergoing  a mandatory period of self-quarantine are not permitted to travel to work, and  should inform their employer of this fact if they are asked to report to work.  Likewise, any person currently in an area under lockdown also cannot leave for  work until the lockdown is lifted.
Members of the public who  don't have to report to work must remain in their homes and should only go out  to purchase essential items such as food and medicines. Even so, in Colombo, Gampaha,  Kalutara and Puttalam districts where curfew is in effect, such persons can only  go out to purchase essential items through the pass system based on the last digit  of their National Identity Card (NIC).
Accordingly, those with  the numbers 1 or 2 as the last digit of their NIC are allowed to leave home to  purchase essentials on Monday. People with number 3 or 4 as the last digit of  their NIC can leave home on Tuesday while those with the number 5 or 6 can go  on Wednesday. Persons who have either 7 or 8 as the last digit of their NIC can  leave on Thursday while Friday has been set aside for those having either 9 or  0 as the last digit of their NIC.
SP Senaratne clarified  that this NIC pass system will only apply to areas where curfew is still in effect.  Unless more areas are placed under curfew by Monday, the system will only be in  effect in the three districts of the Western Province and the Puttalam district.
"Even for those leaving  home on the day allocated for them based on the last digit of the NIC, our advice  to them is to visit the shop that is closest to their house and is within walking  distance, and to return immediately after purchasing the items they need," SP  Senaratne said, stressing the pass system should not be abused by people to travel  around unnecessarily, given that the spread of COVID-19 remains a serious danger  in these districts.
Those in districts where  curfew is lifted need not worry about the NIC system when going out for essentials,  he stressed.
Police and security forces  personnel will continue to man roadblocks and check vehicles and people coming  into Colombo. As such, SP Senaratne urged the public travelling to the city by  vehicle to leave home early on May 11 as some delays and traffic congestion is  expected at entry points into the district. "Given that only a limited number  of people will be travelling to work, we expect there will be less number of vehicles  than on a normal working day before COVID-19. Nevertheless, we will need to brief  those travelling to the district regarding what is required of them as many will  likely still be unaware about some details. This will take time, which is why  our advice is for people to leave early."
Naturally, things will  not be perfect from May 11 itself, the police spokesman noted. "It will take a  week or two for the system to settle. Authorities will then be able to reassess  the situation and decide whether to further relax restrictions," he pointed out.
Transport
Efficiency in the public  transport system will be crucial to the success of the Government's measures to  resume civilian life and office work from tomorrow.
Earlier in the week passenger  Transport Management Minister Mahinda Amaraweera told the Sunday Times he had full confidence that both Sri Lanka Railways  (SLR) and the Sri Lanka Transport Board (SLTB) were capable of meeting passenger  needs from next week.
"Both the SLR and SLTB  have put in place mechanisms to enable them to meet the requirements of those  travelling to work. There are still some details to be worked out with health  authorities. We hope all that will be settled by Sunday," he added.
Health and social distancing  guidelines will be strictly enforced at train and bus stations as well as inside  trains and buses, with masks being mandatory for both passengers and staff. Passengers  will also need to maintain a minimum of 1 metre distance from each other at all  times and the number of passengers will be limited to 50% of the seating capacity  of a bus or train compartment.
Under the first stage of  the new rail transportation system, only employees from the Government or Private  sector who hold railway season tickets (Monthly/Quarterly) will be allowed to  travel by train, General Manager of Railways Dilantha Fernando said.
Heads of institutions must  send the list of their employees who will be travelling by train via fax or email  so that the Railway Department can enter their names into a central database.  The details required are the name of the employee, NIC number, contact number,  residential address, dates on which they will travel to work, entrain/detrain  stations, service type, season folder number and the time they are expected.
Details of employees can  be emailed to railwaycomoffice@gmail.com or faxed to 0112432128, 0112431909 or 0112446490.
"Once we get this information,  we calculate passenger demand line-wise and station-wise. We then arrange a train  schedule and make a time table accordingly, Mr Fernando explained.
The train schedule is sent  to institutions that have forwarded details of their employees who are travelling  to work. An authorised officer from each institution can then access the train  reservation web application using a customised username and password. The officer  can then reserve seats for the respective employees of the institution based on  provided information.
Once the reservation is  confirmed, an SMS is sent to the passenger confirming their reservation. The message  contains the train number, time, compartment and seat number. This SMS will serve  as the gate pass to access the railway station. No passenger unable to produce  the SMS sent to them will be allowed into the station.
Once through the gate,  the passenger has to also confirm their presence via SMS, which will be entered  into the database. There will be a pre-reserved seat for all entrained passengers.  They can either find the seat themselves or ask for assistance from railway staff.  Passengers are not allowed to change their seats on the train under any circumstances.
Passengers are advised  to come to stations early as if they miss their scheduled train, they will not  be allowed to travel on any other train. Passengers are also advised to refrain  from carrying extra bags/baggage, while activities such as group chats, playing  cards and gatherings inside trains are strictly prohibited. Railway security staff,  police and security forces personnel will be present at railway stations and will  travel in trains to enforce health and social distancing guidelines.
The SLTB is adapting a  similar strategy for long distance buses. An official at the Passenger Transport  Management Ministry said employees travelling to Colombo to work from outstations  should get in touch with the SLTB depots in their area and confirm the dates on  which they will be travelling to work. The number of buses to be deployed is decided  by the number of persons who will be travelling to work from that area on that  date. "For example, about 25 persons have got in touch with the Elpitiya SLTB  depot and confirmed they will be travelling to Colombo to report to work from  May 11. Accordingly, one SLTB bus is now scheduled to travel from Elpitiya to  Colombo. That bus will stay on in Colombo till those individuals are picked up  after work."
The official said the Transport  Ministry had written to the Director General of Health Services requesting that  both SLTB and private buses be allowed to transport passengers as per the number  of seats in the buses.  "Private bus owners  have informed us they are not prepared to continue operating buses if the health  authorities insist on the 50% passenger limit since they will be running at a  loss. We are yet to hear back from health authorities. If they insist on the 50%  passenger limit, it will likely mean that only SLTB buses will be operational  in most districts. But we still feel we can shoulder the burden since only a limited  number of persons will be travelling to work," the official added.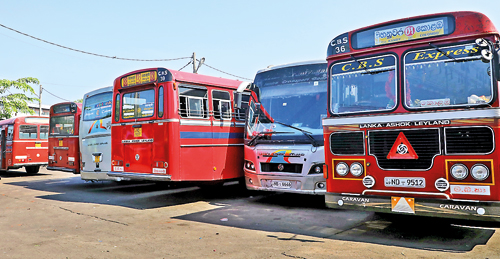 Private Buses
The Lanka Private Bus Owners'  Association (LPBOA) says it is unlikely that many private buses will be available  to commuters to travel to Colombo on May 11.
LPBOA President Gemunu  Wijeratne said a typical 50 seater bus will only be able to carry 25 passengers  if the authorities insist that the number of passengers should be 50% of the seating  capacity. "We understand that this is necessary to minimise spread of the disease,  but we won't be able to keep running buses this way as the losses are too high,"  he argued.
Mr Wijeratne said bus owners  had asked the Government for a diesel subsidy amounting to Rs 50 per litre to  keep buses running until the end of May. "We understand that the Transport Minister  presented a Cabinet paper in this regard, but it was rejected by Cabinet. We only  asked for the subsidy till the end of the month. If they are not prepared to give  even that, I don't see how we can do much."
He added that some buses  will still run, but warned many are unlikely to stick to the guidelines laid down  by authorities. "We have seen this before in districts where curfew is lifted.  They keep to the 50% seating capacity when leaving the main bus stand but as soon  as they are away, they overload passengers. The main concern is long distance  buses travelling between districts. We won't be able to stop them overloading  the buses. I don't know if the authorities have enough personnel to check all  buses," he said.
Mr Wijeratne also accused  authorities of not taking steps to put in place a system to warn bus drivers about  areas that are locked down. "Say some part of Colombo is suddenly placed in lockdown,  where is the system to warn drivers to avoid the area? What happens if at least  one person from such an area evades authorities and gets on a bus? Where is the  safety net to prevent that happening?" he queried.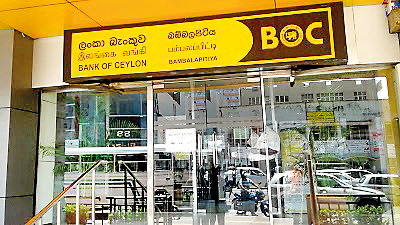 Banks
Both state and private  banks said they were still uncertain regarding plans to open for business from  May 11 in areas where curfew will still be in effect.
While banks are already  operating their branches under normal banking hours in areas where curfew has  been lifted, only select branches have been opened in areas where curfew is in  effect, and banking hours in these branches have so far been limited to two and  a half to two hours (either 8.30 a.m. to 11 a.m. or 9 a.m. to 11a.m.). As of Friday  (8), many banks the Sunday Times contacted  were still uncertain as to how their operations in curfew-affected districts will  change from next week.
The reason for the uncertainty  is that banks were unsure if the situation will again change during the weekend  and if the Government will put out an updated release on how the resumption of  civilian life and office work will begin. As such, customers are advised to check  their bank's website or its official social media accounts such as Facebook pages  for the latest updates. Alternatively, they can also call dedicated customer hotlines  of their respective banks for more details.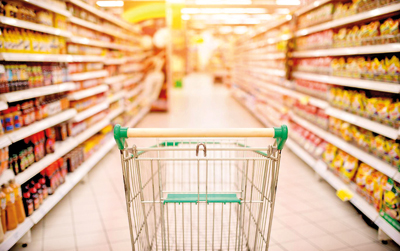 Supermarkets
Supermarkets are also making  plans to open from Monday with health and social distancing guidelines in place.  Opening times though, may vary between different supermarket chains.
The Health Ministry has  issued a set of guidelines for supermarkets to follow when they reopen. These  include providing handwashing facilities for customers to wash their hands before  entering the premises, take only a designated number of persons into the store  in order to maintain 1 meter distance between two persons including at the queue,  making masks mandatory for all customers and staff, maintaining express counters  (less than five items), removing all customer operated devices such as touch screens  at the cashier and suspending all utility bill payments.
Keells Super announced  on Friday that all its branches will remain open from 8 a.m. to 8 p.m. daily until  further notice.
The supermarket chain will  enforce the guidelines issued by the Health Ministry, with only 15 customers being  allowed into the store at any given time. Keells has also announced that maximum  quantity restrictions will apply to various product categories. The supermarket  chain stated that its bakeries will not be self-serviced and customers must seek  assistance from a staff member to obtain bakery products. Customers have also  been asked not to weigh produce/loose items and to obtain staff assistance for  this purpose. Keells will also introduce a special queue for elders (aged above  65 years).
Cargills Food City will  open its branches from Monday adhering to health and social distancing guidelines  issued by the Health Ministry. In areas where curfew is in effect, customers can  visit Cargills Food City branches during the week based on the last digit of their  NICs. Branch opening times in districts under curfew as well as in districts where  curfew has been lifted, will be communicated via social media.
Other supermarket chains  too will be opening their branches from Monday onwards while following guidelines  issued by the Health Ministry. Customers are advised to check the social media  accounts of the supermarket chains regarding opening and closing times.