Police continue to monitor stranded workers returning to their homes
By Jayani Madawala
View(s):
More than 50,000 people stranded in Colombo are being sent to their home districts in batches, with the latest group being dispatched yesterday, ending their six-week-long hardships.
Most of them said they were struggling to find food and proper accommodation while they were running out of cash to buy day-to-day needs.
Factory worker A S P Tilakaratne, 31, said the Katunayake factory where he worked was closed down when the curfew was imposed. The workers were asked to go home but they were not paid. "Fortunately for me, my boarding house owner provided me meals, saying I could pay them when I got my salary," he said before his departure.
L D Karunadasa, 68, who worked in a shop at Mattegoda, Kottawa said he was lucky to find his way back home to Passara after being stranded for 50 days.
A Sanjith, 32, a resident of Nuwara Eliya had come to Colombo to obtain a visa through the Department of Immigration and Emigration. He was able to find refuge at a relative's house.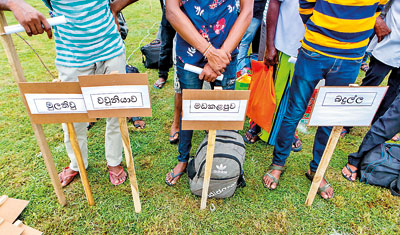 "In the apartment it is difficult to cook our food. So we have to depend on the owner of the house for our meals. I have contacted the police but am still unable to get through to them," he said.
S Thilina, a resident of Kadugannawa said, "I came to Colombo as my wife was expecting our baby in March. We stayed at my wife's parents' house. After she delivered the baby we were hoping to go back but because of the curfew we had to stay another month."
L Gayan, 29, said, "I work at a factory in Katunayake, after the closure of the factory we were not paid as we were on contract basis. Some benefactors helped us with meals, otherwise we would have starved."
Senior Deputy Inspector General Desha Bandu Thennakoon coordinated with police divisions around the country and government authorities to return 3,420 stranded workers.
The Police Media Division stated that people who were registered with them will be sent back according to the list provided by Health officials. Each person is sent home to their village after a medical examination.
In the first phase, 700 people, mainly pregnant mothers, long-term patients and children trapped in the Kelaniya Police Division were sent to their villages.
They were transported by SLTB buses adhering to COVID-19 prevention protocols. After reaching their destinations they were taken first to the area police station. Then they are quarantined for 14 days in their homes, where the respective PHIs would monitor them.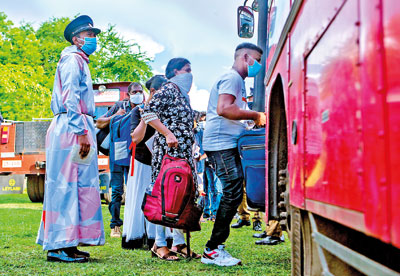 Senior DIG Southern Province Rohan Silva said, "We were informed about the arrivals in advance. A 14-day review period will take place and the quarantine programme will continue.
"The people subjected to quarantine will be monitored by a police officer, Medical Health Officers and Public Health Inspectors."
There will be an official discussion regarding the operation on what would happen after the May 11.
He asserted that, "This is a complicated operation, but it is a complete quarantine programme. People can't neglect the process. People remain cautious and we will be informed through the 119 emergency contact number."
He added, "We are being cautious about the people who will return from other districts once the curfew is lifted.   "