Choon Paan, the "most wanted" man!
View(s):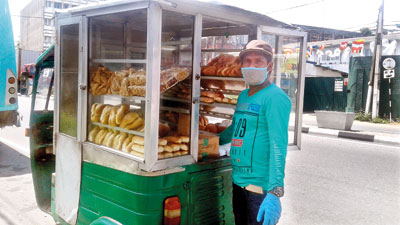 In every nook and cranny of the country, the "most wanted" person is the Choon Paan man, for whose earlier much-maligned music everyone strains their ears to catch these days.
The Sunday Times stopped S. Madialagan (28) in his tracks in Kelaniya for a brief chat as he rushed around distributing those much-longed for dara poranu paan, tea-buns and sugar-sprinkled kimbula-buns.
Madialagan whose home town is far-away Hatton, now lives with his 20-year-old wife and two-year-old son in Pethiyagoda, Kelaniya. For more than a decade, he has been keeping his home fires burning with what he earns by his Choon Paan business.
Like many others in the trade, he buys all his "wares" from a bakery in Kelaniya, his normal round being Wattala, which he has extended since the curfew was imposed as no bread vans made an appearance around Kelaniya.
Not a single day has he taken off, waking up at the crack of dawn, cleaning his trishaw with its glass cases thoroughly, collecting the bakery items and doing his morning round till about 2 p.m. The evening round starts soon after, around 3 p.m., ending late at night, all the while wearing face-masks and gloves and resorting to social distance.
The appreciation of these labours comes when the grateful people say: Ogollo kochchara honda sevayak-da apita karanne (What a great service you are rendering).
This is what makes Madialagan keep doing what he does.