Motorsport calendar may have less events than planned – SLAS
View(s):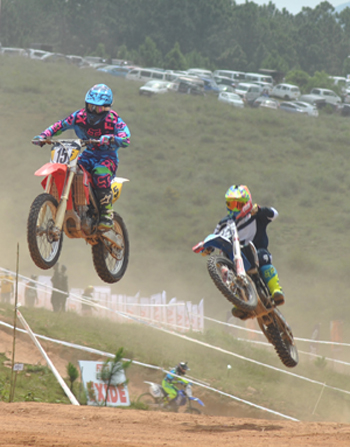 A considerable amount of motorcar and motorbike events lined up for 2020, including some high-profile competitions, would face the axe due to the ongoing COVID-19 pandemic, according to Rizvi Farook, Secretary of the Sri Lanka Automobile Sports (SLAS).
Among the 21 motorsports events lined for 2020 were eight Supercross, five Road Races, four Motorcross, three Hill Climbs and a Rallycross, which could also determine the national championship.
The local motorsport authorities announced earlier that the Mahagastota Hill Climb, Radella Hill Climb and the Fox Hill Supercross would be postponed, soon after the COVID-19 pandemic outbreak.
The three events were part of the annual April Holiday Season activities lined up in Nuwara Eliya and in Diyatalawa. The Mahagastota event was scheduled for April 5, while the Radella event was slotted to take place the following day. The Fox Hill Supercross was scheduled for April 18 and 19, while May 2 and 3 were the dates reserved for the Nuwara Eliya Road Race.
Farook revealed that the organisers of Mahagastota Hill Climb, Ceylon Motor Sports Club (CMSC), has sought a new date to hold the event from SLAS, while the Military Academy of Sri Lanka, the organisers of the Fox Hill Supercross are waiting in anticipation to hold the event as soon as the current situation returns to normal.
However, Farook also revealed that the Sri Lanka Motorcycle Federation, the organisers of the Radella Hill Climb and Nuwara Eliya Road Race, has not requested SLAS for new dates to hold the two events.
"It's most likely that both events would get cancelled this year even if the situation returns to normal during the coming weeks or months," said Farook.
According to the motorsports event calendar the upcoming competitions lined up are the Walawe Supercross scheduled for May 30 and 31 and three more scheduled for June. They are the Sigiriya Rallycross (June 6 and 7), Cavalry Supercross (June 13 and 14) and Katukurunda Circuit Race (June 27 and 28).
Three more events are lined up during July and August under the aegis of SLAS. The Pannala Circuit Meet is scheduled for July 11 and 12 while the Gunners Supercross is slotted for July 25 and 26. On August 8 and 9, the Commando Super Cross is scheduled to be held.
"Considering the present developments, we may have to reschedule the events and amend the existing events calendar, after the situation improves. Motorsports events are costly, but they attract a large spectator and viewership via live telecast. Yet, there could be a certain delay in rearranging the events even if the situation improves," stressed Farook.