APPRECIATIONS
View(s):

Across the globe there will be fond memories of his kind and genuine acts of love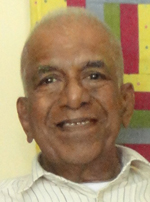 Fr. James Ratnanayagam
Father James, as he was fondly known, responded to his "home call" on Monday, April 20, soon after the Second Sunday after Easter. He must have spent the last weeks of his life with the events of the Resurrected Christ's appearances on his mind:-
to Mary Magdalene on Easter morning
to most disciples in the Upper Room on Easter evening
 a week later to all disciples, when Thomas confessed in faith – "My Lord and my God!"
Fr. James would have reflected on these on his sick bed, and most likely prepared to accept the call to eternity! He was only two months short of reaching a well lived 94 years.
Latika (nee Samarasinghe) his beloved wife and companion in life and ministry, and children – Prasadini & Ricky Deckker (Dubai), Deveshta (Sydney), Jayadeva, Helen & kids Grace and Toby (UK), would have anticipated his possible response, as he took ill only two weeks before.
The day and the context of his departure was such that the family and the Bishop of Colombo decided to do the last rites at the Kanatte crematorium in the afternoon on the same day, with the assistance of the Archdeacon of Colombo. This must have been a difficult and painful experience for the loved ones to bid farewell to their loving and affectionate husband, Dad and grand-dad and father-in-law. To numerous past parishioners, close friends and family, fellow colleagues in ministry, students in schools and Peradeniya University graduates – now spread around the globe – his passing would have evoked a series of reflections of fond memories of his kind and genuine acts of love.
I first came to know Fr. James as the Chaplain at St John's College Jaffna while I was a student at Jaffna College in the 1960s. He was one of the leading guest speakers at different forums- YMCA, SCM, JICCF camps and retreats, Cathedral Vesper Services and in Pentecost festivals at the Christa Seva Ashram, Chunnakam. Also under the auspices of Jaffna Christian Union, Fort Church Conventions attracted outstanding Christian leaders like Bishops Sabapathy Kulendran, and Lakshman Wickremasinghe, Rev Dr D.T. Niles, Rev. A.J. C. Selvaratnam, Fr. James, Messrs. G. N. Edwards, K. G. Arasaratnam, R. E. J. A. Setukavalar, K. Nesiah and K. Pooranampillai, and others from overseas as well. Among the organisers were mainly the College Principals, missionaries including Chaplain Ben Bavinck at Jaffna College, Vaddukoddai.
Fr. James was a handsome, tall and elegant gentleman. His preaching was full of anecdotes, humour and theological insights. He was fluent in English and Tamil. He graduated from Madras Christian College (MCC), and later pursued theological studies in England. His mastery of English was evident and he had a touch of a British accent. His wide reading and passion for Anglican liturgy was evident in his presentations at lectures and worship. He spoke Tamil with words and phrases of his era and was fascinating to listen to.
His theological outlook and churchmanship revolved around Anglo-Catholic liturgy and theologians of his student days and adulthood. He embraced Asian and Latin-American liberation theologies, focusing on justice and peace for all communities. However he stood against the use of violence in freedom struggles. He promoted dialogue and negotiation as means to achieve harmony and peace with justice.
My association with Fr. James became very close when I served the Church in Colombo from 1987 until 1991 residing at the parsonages in Fussels Lane and Frances Road, Wellawatte. He was then at Holy Trinity Church nearby.
As I was the only CSI minister in Colombo, Fr. James became my confidant and guide offering pastoral support to me. It was the war years when travelling between Jaffna and Colombo became impossible and communications were cut off. In these circumstances I found it difficult to communicate with my Bishop in Jaffna, except for occasional letters passed through those who travelled for emergency needs.
In return to his kind services to me in ministry, I offered to occasionally lead Tamil worship of his church, while he blessed the bread and wine. In addition, I was able to take him around for 'Home Communion' on Sundays once a month soon after morning services were over. To my satisfaction, whenever my Bishop happened to come to Colombo, I took him to meet Fr. James. The Bishop cherished these meetings. Fr James too enjoyed them as he was able to get first-hand information on the situation in the North.
In 1995, my family and I migrated to Australia at the invitation of the Anglican Archbishop of Melbourne to minister to the Tamil Christian Congregation of Victoria (TCCV). Fr. James was unhappy that we were leaving the homeland and the home church for 'greener pastures'. However, he prayed with us and blessed us prior to our leaving the shores. We visited him and Latika every time we returned to Sri Lanka. They were delighted to see us and happy to hear about their past parishioners now resident in Melbourne.
It was in February 2019, that we last met them at his residence within the Cathedral premises. Our memories of Fr. James will remain with us until we too receive "our home call."
May the Crucified and Risen Lord grant his loved ones comfort and consolation at this time of grieving! May Fr. James find rest eternal!
 Rev. Prem and Yogi Premarajah
---
Valuable lesson  from a giant among  archaeologists
DR. Roland Silva
The new decade dawned with the saddest news for me and for the entire heritage sector of Sri Lanka that Dr. Roland Silva had passed away in the early hours of January 1. Deshamanya VidyaJyothi Dr. Roland Silva was one of the foremost Asian experts in the conservation of historical monuments and sites and one of Sri Lanka's most prominent archaeologists.
My interest in archaeology and history led me to attend various public lectures soon after I finished my A'Ls in 2013 and that's where I first came to know Dr. Roland Silva at the National Trust. I would go and speak to various people at these lectures and Dr. Roland was one, whom I knew by this time was a significant person. I still remember the surprise when I spoke to him and mentioned my school. His response was 'Ah I was the Head Prefect there in 1951!' Having been a prefect myself, my excitement knew no bounds-so there was a Josephian archaeologist, and one of our Head Prefects at that!
Born in 1933 to a prominent entrepreneurial family in Giriulla, Dr. Roland began school at St. Joseph's College Colombo 10, in 1939 and was the youngest boarder at that time. He was an all-rounder, excelling in studies and sports; he received a double promotion in the second and third standard to the fifth standard. He captained the College Athletics and Volleyball teams and was awarded the Head Prefectship by the Rector Rev. Fr. Peter Pillai.
My admiration only grew as over the years I came to know of his immense contribution to Sri Lanka. Apart from reaching the highest position in the field, the Director-General of the Department of Archaeology, his commitment and vision led to the founding of the Central Cultural Fund, the UNESCO-Sri Lanka Cultural Triangle project, the naming of our first UNESCO World Heritage Sites and the conservation of several Stupas to name a few. His work was not concentrated on Sri Lanka alone; he was regarded as one of the leading Conservators internationally having been the first non-European to hold the office of President of the International Council of Monuments and Sites (ICOMOS) in 1990, which is one of the three advisory bodies to UNESCO World Heritage Convention. He held this post for an unprecedented three consecutive terms till 1999 working tirelessly to set up national committees in African, Asian and Latin American countries to realize his vision of making ICOMOS truly a world body.
He was very pleased when I phoned him and told him of my selection for graduate studies in the Netherlands, where he too had obtained his PhD. When I visited him in his home in August 2019 before I left, although he was very weak, he gave me valuable advice: to always focus on my goals and work with them in sight, that there may be battles lost and won, but continue.
This last phrase is also the title of his commemorative volume, and I had always thought it was just a fancy title, but it was when he said it that I realized it was in fact his philosophy. Following the path of archaeology, I do not know if I can make it, but I will try. Like you said to me Dr Roland, 'battles may be lost and won, but continue!'
 Chryshane Mendis
---
He remained the humble unassuming man he always was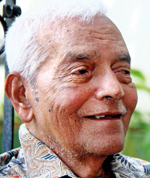 Dr. Chris Uragoda
With the lockdown, it was a chance mail from a friend that informed me of the demise of Dr. Chris Uragoda on the 28th of March. Living as we do, in a society full of humbug and artifice, to find then, a gem of his calibre living amongst us, was in itself reassuring. To me, his unassuming nature, scholarship on his protean interests, his nature to help and give freely, placed him on an inspiring pedestal, few if any, could hope to emulate.
He was the Chest Physician Kandy, when I first met him, as a surgical registrar in training. I came to know him both at work and more personally on many trips to Wilpattu, accompanying Dr. L.D.C. Austin, the well-known Surgeon, Dr. J.B. Peiris, Dr. H.L. Eaton and others. I remember well, how on one occasion the vehicle we were travelling in broke down close to nightfall, with the possibility of us having to spend the night in the thick jungle. His quiet confident personality held sway.
His contribution to the medical fabric of our time is without exaggeration, immense–not only his enormous experience in pulmonology, the landmark papers that followed, but also the lead he gave this specialty. To us in the surgical fraternity, his and Kamalika Peiris's contribution with the publication of Scientific Bibliographies in Medicine in Sri Lanka have helped research no end. The fact that these saw light of day in the non-computer age, would speak volumes as to their intent and application. He was the Editor of the Ceylon Medical Journal for many years.
He researched the History of Medicine in this country, from times of yore and published the book in time for the centenary celebrations of the Sri Lanka Medical Association (SLMA) in 1986-7. As a volume it is both comprehensive and reliable and a monumental task.
His work with the Royal Asiatic Society of which he was President from 1987- 1991, was substantial, and he was awarded the Hilda Obeysekera Medal. Despite the many national and international honours showered on him, he remained the humble man he always was.
On a more personal note, he was a tower of strength, during a health related episode concerning my family. As years passed by, geography did not permit me the opportunity to meet him as frequently as I liked, but I kept abreast of his 'life' from my many sojourns to the SLMA library of which he was a stalwart.
He lived as he liked, a life of contribution to all he saw and believed in. What more could a man ask?
 Dr. Channa Ratnatunga
---
He was mentor, guide and friend
Dharma Gunasinghe
"The capacity to care is the thing that gives life its deepest meaning and significance" -Pablo Cassels
This – Mr. Gunasinghe epitomized,
He CARED
He cared for the school he was devoted to,
The outcome was one of light.
He cared for the little boys
Whose mischief he tolerated,
Whose talents he developed,
Whose intelligence he recognized ,
And whose humanity he fostered.
He cared for the staff who worked for him,
He was a no-nonsense chief.
He was mentor, guide and friend.
He cared, when there was a need.
He cared for his boys – now men,
His sons; though none of them his own,
He had a thousand sons
What more would a father need?
Today, they carried him shoulder high
To the school he served so well,
He lay at rest in the school hall,
On a bier festooned with flowers
Each bloom a testimony to the boys
Their offering to a man
Who for the first time they see
Asleep in school!
(Dharma Gunasinghe was a former Principal of Nalanda College, Colombo 10)
Usula P. Wijesuriya
---