Panic sets in as stranded migrant workers see others flown home
By Nadia Fazlulhaq
Govt warned to prepare for unrest as virus kills off foreign jobs
View(s):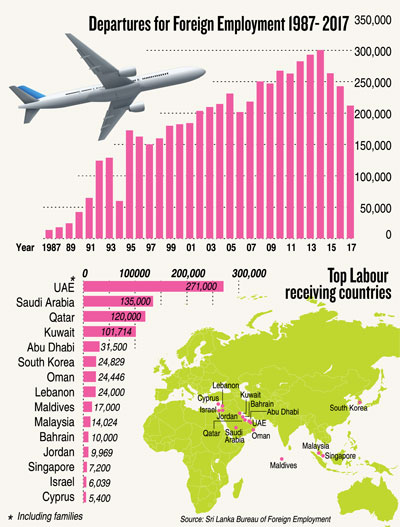 Special flights bringing home Sri Lankan students from neighbouring countries have triggered restlessness and panic among thousands of migrant workers in the Middle East, some jobless or without legal documents, in fear of the pandemic and desperately wanting to come back, but authorities want them to stay put until the situation is brought under control here.
"Once the airport (in Sri Lanka) is in operation, and all facilities to quarantine large crowds have been finalised, travel documents will be arranged on the instructions of the government," the Sri Lankan Embassy in Kuwait said, reaching out to migrant workers via social media.
The Sri Lankan Embassy in Riyadh, Saudi Arabia said: "Please be informed that the present policy of the government is that Sri Lankan airports are not receiving any person until further notice. Therefore, you need to be patient and wait until the government makes a policy decision on receiving Sri Lankan living and working abroad."
Travelling puts people at high risk of catching the coronavirus, Sri Lanka Bureau of Foreign Employment (SLBFE) Chairman Kamal Ratwatte emphasised. He said the workers should understand this and keep working until the pandemic was brought under control.
"We urge family members of migrant workers not to pressure them to return to the country and encourage them to stay indoors in the respective countries," Mr. Ratwatte said.
There are 1.5 million Sri Lankan migrant workers, mostly based in the Middle East, according to the SLBFE. Dubai, in the United Arab Emirates, has the greatest number – 271,000 workers and their families, with another 31,500 in the neighbouring Emirates nation of Abu Dhabi.
Riyadh and Jeddah in Saudi Arabia have about 135,000 Sri Lankan migrant workers, Qatar has 120,000, Kuwait has 101,714.
South Korea, Lebanon and Oman each have about 24,000 Sri Lankans in their workforce. Sri Lankans also form part of the labour force in the Maldives (17,000), Malaysia (14,024), Bahrain (10,000), Jordan (9,969), Singapore (7,200) and Israel (6,039) and Cyprus (5,400).
This week, about 600 people gathered outside the Sri Lankan Embassy in Kuwait after the Kuwaiti government offered migrants lacking valid documents an amnesty, accommodation until departure and flights to home countries if they submitted a letter from respective embassies.
The crowds gathered despite a lockdown amid complaints the embassy was not responding to their requests. Some came daily, arriving at 4am to stand in hope outside the embassy.
The embassy's stance was that travel documents would be processed only after Sri Lanka decided to reopen its airports. It added that discussions were being held to extend the amnesty, which had a closure date of April 25.
The Sunday Times learns that most of those struggling to return lack a valid visa or passport, have lost their daily wage earnings and have no place to stay, especially during this lockdown period.
"Kuwait has around 18,000 without legal status, Korea has around 3,000, Saudi Arabia has around 55,000 and similarly in other countries have workers on irregular status. But those working with resident permits and valid documents, and have lost employment or have been laid off due to this pandemic situation should ideally remain in those countries," Mr. Ratwatte said.
"The bureau has issued instructions to the 16 missions to educate agents and employers in receiving countries to look after the workers fairly during this pandemic," he added.
Remittances from migrant workers are dropping and will hit the economy hard. The World Bank predicts remittances will fall 19 per cent this year from the $US6.7 billion that flowed into the country in 2019.
In mid-March, The Bureau of Foreign Employment SLBFE suspended registration of workers for foreign employment. Until then, Sri Lankans were departing these shores for jobs abroad at the rate of 600 a day.
The Association of Licensed Foreign Employment Agencies (ALFEA) lamented that the government should recognise the contribution by migrant workers to the economy by including bodies involved in foreign employment trade in the Presidential Task Force on Economic Revival and Poverty Reduction.
From employment agencies to travel agents, medical centres, documentation attestation offices and the like, about 100,000 people are heavily dependent on the overseas employment market, ALFEA Assistant Secretary P.S. Selvaratnam pointed out.
"Overseas countries and companies will try to minimise manpower and will send many Sri Lankan migrant workers back home," Mr. Selvaratnam forecast.
"The current 4.32 per cent unemployment rate will increase rapidly once they return to the country.
"The future will be a struggle as there will be less demand from employing countries and more supply of migrant workers, not only from Sri Lanka, but from countries like Pakistan, India, Nepal, Bangladesh, Vietnam and The Philippines. There will be competition and agents will be vital stakeholders in providing quality manpower," he said.
The government should throw a financial lifeline to agencies in the foreign employment trade to help them operate over the next six t0 12 months, Mr. Selvaratnam urged, pointing out that most of them relied on monthly cashflow and had seen zero revenue since the epidemic.
Mr. Selvaratnam said it was best for migrant workers with legal status to remain overseas and look for jobs in those countries but he also said this was the ideal time for embassies to record undocumented migrant workers as most of them would be willing to report in because they would be able to use the amnesty to obtain relief and return home.
A warning came from former SLBFE chairman and lecturer in Sociology, Jagath Wellawatte, who said undocumented migrant workers carried a substantial risk of spreading COVID-19.
He said tracking them was impossible: some lived in cramped dormitories and some in labour camps where there was no social distancing, with numbers of them suffering from underlying health conditions.
"Job losses will take place both in the Gulf countries as well as in home countries. We will have to expect a huge number of Sri Lankan migrant workers coming into the country and the government should be prepared to manage a large number of returnees as lack of job opportunities here will trigger major social issues," Mr. Wellawatte said.
The Ministry of Foreign Affairs recently launched a web portal called Contact Sri Lanka, requesting all overseas Sri Lankans (whether permanent residents or overseas for studies or employment) to register voluntarily. According to the Ministry almost 60,000 have registered, 21,575 from the Middle East region.