Singles winner Gamini Dissanayake creates major upset
TENNIS
View(s):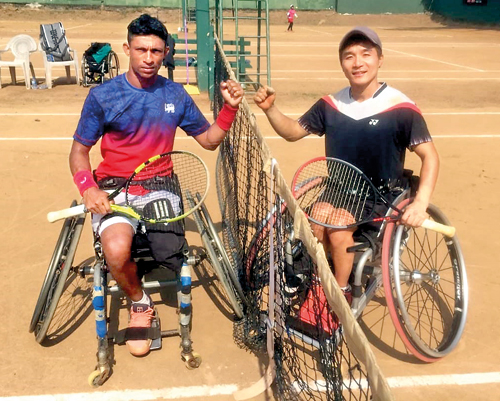 Sri Lanka's Gamini Dissanayake created a major upset to become the Singles champion after a stunning performance during the on-going tournament and Ha-Gel Lee/Sang-Ho Oh of Korea, clinched the Doubles Championship of the 13th Sri Lanka Open UNIQLO Wheelchair Tennis Tour worked off at the Sinhalese Sports Club Tennis Courts, Colombo.
Sixth seeded Dissanayake, beat Sung-Bong Han (7) by straight two sets to win as 6-3 and 6-4 to win the title with ease. On his way to final, Dissanayake outplayed Sri Lanka's R. Ranaweera (8) also by straight two sets as 7-6 and 7-5.
Sung-Bong Han, the seventh ranked player from South Korea, who became runner-up, routed Abu Borhan, who was seeded second, 2-1. Malaysian Borhan went down fighting as he were beaten by a closely contested tie.
There were only eight seeded players for the Singles Tournament, including three Sri Lankans among them out of 18 players from four countries — hosts Sri Lanka, India, Malaysia and Korea.
In the Double's final, Sri Lankan pair R. Dharmasena and S. Ranawera, who were ranked second, were beaten by top seeded Ha-Gel Lee and Sang-Ho Oh. The South Korean pair recorded a straight win, 6-2 and 6-3.