Showjumper Mathilda continues prep for Olympics unfazed by FEI ruling
By Allaam Ousman
Horse racing
View(s):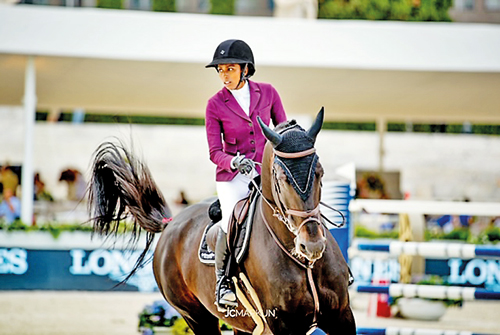 Sri Lankan-born Swedish showjumper Mathilda Karlsson will not accept the FEI ruling to cancel her Olympic qualification ranking points retrospectively which has derailed her chances of participating in the Tokyo Games in July.
The world equestrian body has ruled that contrary to the FEI Rules, two competitions counting for the Olympic and Longines Rankings were added at each event after the respective Definite Entries deadlines, including the CSI Villeneuve-Loubet event in France where Mathilda competed in December.
"It's so disappointing and unfair, because I definitely didn't do anything wrong and I didn't break any rules. FEI approved the schedule from the shows I went to in December by mistake. But in the official schedule, and the only schedule available for the riders to read, everything was correct and approved by the FEI. I will definitely not accept this," Mathilda told the Sunday Times.
"Not just because of myself and my Olympic dreams but I will also not accept this because of my country, a small but proud new country to the equestrian world," said the 36-year-old who switched her nationality to the land of her birth and created history by becoming the first Sri Lankan to qualify for the Olympics in equestrian.
"I will try to not let it affect me too much but of course it's now a lot of extra work that take away focus and concentration," said Mathilda who will appeal the decision at the Court of Arbitration for Sports in Lausanne, Switzerland.
However, she will continue her preparations for the Games unfazed by these developments.
"My preparation for the Olympics is going really well. I started my horses up two weeks now in Spain and my horses are flying to Florida USA next week to start the preparation together with my new trainer Meredith Michaels Beerbaum. I will stay in Florida for four weeks and make a plan for further shows and preparation," she revealed being "super excited" to come under the wing of the three-time World Cup Final winner and medalist at the Olympics, WEG (World Equestrian Games) and European Championships.
"I'm super excited to start training with her, to take part of all her knowledge and experience, but it's also a little bit scary. Starting with a new trainer with new ideas and new system will at first feel uncomfortable and frightening. But I'm confident that the system will suit me and my horses very good and that I will be in very good hands," said Mathilda.