Rowing ends
rowing
View(s):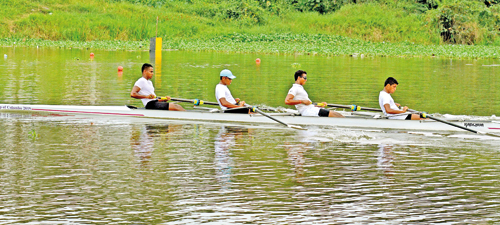 The 35th National Rowing Championships ended at the Diyawanna Rowing Centre (DRC) yesterday.
The four-day event speared off on Wednesday with heats and qualifying rounds races. The semi-finals and finals were held Friday and Saturday.
Twenty-one teams took part at this year's national  championships including 13 schools, three universities, Tri-Forces and two rowing clubs.
Sri Lanka's official body for the sport, the Amateur Rowing Association of Sri Lanka (ARASL) organized the regatta in accordance with international standards.
Under-18, Intermediate and Open competed in the senior category and races were conducted on a two-kilo-metre course. The rowers Under-16 confronted on a 1,000m course and Under-14 school rowers competed on a 500m-course.
S. Thomas' College A crew Arittha Raddalagoda (S), Niran Warawita (3), Ashika Ratnaweera (2) Avinash Rajaguru (B) won the Under-18 Coxless Four at the Diyawanna Rowing Centre
- Pic by M.D. Nissanka