Champion archer Anuradha on pins as surgery beckons
By Allaam Ousman
Two-time SAG silver medallist considers reverting to her pet Recurve event
View(s):
Champion Police archer Anuradha Karunaratne has not given up on her Olympic dream even as she contemplates going under the knife again to repair a damaged tendon in her right shoulder, just over a year after making a successful comeback from a similar surgery in October 2016.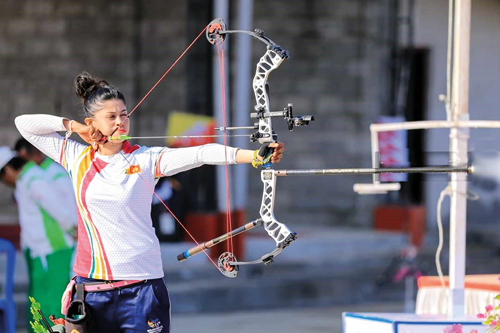 Silver medallist in the Recurve event at the South Asian Games (SAG) held in India in 2016 and in the Compound event at the 13th SAG in Nepal in December where she also bagged the team silver, the national record holder in both these events is feeling pain in the same place where she underwent surgery requiring the insertion of three metal pins.
"I want to take part in a trial meet next month but I have some issues in my drawing arm. I will continue treating it with physiotherapy and am awaiting medical advice whether to undergo surgery. My doctor says the damaged tendon can be repaired with surgery. It seems the only option because the pins are affecting the tendon. I felt pain in the tendon after the pins were inserted following surgery last time. It has still not stopped. If I strain myself to shoot, the pain gets worse," said Anuradha who is also considering reverting back to her pet Recurve event from Compound which according to her requires the strength of carrying a 50kg weight.
However, she is eternally grateful to her physios and doctors at the National Hospital for getting her career back on track after two years of rehabilitation. "When I first got pain in the right shoulder, I continued to take part in competitions for three months by injecting pain-killers. But it only compounded the injury which required surgery," said Anuradha who hopes to soldier on despite carrying scars in her determined battle to stay fit.
"Archery is a sport which requires vision and strength. I have perfect vision. I will not retire until I achieve my dream of competing in the Olympics," said the 39-year-old who came close twice being ranked 16th in Olympic qualification events in 2012 (USA) and 2015 (Thailand) with only the top eight being selected.
Woman Police Sergeant 3300 Anuradha Wijesinghe Karunaratne rose to prominence when she emerged as the Best Shooter in the Inter-Division Championship representing SLPR in the Pistol Repeater and T56 events in 2003. A past pupil of Mallika MV, Hiniduma, Anuradha was an all-round sportswoman having gained school colours in athletics taking part in the Javelin Throw, long jump and Discus in addition to playing netball for Galle Youth. It was in archery that she was destined to achieve greatness, having been naturally drawn to the sport from a young age. "When we were kids we used to watch the Robin Hood serials on television and I used to act as Marion when I played with my brothers in the tea estates," recalled Anuradha relating her affinity to the bow and arrow used by the legendary heroes of Sherwood Forest in Nottingham, England.
She began seriously practicing archery in 2010 and struck gold in the 30m Recurve event at the National Archery Championship the following year and got selected to the national pool. National champion for four years continuously, she set national records in the 70 metre Olympic round and 70m distance in 2012. A regular at international events, she was ranked 17th at the Indoor Archery World Cup in Thailand in 2014.
Returning from a career-threatening injury in January last year, she regained her national title and stamped her class by winning the Wayamba Open Archery Championship in Compound events after being gifted a bow by Korean coach Lee. She brought glory to Police Archery Club by helping them win the 70m Recurve Mixed Team and 50m Compound Mixed Team gold medals. In the process, Anuradha set two new national records for 50m compound round women (score 664) and for 50m distance compound round (score 335).
Anuradha's dedication to the sport is unquestionable but whether her body can survive the battle scars like a wounded soldier and return to hit the bulls-eye, only time will tell. The modern day Marion who has failed to rise up the ranks despite her amazing feats as an archer, has only one focus – shooting in the Olympics.