Racer for Oscar Best film, now in town
'1917'
View(s):
Close runner against 'Parasite', the first foreign-language film to win the coveted Best Picture at the Oscars, Sam Mendes' ''1917', the World War-I drama is now being screened at theatres in Colombo and suburbs.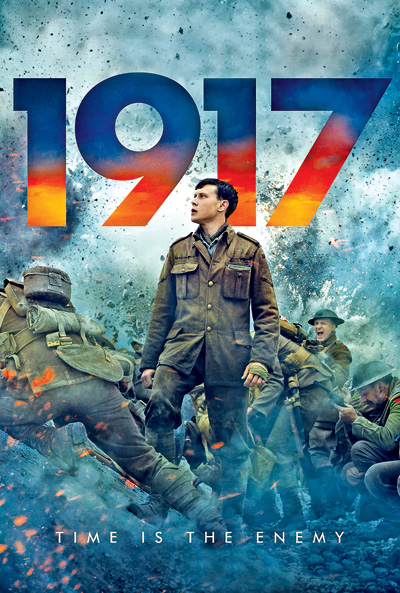 The winner of Best Visual Effects, Cinematography and Sound mixing at last Sunday's awards night, this British epic war film directed, co-written, and produced by Sam Mendes stars George MacKay and Dean-Charles Chapman, with Mark Strong, Andrew Scott, Richard Madden, Claire Duburcq, Colin Firth, and Benedict Cumberbatch in supporting roles.
During the First World War in April 1917, the German army has pulled back from a sector of the Western Front in the north of France. General Erinmore briefs two young British soldiers, Lance Corporals Tom Blake and Will Schofield. Aerial reconnaissance has spotted that the Germans are not in retreat but have made a tactical withdrawal to their new Hindenburg Line, where they are waiting to overwhelm the British with artillery. With field telephone lines cut, Blake and Schofield are ordered to hand-deliver a message to the Second Battalion of the Devonshire Regiment, calling off their planned attack, which might cost the lives of 1,600 men including Blake's brother Lieutenant Joseph Blake.
Schofield and Blake cross no man's land and reach the abandoned German trenches. These turn out to contain tripwires, which a rat triggers. The ensuing explosion almost kills Schofield, but Blake digs him out. They arrive at an abandoned farmhouse, where they witness a dogfight between three aircraft. The German plane is shot down and plunges into the farm in flames. Schofield and Blake attempt to save the burned pilot. Schofield proposes to mercy kill him, but Blake has Schofield fetch water for the pilot. The pilot stabs Blake and is shot dead by Schofield, who comforts Blake as he dies, promising to complete the mission.
Schofield is picked up by a passing British unit. A destroyed bridge near the bombed-out village of Écoust-Saint-Mein prevents lorries from crossing, so Schofield crosses alone on the remnants of the bridge. This draws an attack by a German sniper across the river. Schofield tracks down and kills the sniper, only to be knocked out by a ricocheting bullet.
The film is now being shown at Liberty By Scope, Colombo City Center, Majestic Cinema, Empire Cinema and PVR – Cinema.