Illegal sand miners wreak havoc while govt ponders new permit
By Nadia Fazlulhaq
Faulty strategy leaves sand prices still as high as ever
View(s):
Illegal sand mining has been rampant since the government's move to cancel transportation permits, with miners gouging deadly pits out of riverbanks and destroying health-giving old trees in pursuit of profits.
Moreover, the government's intended motive of bringing down the price of sand has proved to be a failure as prices remain the same while tip-trucks and lorries full of illegally-mined sand run freely on the country's roads.
The mining authority says it is necessary for the armed forces to step in as the police are being intimidated by mining gangs and their political backers.
This week, Environment Minister, S.M. Chandrasena, failed to provide a solution when this issue was raised in parliament by former environment minister, Ajith Mannapperuma.
When asked repeatedly whether there was a need for a permit to transport sand and gravel, Minister Chandrasena said, "No, but I have instructed officials to accelerate the process of introducing a permit to transport".
Mr. Mannapperuma pointed out that under the Mineral and Mines Act of 1992, it was essential to have a transport permit in order to transport sand.
"One cannot allow transportation of sand within the country without a permit, even while the process of introducing a new one continues," Mr. Mannapperuma told his successor.
"This is a clear violation of the Act. If an Act passed in parliament needs to be amended, it is necessary to obtain approval from parliament.
"A transport permit will let authorities know where the sand mining is taking place and its legality, and they will even be able to detect illegal sand mining. Law and order officers have powers to check the permit. Allowing to transport freely with zero supervision has caused great damage to the environment during the past two months," Mr. Mannapperuma pointed out.
"At present the police cannot arrest anyone for transporting sand, even if it is illegal, as there is no transport permit [that they have to obtain]. There is massive dumping of sand on paddy fields and wetlands as well. Today, sand can be carried to any part of the country freely," he said.
The former minister said allowing free transport of less than two "cubes" (cubic feet) of sand was acceptable but large loads should not be allowed to be transported freely without a permit.
Minister Chandrasena said the government wanted to reduce the price of sand as there were reports of middlemen earning big profits from sand. In addition, he said, lower prices of construction materials would boost the construction industry.
"Three cubes of sand from Yan Oya is about Rs. 18,000 in Anuradhapura but when it reaches Colombo the price goes up to about Rs. 60,000. A sand permit is about Rs. 1,800, so it is clear who earns profits in an unfair way," he said.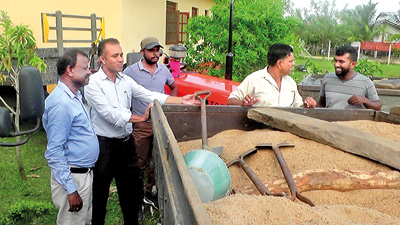 Mr. Mannapperuma said despite the suspension of the transport permit system, the price of sand remained the same in cities and suburbs.
"In Gampaha, a sand cube that was Rs. 15,000 several months ago is still the same amount: there is no reduction," he said.
The Sunday Times learned from suppliers of sand that prices remain between Rs. 15,000-18,000 per cube in many areas, with most river sand coming from Kantale, Batticoloa, Yan Oya, Manampitiya and Mahiyanganaya.
Minister Chandrasena said government officials are preparing a new permit system but that he could not divulge more details due to a pending court case.
"It was not a solo decision but a decision made by Cabinet," he said.
Speeding tipper lorries carrying sand are causing fatal accidents. This week, a farmer from Kiran in Valachchenai, Muttuvel Yoganathan, lost his life while riding his bicycle to a paddy field when a speeding tipper hit him. Angry villagers came out in protest against these speeding vehicles loaded with sand.
Valachchenai is one area where illegal sand mining is widespread. This week saw the arrests of 20 people engaged in illegal sand mining and transportation along the sides of Maduru Oya near Kudumbimallai (known as Thoppigala or Baron's Cap).
The arrests and confiscation of six tractors were carried out by regional forest officers and Kiran Pradeshiya Sabha members with support from the Special Task Force.
The eastern and northern provinces are being hit hard by illegal sand mining, and Ponnudurai Ayngaranesan, former Northern Province minister of agriculture and leader of the Tamil National Green Movement called on the government to re-introduce the transport permit system and take tough action against mining gangs.
"It is unfortunate that backhoes and tippers are brought onto even private lands where the owners are overseas or out of Jaffna," he said.
"Sand mining is widespread at night and it is time authorities stepped in and take strict measures against those who mine and transport illegally."
Mr. Ayngaranesan said illegal sand mining was taking place in Ariyalai and the Nagar Kovil area.
Along the banks of Mahaweli river, the same is happening despite protests by villagers. Villagers from Wariyapola complain that illegal sand mining has long been taking place at night along the banks of Deduru Oya. They complain the situation worsened after the permit system was suspended.
Villagers complain their wells are drying up because of illegal mining.
They say some house owners in the Deduru Oya area are profiting by the illegal trade by allowing tippers to go through their property for a fee of about Rs. 2,000 a day.
Villagers mourn the losing of kumbuk trees, known for purification of water and health properties, that have stood beside the banks for more than 70 years.
The Chairman of the Wariyapola Pradeshiya Sabha, Bandara Dissanayake, said the suspension of the transport permits has encouraged sand smugglers to cause more damage to the environment, and police should take action against them, supported if necessary by the Special Task Force, despite political involvement in illegal mining.
There are massive pits caused by sand being gouged out with mining machinery in land in the Wellegala, Pansalhenawatte area in Wariyapola, Kurunegala. Some of the carved-out pits are more than 30 feet deep and 200 feet in diameter. Villagers say authorities have not acted even though the massive puddles formed in these pits caused by illegal sand mining pose a risk to daily life. Children as well adults can fall victims to the deadly craters.
Dr. A. Dharmagunawardena, Professor in Geology at the University of Peradeniya said sand deposits in major river banks play a significant ecological role placed in jeopardy by excessive mining.
"When sand is removed, the river base level goes down and this contributes to the drying up of wells in surrounding areas. It can also cause the collapse of riverbanks. It can lower river levels as well as cause instability of soils," Professor Dharmagunawardena said.
Soil deposits act as "recharge bodies of rivers and streams" and, especially when there are no rains, these soil deposits help to release water.
"Sand mining should be done in a very controlled manner. Soil deposits also act as groundwater storage reservoirs and people are able to use this water for a long time. Reducing these deposits can severely affect groundwater," he said adding that the price of sand would be unlikely to drop as there was a growing demand for the valuable construction material.
Prof. Dharmagunawardena said illegal sand mining is bound to take place if mining is not controlled and no alternatives are available.
"If the country is planning to boost the construction industry it should consider alternatives such as de-salinating sea sand and using crushed rock," he said.
The Chairman of the Geological Survey and Mines Bureau, Sajana de Silva, said he needed the assistance of the armed forces, especially the Special Task Force, which plays a major role in curbing illegal activities.
"The police and our officers come under pressure from political and underworld figures. This is why the assistance from the forces is essential," he said.
Mr. de Silva said the previous permit system had been corrupted: gangs illegally used one permit a number of times and some even resorted to printing fake permits.
"The new permit system will come as an app that has been developed with the assistance of Sri Lanka Telecom," he said. The plan had been sent to Cabinet.
"The app, once installed, will have the details of the permit holder and the amount of sand allowed to be transported, and will be connected to a central system. Both members of the public and police will be able to send in the number of the lorry and receive details via SMS. A pilot project will start next week," he said.
Additional reporting by Batticaloa correspondent Thev Athiran and Kurunegala correspondent Janoor Kitchilan
Brutal attack on OIC: Sand mining racketeers ordered to pay Rs. 12.5m in damages

Twenty accused who were found guilty of the attempted murder of the former Officer in Charge (OIC) of the Rasanayakapura Police, Inspector Pradeep Karunadheera were ordered to pay the victim Rs. 12.5 million in damages by the Nikaweratiya Magistrate's Court.

Magistrate Sasika Lakmali Dassanayaka found the accused guilty of brutally assaulting the OIC when he conducted a raid on an illegal sand mining operation in Deduru Oya, Nikaweratiya in March 2006. The victim lost an eye and 11 teeth in the attack.

All 20 were found guilty of the same charges in a case filed in the Kurunegala High Court earlier.

The victim had filed the case at the Nikaweratiya Magistrate's Court seeking damages from the accused.

Attorney-at-Law Chaminda Basnayake, who appeared for the former OIC, told court how the accused obstructed police when they went to arrest the illegal sand miners, and attacked them with digging tools and sticks.

He explained how the attack left the victim in a coma for eight days. He had to undergo four surgeries and had to remain in hospital for six months, the attorney added.

It was further noted that the complainant lost sight of his right eye as a result of the attack and also suffered many fractures to his face.

Taking the horrific injuries sustained by the victim to account, Mr Basnayake asked court to award damages to the complainant.