Traffic deaths cut by 322 but police say roads a problem
By Shaadya Ismail
View(s):
There were 5,000 fewer road accidents and hundreds fewer deaths on the roads last year, and police say community policing, revision of traffic fines and deployment of more police have caused the welcome change.
A leading transport expert warned, however, against jumping to conclusions. If the statistics showed a continuing trend, favourable conclusions could be drawn, Senior Professor Amal Kumarage of the Department of Transport and Logistics at the University of Moratuwa said.
"Let's hope it's a beginning of a downward trend," he said.
DIG (Traffic) Muditha Pussella pointed out that one of the main reasons for the cause of accidents is the state of the roads, a factor over which police had no control.
"We import an overwhelming number of vehicles but our infrastructure facilities in certain areas are not on par this issue needs immediate attention by relevant authorities," he said, also calling for more public awareness programmes on road safety.
"Road engineering, enforcement mechanisms and education must be well coordinated. Our country is gradually catching up on this aspect," he said.
He said police are hoping to introduce Scene of Crime Officers for traffic offences. Currently such officers are deployed only for bigger crimes.
"By deploying Scene of Crime Officers accidents will be thoroughly investigated and they can produce the right evidence to court," DIG Pussella said.
Last year, there were 30,738 road accidents resulting in 2,829 fatalities, a welcome drop of 322 deaths from the previous year. Police statistics break the toll down as those causing fatal accidents (2,641), serious injuries (7,693) and minor injuries (10,691).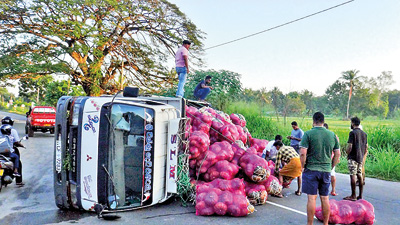 In contrast, all those sectors had higher figures in 2018: there were 35,845 accidents in total causing 3,151 deaths. There were 2,994 fatal accidents, 8,795 accidents causing serious injury and 12,138 accidents causing minor injury.
The 2030 Agenda for Sustainable Development Goals set a target of halving the number of deaths and injuries from road traffic accidents by 2020.
In 2016 – the latest year for which figures are available – the averaged road traffic death rate was 14.2 per 100,000 people, the Department of Census and Statistics reported.
In 2013, the rate was an estimated 17.4, the Ministry of Sustainable Development, Wildlife and Regional Development says in a separate report, citing road safety as a major concern. The 2013 figure placed Sri Lanka in 99th position out of 179 countries on road death rates.
Former police traffic and roads administration deputy inspector-general Camillus Abeygunewardena said it was timely, in this new decade, for the state to treat road safety as a policy.
"The government must take the lead and bring about a holistic approach in the sector of law enforcement," he said.