Three-wheelers face challenges in transport evolution
View(s):

Despite opposition from unions, the Transport Ministry aims to reduce imports of three wheelers.

Transport Minister Mahinda Amaraweera, told the Sunday Times, that there is a proposal to replace three-wheelers with small cars due to the many restrictions faced by three-wheelers from the development of road infrastructure.

"We will first introduce a uniform for all three-wheeler drivers and make it mandatory. Then we will look at fare meters and pricing," he said.

Unionists are said to have handed a report to the minister. It will be presented to the Cabinet next week.

According to the Department of Motor Traffic (DMT) 18,836 new three-wheeler were registered in 2018, while in 2019, numbers dropped to 14,378.

The department also revealed that 1,175,077 motor tricycles have been registered as of 16 January 2020.

"The talk of banning three-wheelers has been around for many years and I believe that none of it is true," the president of the All-island Three-Wheel Drivers Union, Lalith Dharmasekara, said.

He said that a ban will create a social issue. "If the rumours are true, the politicians are only trying to suppress the small man," he said.

Mr. Dharmasekara said available regulations must be implemented.

According to him, there are also views on social media about banning three-wheelers from the Colombo district.

"Most people use three-wheelers to travel from point A to B. When this vehicle is banned what is the alternative?" he asked.

The head of the All-island Three Wheel Drivers' and Owners' Association, Sudil Jayaruk, believes that three-wheelers can not be banned as they are the most used passenger transport mode after buses and trains.

But, he said, the government could drive out three-wheelers.

He claims that more highways, reduced leasing facilities, and urbanisation are ways in which the governments over the years have been gradually posing a challenge to the existence of three-wheelers.

"If these continue, the three wheel profession is going to end in no time, hence we requested the government to set up a regulator, which could recognise the profession and protect it," he said. Mr. Jayaruk suggested relief measures for three-wheeler drivers to purchase small cars.

However, the head of the Lanka Self-Employed Professionals' National Three-Wheeler Federation, Mr Sunil Jayawardana, holds a different view.

He supports the decision to ban, or reduce, further imports.

"Because this profession is not regulated there are a lot of three-wheeler drivers who don't adhere to normal ethical standards like safety and politeness," he pointed out.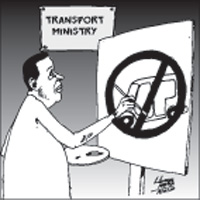 Mr. Jayawardana also said imported vehicles should be suitable for the roads in the country.
"This profession has been around for the past 40 years and has still not been regularised. It is not even recognised as a profession and I have no hope that this situation is going to change," he said.