Thousands of farmers risk rat fever by ignoring health advice
By Chrishanthi Christopher
View(s):
Lack of knowledge and the stubborn belief that a healthy person cannot contract leptospirosis (rat fever) has contributed to infections and even deaths among farmers.
The Health Ministry said that people bitten by rodents and have not sought early medical help end up being hospitalised.
Figures for 2019 from the Epidemiology Unit of the Ministry of Health show that despite programmes to educate people, 4,205 have been admitted to hospital.
The ministry in its leptospirosis management guidelines in 2016 said that between 3,000 and 5,000 cases are reported each year with a fatality rate of 1%-2%.
Last week, 10 deaths were reported with 245 people infected in the Kurunegala district.
Dr. Sudath Samaraweera, director of the epidemiology unit, said that although farmers have been informed of precautions to be taken in the fields, they do not follow guidelines.
He said they have been warned against stepping into the fields when they have wounds and lacerations on their skins.
The disease mostly infects farmers between the ages of 30 and 49 years.
People who work in coconut plantations, rice fields, sugar cane fields, animal farms, and fish markets, as well as sewer workers and scavengers are exposed to infection.
Rat fever can be transmitted to humans indirectly through mucosal surfaces, or damaged skin from infected urine or contaminated environments such as moist soil in agricultural lands, lakes, streams, and rivers.
Clinical symptoms range from mild flu to severe life-threatening manifestations such as pulmonary haemorrhage, acute kidney injury, myocarditis, and multi organ dysfunction. It has an incubation period of 2 to 30 days.
The disease mimics dengue fever, malaria and viral sepsis, and diagnosis could be delayed.
The Ministry of Health emphasises surveillance to control the disease from spreading.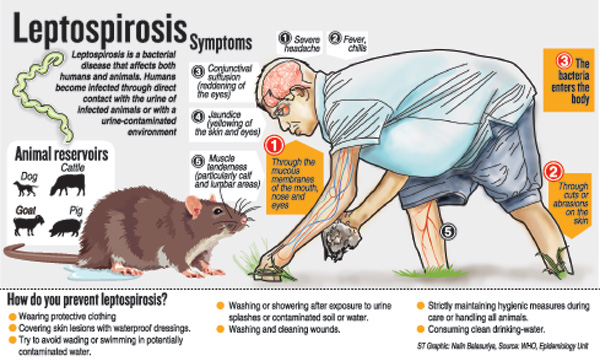 The epidemiology unit generates essential information, determines incidents, distribution, and implications, to work out health strategies.
Suspected cases reported to a medical doctor, or hospital, are notified to the MOH and the epidemiology unit and the regional epidemiologist. The range public health inspector and the field investigation are also informed and sent out to investigate.
Farmers and those who work in the mud and slug are requested to be on antibiotics as a precaution. The dose has to be taken on a weekly basis during ploughing and harvesting times.
Also, during heavy rainfall and floods people are advised to cover themselves to avoid flood waters.
In 2019, 4,204 people were infected, with 909 reported from Ratnapura, 538 from Kalutara, 405 from Galle, and 424 from Matara.
Dr. Samaraweera said precautions would help avoid infections. "If they heed the advise many deaths can be avoided,'' he said.