Baku tragedy: High degree of urgency to regulate foreign study offers
By Sandun Jayawardana and Jayani Madawala
Minister Gunawardena to hold meeting with stakeholders, as agents of foreign universities operate freely to send students to Azerbaijan and other countries
View(s):
In the aftermath of the tragic deaths of three Sri Lankan students in Azerbaijan last week, the Government has decided to take immediate measures to introduce a regulatory mechanism for agencies involved in placing students in foreign universities.
Higher Education Minister Bandula Gunawardena told the Sunday Times a meeting would be held next week at the Ministry with all stakeholders, including education consultancies involved in foreign university placements, the Sri Lanka Foreign Employment Bureau and job agencies.
He said that at present, there was an alarming lack of clarity regarding the standards of foreign universities that offer study courses for Sri Lankan students. "We have strict standards when it comes to medical graduates who attend foreign universities. The criteria are clear cut. However, such a mechanism is distinctly lacking in other fields of study. We need to change that."
The minister claimed that, according to latest statistics, about 20,000 students go abroad for higher studies every year, while about 30,000 students get absorbed into the State university system every year. "The vast majority of the 20,000 students who go abroad are from fairly well-to-do families. It is disappointing that our education system has not evolved over the years to entice such students to stay and study here. We are losing billions in revenue as a result," he lamented.
The Government's move to introduce a regulatory mechanism for foreign university placements follows the deaths of three female Sri Lankan students in Azerbaijan's capital Baku on January 9. The girls, two of whom were sisters, died due to suffocation from smoke inhalation as a result of a fire at their apartment in Baku.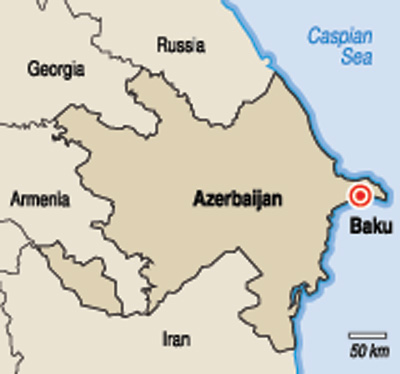 The remains of the three students, Malsha Sandeepani (23), Tharuki Amaya (21) of Bokundara Piliyandala and Amodya Maduhansi Jayakody (25) of Pahala Bomiriya, Kaduwela, were brought to the country at state expense on Wednesday.
Funerals of sisters Malsha and Tharuki were held on Friday, while Amodya was laid to rest yesterday.
The girls had gone to Azerbaijan through an education consultancy in Kollupitiya. The Sunday Times contacted the agency concerned for comment. A person who answered the phone said the management would revert with a response, but none came.
Azerbaijan in particular seems to have become a popular destination for students for higher studies. A search on the internet and on social media such as Facebook can lead to more than half a dozen accounts of education consultancies advertising higher education and business opportunities in Azerbaijan.
The Sunday Times contacted several of these education consultancies that were involved in facilitating students' studies abroad, including some who deal exclusively with Azerbaijan. They all claimed student interest in studying in the country was high for a variety of reasons.
Most consultancies are touting higher studies in Azerbaijan as a low cost alternative to universities in countries such as Australia, Canada and the United States. The other main draw card is the claim that students can transfer their degree programmes midway to universities in European countries such as France, Italy, Germany, Latvia and Lithuania. Some consultancies also claim that graduates have the possibility of obtaining a Schengen Visa, allowing them to travel freely to many countries in the European Union.
They also note that other stringent requirements associated with Western universities such as the need to show a bank balance and taking an IELTS test are also not required. One consultancy even guarantees a visa within three days. The minimum qualification to apply for studies is GCE Ordinary Level, according to these consultancies.
Skimming through the comments on the Facebook pages of these consultancies, we find that most prospective students are keen to know whether they can later transfer to universities in Europe or obtain work visas in Europe after graduation.
While entry to universities in the country is advertised as being fairly easy, what happens once students get there is another story. Following the tragedy involving the three Lankan students, images broadcast by Azerbaijan seemed to indicate that the apartments they were living was in a dilapidated state.
To compound matters, Sri Lanka does not even have a diplomatic presence in Azerbaijan. The Sri Lankan mission in Tehran had to coordinate with the Azerbaijan Embassy in New Delhi to repatriate the bodies of the three students.
Even after the tragedy, several consultancies said they were still sending students to study in the country. An education and visa consultant company we spoke to claimed that it is still sending students to Azerbaijan upon their request and that it also provides accommodation facilities for students.
Another agency, which claimed to also have an office in Baku, Azerbaijan, told us that it arranged hostel facilities to students "in the city centre with good living conditions". According to this agency, the three students who died were "living in a slum area" and the old apartments in this area were in really poor condition. The Sunday Times cannot verify this claim.
In answer to questions posed via email by the Sunday Times, the Western Caspian University stated that sisters Malsha Sandeepani and Tharuki Amaya were following the university's English Language foundation course. The third was a graduate. She had left Azerbaijan earlier and then returned to work in the country on a business visa.
The university noted that as a rule, foreign citizens apply for these courses either directly, or through various agents and agencies which assist them in obtaining visa.
"In this case, the citizens of the Republic of Sri Lanka had applied through an agency from Sri Lanka to attend English language courses at Western Caspian University. They were informed in their home country about the terms of the courses. They agreed, were accepted as students, and then were enrolled on August 11, 2019. Upon arrival in the Republic of Azerbaijan, they found a rented apartment and were living there," the university's said in its email respone.
It added that it was deeply saddened by the tragedy and offered its deepest condolences to the families of the victims.
It also said that at present, the university had two Sri Lankan students were following undergraduate courses while 66 others were following short-term language courses.
"When it comes to employment after graduation, graduates of bachelor and master degree programmes are eligible to work in the country via a business visa. For this purpose, the hiring company first contacts the Migration Service to accept them as employees and then they can obtain a business visa," the university said.
Asked whether the university allowed students to move to certain European universities, it said, "Western Caspian University closely cooperates with universities in different countries of the world. This collaboration also includes student exchange programs as well as Erasmus+ and Mevlana Programmes. We also offer dual degree programmes which allow students to continue their education at leading European universities. Generally, at Western Caspian University, as in many other universities in Azerbaijan, education is based on the Bologna system and the university's credit system is accepted by most European universities."
There is, however, no guarantee that all the courses that are touted by education consultancies here are easily transferable to European universities. Nevertheless, student interest still seems rather high.
Higher Education Minister Gunawardena said he would not blame students for wanting to study abroad, as he believed issues such as ragging in local universities, uncertainty on how long the degree might take and the long gap between the release of GCE Advanced Level results and admittance to state universities were some of the reasons that forced students and their parents to prefer foreign universities.
He said the country "needed a complete change in attitude" towards higher education, including opportunities for non-state universities. "Even all the state universities currently offer fee levying courses, even up to degree level, during weekends. I agree that we should not encourage these so-called 'degree shops' that operate sorely on a profit basis. However, there are other non-state entities that offer higher education opportunities for students and put all their profits back into education. We need to encourage such non-profit entities. Only then can we really reduce the number of bright young students going abroad for higher education," he said.