Heading for a beach holiday?
By Meleeza Rathnayake
View(s):
A beach boutique and gift store offering Sri Lankan apparel and accessories, Thambili Island Boutique that opened in Colombo 7  last month has local brands from Culture by Ari for menswear, Destiny by Minoli, Ceyloha Swimwear, Cane Couture bags, Island Lush sandals and slides to Skincare by Tathya, accessories by Salvage, coasters by Xylo and stationery and other memorabilia by Sustainably Yours and 'Source and Supply.'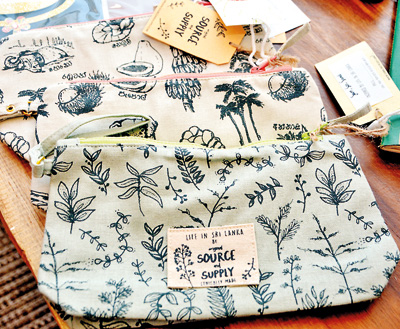 "Ethical fashion and community empowerment have always been close to my heart and was a key factor when I started my label, Thambili Island. Staying true to these values, we work closely with a talented group of local artisans to bring all our pieces to life. I've always wanted to open my own boutique but I knew I wanted to create a space, not just for my label but for other local, ethical brands as well. We're proud to say that we have a selection of some incredible local brands here to start off," said Dishnira Saparamadu who with Shehan Ariyarathne is a co-founder of the store.
They are also the founders and lead designers for the brands Thambili Island and Culture by Ari respectively. Thambili Island launched in March 2018 was at first an online store and has been retailing at the Design Collective, Deep End and Tribe.
"We wanted to create a one stop beach/gift boutique to showcase these unique local brands," added Dishnira.
The Thambili Island Boutique is at No. 50, Ward Place, Colombo 07.
IG Handle – http://@thambili.boutique
Contact No:- 011 756  8750