Creating art that's eco friendly
By Paramie Jayakody
View(s):
Being environmentally friendly is now more critical than ever, and we see a lot of worthy initiatives and organizations supporting this cause. Our attention  was drawn recently to the work of Junk Studio.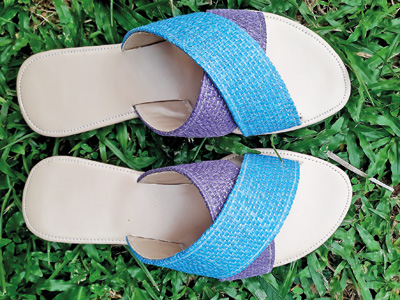 The brainchild of Shakila Perera, a graduate from the University of Moratuwa,  Shakila worked in a few companies, but failed to find true fulfillment she tells the Mirror. "I always wanted to do something meaningful, something I could feel, something that everyone can feel." Shakila shared.
In her opinion, design is all about finding a solution for problems that we face in our day-to-day life. She remembered a project while in university, where they had to make a few products out of waste materials for one of their projects, which her father later displayed at a sustainable exhibition organized by Jetwing Eternal Earth Programme at Loyola College, Negombo. Much to their surprise, it placed first.
"I realized that they not only liked my product because it was beautiful, but also because of its innovative solution towards the waste problem that we are facing globally. I think that's when it hit me that I should do something with waste materials." That was the beginning of Junk Studio she says.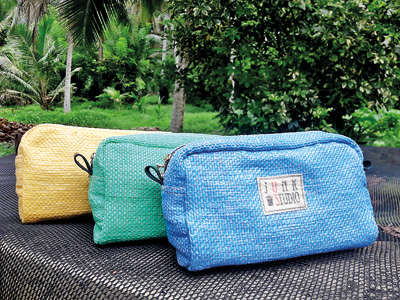 The challenging first step was to collect plastic bags from relations, neighbours and friends houses, Shakila explained to us. Then the bags had to be washed and cleaned, then sun dried and cut into strips which were then  used as the weft yarn in the weaving process.
The fabric is woven by hand with a rigid heddle loom by herself. Afterwards, she hands the fabric over to those who stitch pouches and sandals. What makes Junk Studio really stand out is the fact that all the women employed under it, work from home while managing their other responsibilities.
Colombo Design Market was the perfect platform to launch their business, Shakila explained.
They were able to build up an amazing relationship with the community. "Everyone loved our products. They were surprised to see what we can do with our waste except dumping it back into  the environment."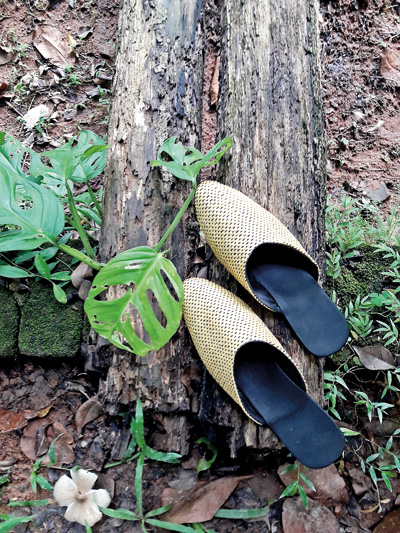 Even though Junk Studio is still taking its baby steps, Shakila feels that they have learned a lot within a short period of time and that they now have a clearer idea of how the road ahead should be.
She's looking forward to a lot more developments/improvements to the material. Her goal is to keep on improving Junk Studio until it is perfect.  They also plan to organise some cleaning events, like beach cleaning programmes, to spread awareness of the impact of waste materials on the environment.
Apart from that, they also plan to make more pieces out of other waste materials as well in the future. The new year  is going to be a challenging year for  Junk Studio.
For Shakila, Junk Studio enabled her to start believing in herself she says. She accredits it for letting her learn to step outside of her comfort zone and accomplish many things. "I think that's the best part of my life with Junk Studio. I can be true to myself. I thank no one else, but almighty God for showing me the correct path to start the journey with Junk Studio."
Involving other women in her journey, and providing many women with much needed jobs is something the Junk Studio team is very proud of. Shakila and the team agree that working on these projects have made them more environmentally conscious individuals as a whole. "You have to be cooperative with each other when you live in this world. Trees or animals don't put their waste inside our houses. Then why should we?" she says.
Story pix and ST Magazine cover courtesy Junk Studio