A vivid tale from the depths of the sea
By Tera Jayewardene
Shenuka Corea's graphic novel 'Manthiram' brings to light a story woven around the pearl fisheries industry of yore in Mannar
View(s):
Transporting you both underwater and to Mannar of centuries past, 'Manthiram', Shenuka Corea's graphic novel tells the story of the pearl fishers, divers and the shark charmers who protected the divers in the Mannar pearl banks. 'Manthiram' is a Tamil word meaning spell or enchantment.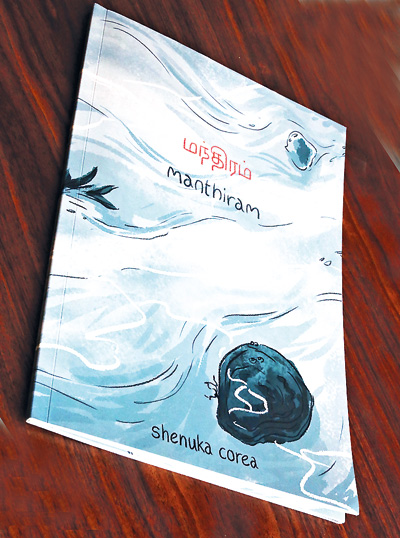 Shenuka also known on Instagram as baka.moona, created the book as part of her final thesis project for her Bachelor's in Art and Art History at New York University, Abu Dhabi.
Having just graduated, Shenuka, 24, is working as a freelance illustrator and animator in Colombo. A past student of Ladies' College, Colombo, Shenuka loves creating characters and coming up with worlds to put them in. Over the last couple of years she has been a familiar figure at the Artists' Alley at Lanka Comic Con, where she has sold her art work, including drawings from different fandoms, an original comic called 11:58 and much more.
The book takes you on a journey without words into the lives of those involved in the pearl fisheries. The scenes speak for themselves, and draw the reader into a world that no longer exists.
The book done in tracing paper, begins dramatically with a descent to the deep, simulating how a dive would be, with elements slowly coming to view with the turning of each page. Flipping through the pages, you go deeper and deeper into the water, until you get to the bottom. A diver's hand reaches out searching for the oysters.
One of the best scenes in the book is one of the villagers opening up oysters in the hunt for pearls, tossing them aside one by one when they yield nothing. You see and sense the desperation and disappointment as the pile diminishes. Another panel shows a red ribbon representing the shark charmer's spell, as it swishes through the air, and across the page, the red contrasting with the blue and grey tones highlighting its supernatural nature.
Shenuka says she picked on the pearl fisheries as a visit to the Doric in Arippu, Mannar with her family more than 10 years ago had made a deep impression (the Doric, today in ruin was the residence of British Governor Sir Frederick North). "I found it an exciting and interesting place. While we were driving there, my mother read to us about the pearl fisheries – she has a lot of books on history and wherever we go she brings her books along and reads about the place we're visiting. I remembered the distinct description of the pearl fishers because I had not heard anything like that before," Shenuka recalls. The interest she had in the pearl fisheries never left her, and when searching for a topic for her capstone project, she remembered the words her mother read to her.
"The beach is still covered in oyster shells," Shenuka says excitedly, talking of her more recent visit to Arippu this January. "It's been many years since it was last fished, but the legacy is still there. I got a lot from actually being there and was able to channel what I felt into the illustrations. I feel like I learned as much spending two days in Silavathurai as I did in the three weeks in the British Library." Her three weeks in England were spent poring over information in the British Library, yet it was actually going to Mannar and walking the same beach where the pearl fishers trod that made the illustrations light up, enabling her to draw with clarity and conviction.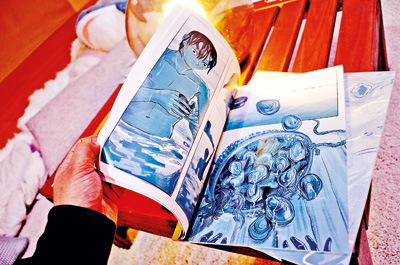 After she did all her research, Shenuka says she picked up imagery that she liked, writing them on little 'post its', and finding images that matched. She researched further and then figured out the flow of the story, based on which she wrote a 10 page script – where she wrote out every image and how images flow out into each other. "I thumb-nailed all the pages out with like tiny, tiny drawings, not particularly detailed on paper. And based on that I drew out each page as a script version."
After getting feedback from various people, she then did the line out, plain black outline, making further changes as she went along. "Then I coloured everything but in black and white, greyscale version. Drawing and colouring was in Photoshop, the non thumbnail was also on Photoshop. Colour was applied on as a layer," she explains the process.
As part of her final thesis, Shenuka also held an exhibition at NYU, Abu Dhabi, where she was able to showcase her efforts, creating an immersive experience for visitors. "I wanted to create a full experience, where you can feel what the place was like, and where you have a sense of almost being in the ocean." Blue lights and traditional chants added to the experience.
Currently looking for a publisher for her graphic novel, Shenuka hopes she can bring the story of these forgotten people in this island's history to a wider audience.