A festive hike
By Ruqayyaha Deane
View(s):
People tend to usually do the standard Christmas dinners with a roast turkey and all it's trimmings but for some spending their Christmas with strangers and friends on top of a mountain is their ideal way to spend the holidays.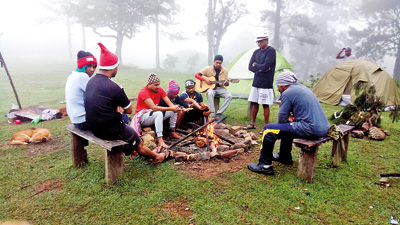 There are many groups on Facebook that organise hikes around Sri Lanka and BushWalkers is one of these groups that organised an 'Early X-Mas Camping' trip to Wawathanna that is situated in the Kandy district bordering the VRR Wild Sanctuary.
Bushwalkers is a hiking group that is run by Asmil Fuard who has been exploring Sri Lanka for the last ten years. The Bushwalkers group have hikes organised for at least once a month. Asmil insists that making sure you don't harm the nature when you camp is very vital.
Alongside his co-organiser Vimuthi Fernando the duo pulled off a hike on December 14 to December 15.
The trip began early Saturday morning at 3.30 a.m. Hoping to get an early start to their day, the bus had picked the group of 15 people and reached Kandy by 7.30 a.m.
Having reached the town, they stopped for some breakfast of roti and pol sambol as well as collected food supplies. Making a quick pit-stop they also went sightseeing and visited the infamous Victoria dam.
Another 45 minute drive, just passing the Medamahanuwara town, they made it to the base of Wawathanna which was where they were going to set up camp. As the bus could only be taken up to a certain point and the group was energised after a hearty meal, they hiked up the mountain top which approximately took them 45 minutes to an hour to make it to the top.
"The view was spectacular when we reached the top. We had a nice view of the Victoria reservoir and in the evening we could see the lights from the Kandy town. The area spanned 150 acres and there was a small lake and an old ruined building that we explored," tells Inthiqhab Majid who was part of the hiking group.
As the location is a predetermined camping site which is owned by the Sri Lanka Plantation Corporation, there were benches set up around a campfire as well making it easier for the hikers.
After having lunch, they rested and took a dip in the lake which was freezing cold we are told. There was a slight shiver in the air towards sundown but the group managed to stay warm as they played a game of cricket with some villagers who had also come to enjoy the view and sunset that day. They welcomed the evening with a hot cup of Strawberry flavoured tea.
For dinner, a makeshift barbecue machine was brought out and they all enjoyed a dinner of barbecue chicken, toasted bread, an egg based onion sambol and sausages. It was then when the guitars came out as they all sat around the campfire singing carols, sharing stories and bonding over the mutual interests.
By 10 p.m. there was barely any visibility after a thick fog settled around the area and soon everyone headed off into their tents to sleep off the tiring day. Around 2 a.m., it started raining quite heavily but although the wind howled and roared some managed to sleep through it.
"Since most of us are part of the travelling community, we somewhat know each other. We meet them because their interests are similar and the like minded individuals who want to have the same adventures. It is a different kind of socialising unlike Colombo," Inthiqhab further explains on how camping is like being part of another big family.
Once they had breakfast , they began clearing up the space and making sure they did not leave any litter around.
Azmil gave a short speech about why hikes and travelling was important as well as doing it sustainably and responsibly before they left.
He shared one of his favourite quotes with the group ending the hike with these words, "When something good happens, travel to celebrate. If something bad happens, travel to forget it. If nothing happens, travel to make something happen."
To learn more follow the group on  https://www.facebook.com/pg/BushWalkersSriLanka