Start your U.S. Degree with a 100% Scholarship after A/Ls at ANC
View(s):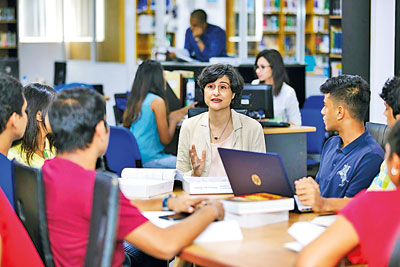 Starting your Higher Education after A/Levels is the right choice for your future, as it is all about preparing yourself for a rewarding career. ANC Education offers world-class learning opportunities in line with US system of education for local students to continue their higher education. ANC makes the transition from A/Level to University life a smooth and successful one. There are several opportunities and advantages available for students joining after A/Levels;
Receive a 100% Scholarship on tuition fees when students get 3 'A's for their A Levels.
Students with 3 "A's are eligible to join the U.S Business Degree Completion Programme and U.S Psychology Degree Completion Programme with a 100% Scholarship on the entire tuition fees. This is the only U.S degree completion programme offered in Sri Lanka in partnership with Northwood University and Northern Arizona University that can be completed entirely in the country without having to travel to US.
Receive Merit Scholarships for Good A/L results
Students who get Good A/Level results such as 'B" grade or combinations of A's, B's and C's are eligible for the ANC Scholarship programme. Extra-curricular activities and sports achievements in school will also be taken into consideration when awarding Merit Scholarships.
Up to One-Year Exemptions with A/levels
Students who have gained satisfactory A/L grades will be eligible to claim subject exemptions based on the degree programme they choose. Students can receive up to two semesters of subject exemptions which means they can complete the U.S. degree programme in 3 years instead of 4 years. This saves time and a lot of money for the student.
U.S Universities accept GCSEs and O/Levels for Admission
If your A Level results are not up to the mark or you didn't get the grades you were expecting, there is no need to worry as U.S. degree programs accept admission with O/Level results with a minimum of 5 'C' passes. O/Level is equivalent to a High School Diploma in the U.S. Therefore, students can join ANC with their O/L results even if they didn't fair too well at A Levels.
The convenience of completing an American degree in Business or Psychology right here in Sri Lanka is a great opportunity for local students who wish to study in the comfort of their home. ANC degree programmes are quality assured by its partner universities and students receive their academic transcripts, identical to those issued in the US, only from the partner universities.
U.S. Business Degree Completion Programme
Northwood University, a specialised business school (ranked a "Best Value Business School" by Payscale) from the USA offers its Bachelor of Business Administration degree at ANC. The programme offers distinctive concentrations:
BBA Business Analytics
BBA Cyber Security
BBA Marketing
BBA Management
BBA International Business
BBA Hospitality Management
BBA Management Information systems (MIS)
BBA Finance
BBA Entrepreneurship
Northwood Education at ANC
Industry-specific curriculums accredited by the Accreditation Council for Business Schools and Programs (ACBSP).
Fully recognised by University Grants Commission (UGC), Sri Lanka
Emphasizes experiential learning and innovation
Qualifications well recognised in the USA, Canada, the UK, Australia, New Zealand, Europe & Middle East for employment and higher education
Students save up to 70% of the cost of reading for the same degree in America
Guaranteed Paid Student Internship Program: Strong academics combined with final year internship opportunities in the 50 best performing organizations in Sri Lanka
Global approach to learning and teaching
Exposure to the same standard of education as practiced in America
Dual and Triple major options available
Academic transcripts only from the Northwood University
Alumni scholarships to follow the top-rated Master's programs offered by University of West London at ANC
U.S. Psychology Degree Completion Programme
ANC offers the Bachelor's in Psychology in joint partnership with Northern Arizona University
(NAU) which has accreditations by the American Psychology Association and the Higher Learning Commission of America. NAU is ranked in the 2019 edition of Best Colleges in the National Universities Tier 2.
A degree in psychology teaches everything about the mind, whereas a human development degree combines psychology with sociology, biology, and linguistics to give learners a more holistic view of the mind and body, which in turn prepares them for a rewarding career in a number of areas, including Management, Counselling, Social Services, Government Service, Education, Child Care, Public Health, and Research as well as Graduate school.
ANC Psychology students also gain the real-world experience through supervised internships. Upon successful completion of their studies, majority of ANC students opt for Master's in Clinical Psychology, awarded by the University of West London (UWL). They have the unique opportunity to complete both Bachelor's and Master's in Psychology within four years at ANC.
It is the dream of every high school graduate (and their parents) to go to University. ANC collaborates with world-class universities from America to offer an unmatched educational experience to local students, while breaking down the traditional boundaries existing between higher education and labour market: 99% of ANC graduates are in employment or grad school within 6 months of graduation.
Spring 2020 Enrolments are Open for January 2020 intake and Students are welcome to visit ANC to speak with a counsellor and get the right degree programme pathway in line with your interests, skills and job market.
For more information, contact us on 0777449955, visit us at No.308 – 310, R. A. De Mel Mawatha, Colombo 03, www.ancedu.com or follow us on Facebook: https://www.facebook.com/ancedu/ and "ANC_Education" on Instagram.