St. Patrick's students visit India on exchange programme
View(s):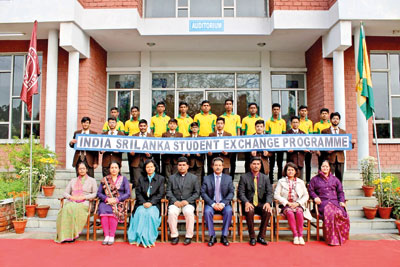 Ten students from St. Patrick's College, Jaffna visited India recently under a student exchange programme funded by the India-Sri Lanka Foundation.
This was an extension of the Youth Exchange Programme facilitated by the Indian High Commission.
During their visit, the Sri Lankan students interacted with students and teachers of Apeejay School. The Indian students shared with the visitors best practices in areas such as yoga, public speaking, and science & technology.
The visiting students also participated in practical sessions in physics, chemistry and computer sciences and got an opportunity to learn about STEM Robotics, 2D-3D Printing and Artificial Intelligence. They learned of historical places by visiting UNESCO World Heritage sites in Delhi.
Students visited the homes of their Indian peers and had a glimpse of the Indian culture and ways of life. They also participated in cultural programmes and showcased the culture of both the countries. The exchange programme was concluded with cricket and football matches which helped strengthen the bonds of friendship between the two schools.
Other youth exchange programmes with schools from Galle and Kandy are under discussion. These youth exchange programme are intended to open new avenues and strengthen cultural, educational and people to people ties between the two countries, the High Commission said. (KW)