Seminar on "Good Laboratory Practices, Quality Management & Accreditation on Jan. 7
View(s):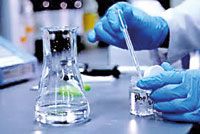 Institute  of  Chemistry  Ceylon     is  conducting  a  seminar  on  "  Good Laboratory Practices,  Quality  Management  &  Accreditation  on 7th January 2020, from 8.30am to 4pm at institute  premises  341/22, Kotte Road, Welikada, Rajagiriya.
Quality management ensures that an organization, product or service is consistent and it focuses not only on product and service quality, but also on the means to achieve it. Accreditation is the process in which certification of competency, authority, or credibility is presented.
The resource persons of this seminar intend to update the laboratory technicians, quality bmanagers, industrialists, chemists, technologists, scientists, researchers as well as, undergraduates on Quality  Management  &  Accreditation,  Quality  Assurance  in Analytical Laboratories, Laboratory Safety Attitudes and Practices for Academic, Government and Researchers, Quality  Management  and  Accreditation  of  Clinical/ Medical Laboratories , Food Quality and Safety Management, Human Resource Development to Enhance the Quality & Productivity in Lab and the Role of a Chemist
Further information can be obtained from the Deputy Registrar, Institute of Chemistry, Ceylon, Telephone 2861653, 2861231