Prof. Kshanika Hirimburegama awarded with a Doctor of Science (D Sc) (Honoris Causa)
View(s):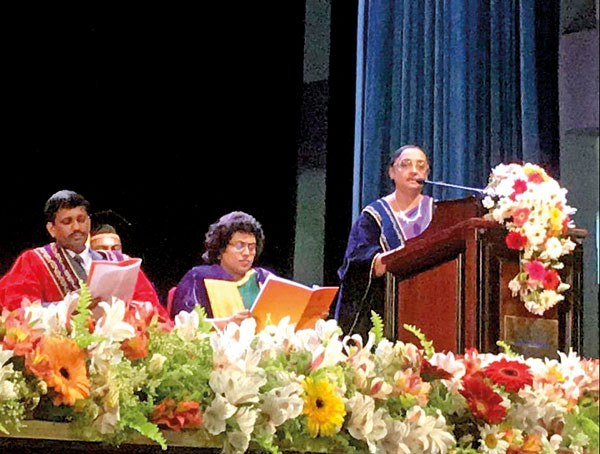 Professor Kshanika Hirimburegama was a former Vice-Chancellor of the University of Colombo. She was also former Chairperson University Grants Commission in Sri Lanka. She could serve only for two years and with the change of government in 2015 she was removed by then Minister of Higher Education.
She pioneered banana tissue culture technology and introduced the technology to the rural farming community where the income of farmers were increased by ten fold. This was through the Institute for Agrotechnology and Rural Sciences at Weligatta Hambantota.
She also introduced an online e-learning agrotechnology course a degree programme for the farming community -Bachelor of Agrotechnoly a totally online programme for the farmers from the university of Colombo.
This is for farmers to be involved in knowledge based agriculture. 3 batches have graduated and at present around 750 farmers are with the degree programme.
Farmers could access the course during their free time and is profoundly successful with respect to farmer student satisfaction.
When she was at UGC she introduced business cells to state universities for academics and students to liaise with industry to solve industry problems through research. Some university business cells are successfully serving their regions working together with academics.
Professor Kshanika Hirimburegama was awarded with a Doctor of Science (D Sc) (Honoris Causa) for her contribution to the Education and Agriculture technology to the country, from Sabaragamuwa University of Sri Lanka at the Convocation held on 19th December.