Tharanga and Samitha to lead Bradby Golf 2020
View(s):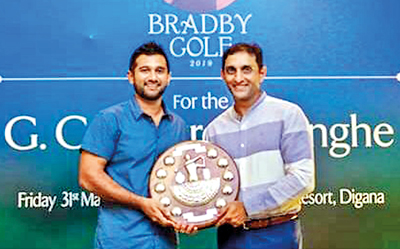 Bradby Golf, which is a much looked forward event each year taking place a day before the Kandy leg of the annual Bradby Shield encounter, will see Tharanga Gunasekera (Old Trinitians) and Samitha Perera (Old Royalist) leading their respective outfits as Bradby Golf celebrates its 5th anniversary in 2020. This tournament is played for G.C. Wickremasinghe Challenge Trophy.
Tharanga Gunasekera, a keen advocate of the game got in to golf three years back at the Royal Colombo Golf Course (RCGC), where he learnt his basics. He became the player with the highest gross score for his alma-mater at the 2019 event, which took place at the Victoria Golf and Country Resort (VGCR) at this year's event. He was one of the founder members who introduced the game to Trinity College recently which was a major success where more than 40 students are keen followers of the game at present.
"I am honoured to lead the Trinity Old Boys in 2020, as Bradby Golf celebrates its 5th anniversary, I am thankful to Bimal Fernando and Ravana Wijeratne, who initiated this from Trinity side which is a great event in Kandy, building amazing camaraderie between Royal and Trinity over the years and has seen a steady rise in participation and support from its partners", Gunasekara stated.
Meanwhile the Old Royal outfit will be led by Samitha Perera, who began playing the game while studying in the United States. His passion for the game and serious golfing, however, was kindled two years ago after playing alongside fellow competitive golfers and obtaining his official handicap from RCGC.
"It is truly an honour to be leading the Old Royal team for Bradby Golf 2020. Very rarely does one get to be part of a tradition in making and the event in its 5th consecutive year has steadily been making strides to be the most anticipated invent in the golfing calendar. There is no doubt that 2020 will  be bigger and better than its predecessors and I have confidence that the team will continue in our undefeated streak and lift coveted trophy", Royal College captain, Samitha Perera said.
 -Shamzeer Jaleel