A leader is only as good as his team
View(s):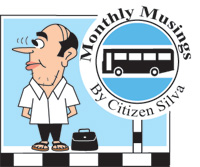 One of the better known quotes attributed to the famous American General Douglas MacArthur is one that our new president, a military man himself, would do well to remember as he begins his term of office as the leader of our nation:
"A general is just as good or just as bad as the troops under his command make him."
Our people have spoken – unequivocally spoken – and last month elected Gotabaya Rajapaksa RWP RSP psc as our executive president for the next five years. The previous holders of that office were all professional politicians who had years of politicking behind them but had not spent decades (like the rest of us) working for a living in the world outside politics. His predecessors had as their main qualification to hold public office the ability to con a bunch of gullible voters into voting for them. President Rajapaksa, on the other hand, has earned his spurs on the battlefield and the real world.
He is the first person with military experience to be elected president of Sri Lanka, having received awards for gallantry in battle as well as having received training in Pakistan, India and the United States. His training at the Defence Forces Command and Staff College in Wellington in Tamil Nadu, which has given him a post-graduate Master's degree from the University of Madras, would have trained him in command, leadership and higher management plus the skills to analyse, evaluate and synthesise diverse viewpoints before making important decisions.
The election of the younger Rajapaksa brother after we had experienced two presidential terms by the elder Rajapaksa brother represents the triumph, in the minds of us voters, of Hope over Experience. After winning the war, what a wonderful opportunity Mahinda had to rebuild our country and improve the lot of our people! Sadly for all of us, he surrounded himself with crooks and cronies who let him down badly. He was followed in 2015 by Ranil Wickremesinghe and Maithripala Sirisena who promised us 'yahapaalanaya' — but under them there was neither 'paalanaya' nor were the leaders or their catchers 'yahapath'.
The British Labour politician Aneurin Bevan is credited with the memorable quote: "How can Wealth persuade Poverty to use its political freedom to keep Wealth in power? Here lies the whole art of politics."
And we voters have continued to let ourselves be persuaded by artful politicians to use our votes to keep the political class in power.
In the last column I wrote prior to the presidential election, I said "I can only hope that we gullible voters will not (as happened to us at the previous election) be conned into putting into office a man who will then, together with his catchers and hangers-on, utilise the next five years to feather their own nests and bleed our country dry."
The new president we trust will bring a fresh perspective and vision to administering the country. He has started well – decreeing that no chairpersons or directors of state bodies be appointed without aspirants being screened by a four-member selection committee. He has made it a point to ensure that government departments will only be required to display the national coat of arms in offices and will no longer have to hang photos of the president and politicians (Kim Jong Un style) to proclaim loyalty to the government.
He has appointed a caretaker cabinet limited to just 16 (a third the size of the 45 member cabinet of President Sirisena). But while including some new faces and excluding some optimistic old hangers on, he has retained people like the chair-throwing "Sathosa" Johnston Fernando and the silver tongued "Fifty million Rupee" Wimal Weerawansa. He has in fact entrusted the lucrative and powerful Ministry of Industries, previously the stronghold of Yahapalanaya's scrupulously honest Rishad Bathiudeen to the honestly scrupulous Wimal Weerawansa!
As one of my colleagues said, "New train but same old crew'!
I suppose life would be easy for a leader if he only had a short list of honest hard working folk from whom he could select his team. But life does not give you the team and subordinates you want – you have to work with the cards you have been dealt.  General George Washington, another military leader who was elected America's first president, observed that one should 'Associate with men of good quality if you esteem your own reputation' – but this is easier said than done!
Cynics might go as far as to say that the best example of a conspiracy against the people is our political system – which is nothing but a giant conspiracy to allow those in office who want to do so to rob, trick and subjugate the population.
But Citizen Silva would be correct in saying that he speaks for all the citizens of this land to express the hope that our new leader, with his reputation for having efficaciously trained and motivated the soldiers and officers under his command and then led them to achieve extraordinary results during the Eelam War, will be able to keep his less reliable subordinates under control – and lead them to achieve a new beginning for our country.
As a nation, we surely deserve nothing less.