Lester presents 'Brush with birds'
By Malaka Rodrigo
View(s):
Well known wildlife artist and leading naturalist Lester Perera is getting ready for his next exhibition,  'Brush with Birds – the frozen moments from the wild'. About 50 paintings using mixed media, pen and ink, watercolour and acrylic on canvas would be featured covering raptors, shore birds, forest birds including the birds that are endemic to Sri Lanka.
He uses his brush to capture them on canvas, he smiles and "as a birdwatcher, when I visit the wilds, I do literally 'brush' with birds letting my eyes pass through gently observing without disturbing them," says Lester explaining the exhibition title.
A well known bird artist who has been featured as a guest artist in prestigious international exhibitions held in the UK and France, in 2005, Lester donated some of his paintings to be auctioned at the British Bird Watching Fair in Leicestershire, with the proceeds going to the conservation of birds in the Orient.
'Brush with Birds' is Lester's 10th exhibition in Sri Lanka. He had his last exhibition, 'Wild in Ruins' in 2014 on a different theme, painting birds and nature in archaeological sites such as Anuradhapura and Polonnaruwa. Most of the paintings in 'Wild in Ruins' were in black and white, but 'Brush with Birds' brings birds to life in colour.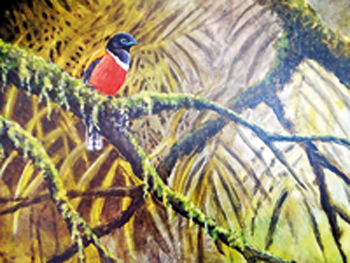 "For me, visiting the wilderness is like a visit to a religious place which calms me. I look at every detail and freeze those moments in my mind like someone taking a picture. Even a dead branch has a lot of detail to pay attention to," he says.
"Brush with Birds" will be at the Harold Peiris gallery of the Lionel Wendt on December 6, 7 and 8 from 9 a.m. to 8 p.m. Entrance is free.