Delving into the heart of Jaffna for his role in Funny Boy
Actor, producer and musician Shivantha Wijesinha who plays the role of Jegan Parameswaran in the recently concluded film version of Shyam Selvadurai's ground-breaking novel talks to Yomal Senerath-Yapa
View(s):
When it came out of its antique teak and ebony closet in 1994, Funny Boy swept the queer community right off its feet- with the turbulent, exotic monsoon of a bildungsroman — about growing up gay in 1980s Sri Lanka and falling in love against flaming ethnic riots.
Arjie Chelvaratnam, probably one of the most silently charismatic protagonists in literature, would become an idol for many young-and-not-so-young boys and men trying to make sense of their tabooed, hushed experiences.
It was what would be established as classic Shyam Selvadurai — the mingling of the personal and the political crises against dark tropical storms billowing over the country.
Arjie's wild coming of age is now being turned into a major film with the brilliant touch of Indo-Canadian director Deepa Mehta, known for such sagas as Midnight's Children and the Fire, Earth, Water trilogy.
It is at Lakmahal, the colonial bungalow home of the Wijesinhas in Alfred House Gardens, Colombo 3, that we meet Shivantha Wijesinha who plays the dashing young Jegan Parameswaran, Arjie's father's protégé from Jaffna- exuding that clean masculine boyishness that made Arjie's heart stir.
Under the Araliya tree in the side garden, Shivantha pours us green tea into eggshell porcelain. "Cheers, guys."
There's reason to celebrate. The shooting of Funny Boy had successfully wound up a couple of days back.
Lakmahal is rather reminiscent of the upper middle class Colombo manors in Funny Boy- conjuring images of dark polished corridors, antiques and brass and serried family portraits.
It's a very small world- Shivantha was actually taught his tennis strokes by Shyam's father David Selvadurai, a renowned tennis player and coach.
For Shivantha, the movie was all about making space for the peripheral- whether Tamil or gay or otherwise.
Shivantha was born in England and has lived in Hong Kong, Italy, New York, Australia and Sri Lanka. Like many scions of the Wijesinhas of Lakmahal, he was marked for a distinguished professional career. But the Pied Piper was to change all that. Ever since playing the Mayor of Hamelin in a Wycherley International School production in Colombo aged ten, acting and music were the 'piping that would summon him back' wherever he would foray.
After schooling at Royal College, Wycherley and CIS, he went on to garner a BA in English, then qualified as a barrister in Victoria, Australia. All that was swept away when, responding to a deeper call, he ended up in New York- invited to be a student of the American Academy of Dramatic Arts.
It was a scary leap of faith. As a freelance actor he had to find his own hours, rhythm, structure and bread and butter.
There was a time, before recording his own albums, he would set himself up in the subways and sing- for six months. Things picked up slowly as they do in the Big Apple and in the past ten years Shivantha has done as many as 110 projects- including film and theatre and followed his passion for music and songwriting.
His two popular albums Words from Not Long Ago (2014) and Clarity (2017) with Kyle Cassel and Walter Parks (Richie Havens) were recorded at the famous Kaleidoscope Studios. Both are available on his website shivantha.com.
The two movies he produced were directed by his friend Michael Cutrone. The first movie was born of Shivantha's penchant for the martial arts- being a student of Jeet Kune Do. Named Death Trail, it is the tale of a brutal hitman (played by Shivantha) who finally thrusts his fist into something more insidious than anything he anticipated.
Anonymous- his second film produced with Michael and friend and writer Owen Fitzpatrick is the story of a recovering addict struggling to stay clean when meeting another addict plunges him into drama.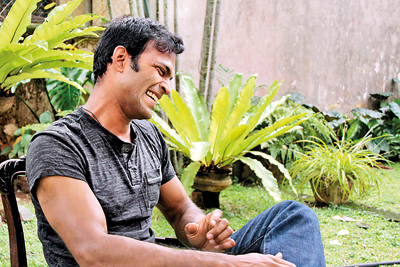 Michael and Shivantha plan to set their next film in Sri Lanka, while finishing up a Rockumentary (a small music documentary) on Shivantha's New York saga.
Working under the demanding Deepa  Mehta was an unforgettable privilege, says Shivantha. Funny Boy evolved organically on the set–Deepa incisively shaping the way the story meandered- the cast having to shift and change, and accept her candid feedback.
But 90% of the work was done prior to the shooting. Shivantha had to morph into a young Tamil man in his twenties driven by zeal for his country and his people. To find Jegan, Shivantha had to go deep into a once genteel peninsula of blue heat hazes and inner courtyard houses- he learnt Jaffna Tamil and dived into a troubled bloody history- from the Sinhala-Only Bill, standardization, and the riots which flare up in the middle of Arjie's story.
Shivantha, old enough to have the 1983 riots burnt into his mind (Lakmahal housed many a Tamil refugee) is nostalgic for an old (pre-riots) Colombo when neighbours from a hotch-potch of ethnicities would 'just drop in for a drink' on the verandah.
Jegan was a complex role to play. The injustices he had suffered as a member of a minority would whip up a need for justice. In Funny Boy, Jegan joins the separatist Tamil Tigers out of the purest of motives- yet is the one to suffer for their agendas.
Shivantha needed all his history homework to immerse himself in that world.
Some roles in the film would simply explode in brilliance when gouged off the black and white page. The legendary Seema Biswas playing Ammachchi the grandmother was so charismatic that the role became a scintillating centre instead of a matriarchal stereotype as in the book.
They also had to recreate a Colombo with much fewer (and 'Sri'-plated) cars and had to find retro venues. Such landmarks as the Kollupitiya Green Cabin were gone and they had to scour for atmospheric venues in and around Colombo.
Richmond Castle, Kalutara did for Arjie's lover Shehan's shell of an old mansion in Colombo 7, while jail scenes were shot at the Angoda Institute of Mental Health where the team could feel the oppressive though still and silent atmosphere and the eternal sadness echoing within those spacious halls.
The silence brought home the pathos of the marginalized- the voiceless. "It happens when you are a minority in a society that is majority-driven," Shivantha says. If you are gay in a society that is very homophobic it can be stifling.
Shivantha is keeping his fingers crossed that Sri Lanka will get to see Funny Boy, even if its bold telling of race relations and homosexuality may seem a bit overwhelming for the local screen.
Book turned film
Funny Boy is a novel in six stories- each exploring a different episode of young Arjie's life aged seven to fourteen, in Colombo from the 1970s to the 80s. The threads that run through the fabric are Arjie's awakening homosexuality, Sri Lanka's ethnic relations and riots and some penetrating insights into the Etonian atmosphere of elite schools in Colombo- stuck in a colonial quagmire.

Nimmi Harasgama plays the beautiful, sometimes wayward Amma while Ammachchi is Seema Biswas. Brandon Ingram- cutting down a couple of decades- is Arjie. Ali Kazmi is Appa, and young Radha Aunty- whose affair with a Sinhalese boy is brutally terminated- is Agam Dharshi. Shehan de Soysa- the raffish schoolmate who opens up the queer world to Arjie, is played by Rehan Mudannayake. Little Arjie is played by Arush Nand and his brother Diggy and sister Sonali by Hidaayath Hazeer and Vehera. Tracey Holsinger comes in as the malicious Kanthi Aunty.