Appreciations
View(s):

"The Queen of Historical Romances" is no more

Rosemary Rogers

Rosemary Rogers (Jansz), born and raised in Sri Lanka, the well-known American novelist, who was once called "The Queen of Historical Romances" died at the age of 86 on November 12, 2019. Born on December 7, 1932 in Panadura, the eldest daughter of Cyril A. Jansz (Jnr), the Principal and owner of St. John's College Panadura, Rosemary spent her entire youth in Sri Lanka.

Rosemary authored quite a few bestsellers. Her first book, The Crowd Pleasers was followed by Sweet Savage Love and Insiders. Her first three novels sold a combined 10 million copies. The fourth, Wicked Loving Lies sold three million copies in its first month.

Rosemary had her education at St John's College Panadura, where she honed her literary skills. She was a vivacious young person with a natural curiosity about everything around her, the hallmark of any good writer. She was beautiful, talented and much aware of what she wanted to achieve in life. At the height of her writing career, Time magazine called her writing "porno in purple prose".

My oldest friend, Rosemary and I grew up together, sharing a love for reading and writing, starting when we were in Grade Seven or Eight when we became partners in scribbling (not crime!). Being best friends and conspirators we sat together at the back of the class, of course, and compiled a rhyming dictionary. These were the beginnings of her love affair with words. Yes, we wrote. While we lesser mortals began sending our outpourings to the children's papers, Rosemary kept her epistles to herself. They were far too long and far too fiery for a children's page. I don't remember Rosemary writing anything childish. Many were the times we were reported to the Principal for neglect of work but he, the wise man, allowed us the privilege of using the senior library which was a treasure-trove of literary marvels. Rosemary plunged into it like the proverbial duck to water. Soon she was marching through the Waverly novels — those blood and thunder tales by Sir Walter Scott, with me following at a slower and gentler pace.  Mr. Jansz, Rosemary's father seemed to know intuitively that his daughter was destined for things far beyond the "boxed in" nature of formal school education. Rosemary, herself, was well aware of what she wanted to do very early in life.

Other than classics, she loved to read those "Wild West romances". When she was about 14, she started writing her own romances.  Her heroes and her bandits were all placed in America.   I don't remember her writing anything with a Sri Lankan background, nor did she publish anything here. She kept on writing because she loved to write, because her vivid imagination could picture events in a country she had never seen.

Entrance to the university depended on the H.S.C, as it was called then.  Rosemary had written an excellent English paper at the examination and done fairly well in her second love, history, but failed the third subject.  At that time there was a viva too for selections. Professor E.F.C. Ludowyke, that   great teacher was the first to recognise that this young girl of 17, was destined for greater things. She was selected on the strength of that English paper alone. Those were the days in which there was flexibility in assessing a student. How correct he happened to be.

Rosemary being Rosemary, could not be curtailed. Within a year she had left university to marry Summa Navaratnam, then known as the "Fastest Man in Southeast Asia" for his athletic prowess. Rosemary called these days the most creative years of her life. She gave birth to two beautiful daughters and enjoyed her new role of wife and mother. But the restlessness that powered all her activities took over. She migrated to the UK.

Her career as a professional writer began with this move. She had to make a living on her writing. Then she moved to the USA- her Utopia, from the time she was ten years old, perhaps. It was not the skyscrapers nor the proverbial roads paved with gold that attracted her,   but the wide open spaces, the pulsating life and the freedom of expression. This was "don't fence me in" country and this was what Rosemary needed.  She blossomed there. She wrote so many books – it's not possible to name them all.

She lived the life she wanted and she died. Rosemary, my friend, rest in peace.

Usula P. Wijesuriya
---
The simple man who made a big contribution to engineering education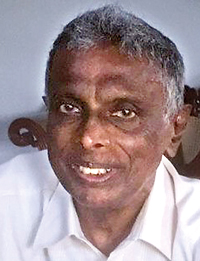 Prof. J.A. Gunawardena
It is now three months since Jaya Abeysinghe Gunawardena who made a signal contribution to engineering education in
Sri Lanka left us.
He came from a well established family in Polhena, Matara. His father was a Headmaster and his mother a teacher.
He had his early education at St.Thomas' College Matara. Even at this stage of his education, the intellectual brilliance which marked his entire career was already evident. He naturally tended to monopolize prize awards in each class. Disregarding the implicit irreverence, some teachers even called him Mahaushada! What was special about his achievements was that they were realized with minimum effort. From an early stage he was an indiscriminate, extensive reader with practically no time devoted to formal studies. Peter Cheyney and Leslie Charteris figured among his favourites. Surprisingly, this habit continued even after he joined Mahinda College Galle for university entrance studies. His classmates were surprised to see their new colleague addicted to comics — even tucking them in his hip pocket. When the results came, however, he had emerged as the highest achiever not only in his school but in the entire Southern Province, earning for him the then coveted Gymkhana scholarship. This relieved his parents from the need to finance his upkeep while at university, enabling resources to be channelled for the studies of five younger siblings.
He finished his engineering studies again reaping the highest reward and was absorbed immediately to the academic staff. A minor sensation was created when he declined the offer of the country's most prestigious 'government scholarship' for post-graduate studies abroad on the grounds that a contemporary who had scored higher at the finals was overlooked. This was testimony to his steadfast commitment to justice and fairplay, a characteristic which marked his entire career, indeed his whole life. He soon got a chance of doing a Master's at Perdue University in the States where he was exposed to the emerging field of computer science before ultimately proceeding to Cambridge for his doctorate, the second in his family to pass through its portals.
He recommenced his teaching work at the Engineering Faculty which had shifted by then to Peradeniya. Here he remained for the rest of his working life turning aside the many lucrative opportunities that came his way. Such was his commitment to his vocation and his faculty. He strove successfully fortunately, to maintain the exemplary standards for which the Engineering Faculty was well known. In later years the heavy burden of carrying the faculty forward fell on him with just one other senior don. The uncompromising adherence to rigorous standards for which he incurred some unmerited displeasure, ensured for the products of the Peradeniya Engineering Faculty an enviable reputation in the country and beyond.
Prof. Gunawardena has to be remembered, among other things, as the very first person who introduced computer studies to any teaching institution in Sri Lanka. His guru, the legendary Prof. E.O.E. Perera had requested him to prepare a single page justification for a computer to his faculty. Thus it is that one of two computers first imported to the country in the early '70s — of enormous size — came to the Engineering Faculty while the other went to the famous engineer A.N.S. Kulasinghe in the state sector. The foundation for the exponential expansion of information technology that has now spread to all corners of the country, creating virtually limitless employment opportunities for the country's youth was laid in the Engineering Faculty at Peradeniya under his initiative.
J.A. Gunawardena was a simple man with a narrow mission. He had no agendas and no involvement in the field of politics. In the University Council as well as the National Science Council, he fought for the cause of science education.
A devoted family man, his life revolved around his devoted wife Lalitha and their daughter Arundathi. In the last years of his life he divided his time between Kandy and Singapore where his daughter lives with her husband — a diversion which sustained him in spite of his poor health. Let us salute the memory of this simple man who made such a big contribution to the promotion of engineering education in the country at the highest level and wish him the Bliss of Nibbana.
H.P.Wijewardena
---
 He treated everyone alike irrespective of social and religious distinctions
Sunanda Mahawela
Sunanda Mahawela passed away at the ripe old age of 91 on August 8, 2019. It was with grief that I learnt of the sudden demise of this old friend. I came to know him in 1980. In life's journey we meet many people who influence our lives in many ways, yet it is rarer to meet and know people who have a lasting influence on us and where our friendship is reciprocated  and cemented further by similar intellectual pursuits.
Sunanda and I went to Taif in Saudi Arabia along with a group of Sri Lankans to work with a reputed aircaft manufacturer of USA whose mission was to supply  fighter aircraft to the Saudi government. Sunanda served as secretary and  I was in the Logistics Department of the Peace Support Group  that was a sub-contractor to the main company whose workforce was quite international. Sunanda dedicated himself  to the immense and complicated task and carried out his duties with great commitment.
He received special commendation from the company during his five years of service in Taif and Khamis Mushart. He treated everyone alike irrespective of social and religious distinctions.
On his return to Sri Lanka, he started on his literary work. He was a freelance writer and has written books in both Sinhala and English. His poetry is yet to be published.
A devout Buddhist he would visit the Kelaniya temple on poya days. He never spoke ill of anyone and never boasted about his own talents. Whenever the opportunity arose  to serve others, he did so without expecting anything in return – this was the moral code of his life. I can never forget the support and encouragement he gave to our environmental orgnization.
Sunanda's former wife passed away in Canada a few years back. He leaves behind his wife Kalyani, two daughters and two sons and their families. His children are doing well in life both here and abroad and his younger daughter Sandiya who is in Sri Lanka  gave him all the support throughout his life.
May he attain the supreme bliss of Nirvana
W. Sunil Fernando
---