Lanka Institute of Fashion Technology ventures into the online world
LIFT Introduces Online Fashion Courses
View(s):
Lanka Institute of Fashion Technology took its form in the year 2000, and proudly takes its place as the premier fashion campus in Sri Lanka. LIFT is the only fashion campus to offer fashion design degrees from Paris. Internationalization being the major focus of the campus, LIFT is linked with the 3 major Fashion Capitals around the world, Paris, Milan and London. Located in the heart of Colombo and registered under the Tertiary and Vocational Education Commission, we at LIFT aim to nurture and nourish the artistic development of students and their passion for fashion.
The official launch of LIFT's online Foundation in Design & Fashion programme and a wide range of various other online short courses such as Color Harmony, Fashion Trends, Research for Design, Research & Development, Basics of Art & Color Theory, Basics of Design & Fashion and Technical Drawing for Fashion Design further enhance flexibility for students, allowing them to choose a suitable course based on their preference from a variety of online options. These online courses are offered for students to study at their leisure with no limitations. Why wait? Take the initiative and begin your self-learning sessions now! Meanwhile, customer satisfaction and retention being our major concerns, we conduct lectures on campus in the weekends (Saturdays) taking into consideration the students' convenience.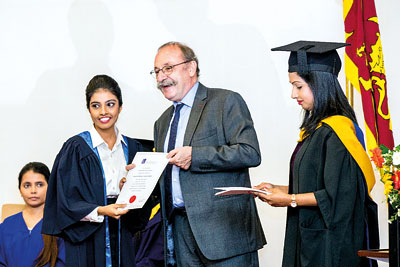 The reputation of LIFT speaks for its quality of education well-known, and as LIFT celebrates 19+ years of success in the fashion industry, LIFT assures to continue its quality teaching with high achievement rates throughout the years to come. Students at LIFT obtain the best progression opportunities for successful employment or higher levels of study globally. We mold our students from day one in building their own empire. 99% of LIFT graduates are employed in apparel industries recognised worldwide while some of our graduates are successful fashion entrepreneurs across the world, and we are more than proud of being their alma mater. All courses at LIFT are offered at affordable rates, and the prestige of the Bachelor's degree programme from Mod'Art Paris is all the more remarkable and overwhelming.
Furthermore, LIFT is the one and only fashion campus in Sri Lanka that facilitates special study visits to the main fashion capitals Paris, London and Milan where our students are accompanied by their lecturers. This tour gives them immense international exposure and a vast knowledge with regards to current industry updates, current manufacturers and the latest global trends of fashion. Shop visits, lectures, factory visits, design house visits, fashion exhibitions are key features of this mandatory study tour. LIFT ensures that its students gain the maximum potential in studying fashion, thus our students are even able to opt for tremendous top-up entries to partnered universities in Europe, mainly France and the UK with a chance of merit scholarships and special fee schemes. LIFT is highly active in distinctive fashion events throughout its journey, and our students gain the opportunity of participating and showcasing their creativity and talents in these fashion shows. Quality assurance of LIFT's library facilities, IT facilities and design studio is outstanding and exceptional. Students at LIFT experience an inclusive, close-knit campus life and experience with our finest teaching methodologies while personal attention is given to each and every pupil, maintaining the teacher student ratio of 1:20. We at LIFT aim to create a learning environment augmenting originality and innovation. Our fashion design courses offer an in-depth analysis and approach to the subject content and provides superior expertise in design and collection development. Last but not least, all our fashion design courses elaborate on practical as well as theoretical aspects of fashion facets to high standards, enabling our students to conceptualize their artistry.
Visit us at No. 03, Coniston Place, Colombo 07.
Call us on (+94) 11 2 55 4 394 or, log onto
www.lift.lk to reach us.
Follow us next week, our Alumni stories begin…