IIT Trailblazers 2019 helps empower future entrepreneurs
View(s):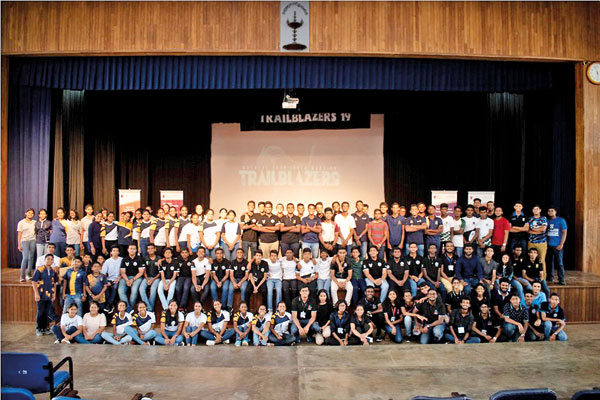 Organizing team of Trailblazers 2019 posing for a group photo with all the participants
Informatics Institute of Technology (IIT), the pioneer in British higher education in Sri Lanka and the country's premier IT and Business campus, successfully organised the Trailblazers 2019, a career guidance event that drew a large crowd of over 200 students from leading schools.
Organised by the Rotaract Club of IIT, Trailblazers 2019 was initiated to inspire Sri Lanka's future leaders and make them innovative thinkers and adventurous spirits. Conducted under the theme of "Leadership, Teamwork and Entrepreneurship", the full-day event focused on providing career guidance sessions to students of leading schools in Colombo and Kandy in partnership with CareerMe, Sri Lanka's award-winning career guidance company founded by a young Sri Lankan woman entrepreneur. The in-depth, interactive sessions educated the students on how to navigate through the crucial decision making process each O/L and A/L student faces when it comes to his or her future in education and career. O/L students have to choose what stream they would want to study for their A/Ls while A/L students have to decide on what career they would like to embark on. Based on various attributes such as an individual's personality, strengths and weaknesses, each and every student who participated in the programme got a clear understanding of themselves and which path to pursue in the future.
Two guest speakers, Peter D' Almeida – Chief Executive at N*able and World Toastmasters finalist Kaishika Rodrigo, addressed the students and gave their insights on the importance of leadership. They emphasized on how each and every person has a talent that can be nurtured and utilised for the betterment of society. Subsequently, an interactive Panel Discussion comprising leading personalities RandhirWitana – Director and Executive Producer at ThaalaRoopa, Danu Innasithamby – Chairman/Managing Director ofDif and BhanukaHarischandra – CEO & Founder of Surge Global was also held during the event. The three individuals shared their life experiences that helped them achieve success in their careers and offered words of wisdom to the young audience on how to create their own path to success in life.
The Rotaract Club of IIT is a youth social service group formed in order to serve the needy through fundraisers as well as club services such as youth friendship developing events and professional development. Every year an annual plan is prepared and various activities such as car washes, fashion shows, dance workshops, cricket tournaments and many more are organized to raise funds for charity. Trailblazers 2018 won the Gold Award for "Most Outstanding Project with Interact" of the Rotary Year 2017-18.
IIT was established in 1990 as the first private higher education institute that awards reputed British degrees in the field of ICT and Business. IIT is an award-winning campus offering internal postgraduate and undergraduate degrees from the University of Westminster, UK and Robert Gordon University, UK. IIT has played a pivotal role in strengthening the IT and Business sectors in Sri Lanka over the years by producing world-class graduates. These graduates have gone on to become successful entrepreneurs and IT/Business professionals in both local and international corporate and government entities. Since its inception, IIT has produced thousands of graduates who have excelled in hundreds of organisations around the globe.