What an outstanding performance by a single Test player
View(s):

When any Sri Lankan cricket aficionado glances at the highest Test cricket partnership records, he/she would be thrilled to observe that right on top of the heap, the names of Kumar Sangakkara-Mahela Jayawardena (624 runs for the 3rd wicket) and Sanath Jayasuriya-Roshan Mahanama (576 runs for the 2nd wicket) lead the way! Of course, the ubiquitous Bradman has to be there, along with Sid Barnes (partnership of 405 runs for the 5th wicket). More recently the stirring partnership of 399 runs for the 7th wicket between England's Ben Stokes-J.M. Bairstow catches the eye.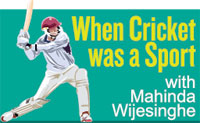 However, any cricket lover would expect to see the names of the West Indies stalwarts such as George Headley, Weekes, Worrell, Walcott and Sobers, to name a few, to be featured. Alas no! However, there are only two relatively unknown names the West Indians can take credit for, in the list of Test partnership records. This is for the 7th wicket (347 runs) between Denis St. Eval Atkinson and Claremont Depeiaza established way back in 1955, against Australia. And thereby, hangs a cricketing tale which even Bob Ripley would have been be too nervous to include in his memoirs!
It was the 4th Test played at the Kensington Oval, Barbados. Incidentally, Denis' younger brother Eric St. Eval, too played 8 Tests for his country. The brothers played together in what proved to be in Denis's last Test.
Atkinson, known nominally, as an all-rounder – right-hand batsman and a medium pace bowler – was playing in his 14th of his 22 Test-match career. He had so far aggregated a mere 429 runs (average 23.8 with a highest score of 74 runs) and, with a career-best bowling feat of 3/78 achieved in the same series. Not much to write home about. His partner, wicket-keeper Depeiaza, who was playing in only his 2nd Test, had not even made an impression in the 1st-Class circuit as a batsman. Though, he did register his maiden 1st-Class and Test century against Australia.
When the 1954-55 series against Australia began, regular skipper Jeff Stollmeyer was not available for selection due to injury. As was the custom in the West Indies at that time, a 'white' man has to lead the side. Atkinson got the job, and in the 1st Test at Sabina Park, the hosts were trounced by 9 wickets and Atkinson was dropped, as Stollmeyer returned for the 2nd Test in Trinidad, which was left drawn. The 3rd Test was led by Stollmeyer and the hosts were again beaten, by 8 wickets. Injury- stricken Stollmeyer threw in the towel and retired from the series
Now, with a series tally of 2-0 against the West Indies, with 2 Tests remaining, they could only square the contest. Now came the all-important 4th Test.
Winning the toss, Australian skipper Ian Johnson, with a star studded batting side, decided to take first strike, and compiled a record total of 668 runs. Thanks in the main to Keith Miller (137), Ray Lindwall (118) Ron Archer (98), and half-centuries by Harvey (74), Favell (72) and Langley (53). A total that threatened to win the game by an innings. And so it seemed, when the homesters, in reply, were on the ropes at 147 for 6, with Weekes, Worrell, Walcott, Holt, Sobers and Smith back in the hutch, Incidentally, Sobers, opening the batting, scored 43, inclusive of 10 boundaries!
Now, more than a miracle was needed to extricate the West Indians from the morass they were in, and this unlikely 7th wicket pair of Atkinson and Depeiaza performed the heroic feat, as a drama fit to be in a Boy's Own annual, unfolded against a bowling attack of Lindwall, Miller, Benaud, Johnson, Archer and Hill.
The 7th-wicket pair batted for over a day, putting on a staggering 347 runs, and established a new Test and 1st-Class partnership record, while steering the West Indies to a respectable total of 510 runs. On the 4th day, this pair became only the 2nd, after Hobbs and Sutcliffe in 1925 in Melbourne, to bat throughout a complete day's play in a Test. This 7th-wicket Test partnership record of 347 runs still stands after 65 years, and is the only partnership record that stands to the credit of the West Indies, even today. Atkinson made a double century (219 runs in 351 minutes), while the dogged Depeiaza made 122 runs (in 330 minutes) in support, rather than expose their tail of Ramadhin, Valentine and Dewdney!
The Australians batted again and made a total of 249. The West Indians were again in trouble at 207/6, but the same pair of Atkinson (20*) and Depiaza (11*) played out time. Now look at Atkinson's feat from a statistical angle, compared with the other players in the game. The West Indian skipper aggregated 239 runs and was dismissed only once. The next best, with an aggregate of 147 runs, was Keith Miller, but he was dismissed twice. Hence, Atkinson had not only outscored the Australian by as much as 62%, but also sports an average of 239, while the Australian all-rounder is lagging in the background with an average of 73.5.
Also remember, skipper Atkinson was chiefly responsible for establishing a Test partnership record for the 7th wicket, which still stands. Mind you, he was actually deputizing as captain of the side as well. Let's see his bowling feats in the game. Firstly, Atkinson had bowled 84.2 overs in the match. 'Collie' Smith was the next most-taxed bowler, having bowled 56 overs. This means Atkinson had bowled 50% more overs than the next man. In fact, no bowler captured a five-for other than Atkinson: another feather in his cap. His match-bag of 7/164, including the 2nd innings haul of 5/56, stands heads and shoulders above the performances of the all other bowlers.
Benaud for Australia and Dewdney for the home side with match-bags of 4 wickets, were the two nearest to Atkinson's match-bag 7 of wickets. This means he had captured 75% more scalps than his nearest rival. Even more conclusive is the fact that, whereas Atkinson's cost/wicket was 23.4 runs, the next best was the figure returned by Benaud (27 runs/wicket), which is 15% more costly. Bowled the most number of overs (by 50%), captured the most number of wickets (75% more than the next) at the cheapest cost (by 15%) – need one say more? Pause awhile to feast your eyes on the galaxy of batting 'stars' on show. Australia had Colin Mcdonald, Les Favell, Neil Harvey, Keith Miller and Ron Archer, the last four being members of Bradman's 1948 Invincibles. West Indies had in their midst the celebrated triumvirate of batsmen in Everton Weekes, Frank Worrell and Clyde Walcott, known throughout the cricket world as the Three W's, Gary Sobers (admittedly, playing in only his fourth Test), 'Collie' Smith, and "those two little pals of mine", 'Sonny' Ramadhin and Alfred Valentine. Simply to out-bat all of these 'greats' in a single match would be a stupendous feat. But to out-bat AND out-bowl, surely, the most outstanding all-round performance in the history of Test cricket, by a relatively unknown player, who carried all before him in the face of both a far superior opposition and leading his team, which boasted of players who were, on paper, more accomplished than himself
Although a tad over 1,960 Test matches have been conducted, since this memorable game was played, Atkinson's feats in the midst of 'stars' in both sides would indeed be difficult to emulate.