Appreciations
View(s):

My brother,  best friend and guide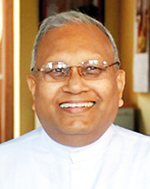 Rev. Fr. Elmo Dias
My younger brother Fr. Elmo Dias passed away three months ago on August 14 after a few years of illness which he silently bore. He was called to rest in the Lord at the age of 67. Elmo was the eighth in a family of ten, five boys and five girls, born to Reggie Dias (R. S. A. Dias) and Margret Dias of Moratuwa.
After his initial education at St. Sebastian's College, Moratuwa he joined St Aloysius Minor Seminary in Borella. Fr. Elmo who excelled in his education was sent to St Joseph's College Colombo 10 for his Advanced Level studies. Having completed his secondary education, Elmo joined the National Seminary at Ampitiya in Kandy. In 1980, he was ordained as a priest and was appointed to the Pamunugama parish.
Thereafter he served in the Tibbatugoda parish and went to Rome for his higher studies.  Returning from Rome Fr. Elmo was appointed as the Parish priest of St Joseph's Church, Ratmalana. Then he was appointed as the secretary to the then Archbishop of Colombo, Rt. Rev. Nicholas Marcus Fernando. Following this he was appointed as the Parish priest of St. Jude's Shrine in Indigolla where he served for 10 years.
It was during his tenure that the new church with a novel architecture and interior design was built in Indigolla to facilitate the large number of devotees who come to the church from outstations every Thursday and the thousands of pilgrims who come for the church feast every year.
From Indigolla, Fr. Elmo was posted to serve the Sri Lankan community at Modana (diocese) in Italy where he served expatriate Sri Lankans in cities like Modana, Bologna and Vignola for nearly five years.
Fr. Elmo was popular among Sri Lankans in Italy as he did not limit his service to religious services at church but worked with the Sri Lankan youth who had come from various rural parts of the country in search of green pastures. Fr.  Elmo organised youth groups and led them in religious and social activities and conducted English classes with the aim of educating them.
Fr. Elmo who was fluent in Italian was invited to serve the Italian Catholic community and conduct holy masses for them as well. He was well known for his homilies which he delivered in proficient Italian.
Fr. Elmo came to Italy while I was working there and it was a great opportunity for both of us who were not together for a long time. An outgoing character, he  encouraged me to visit places of religious importance like Lourdes, Fatima and many other European countries. During my vacation he made it a point that we visited places in Europe which I would have never visited if not for him. Like a guide and a teacher he used explain in detail all the important facts about the places we visited.
With the aim of becoming a good writer, Fr. Elmo followed an online diploma in journalism and news writing at the London School of Journalism in 2007 and passed with honours. He was also good at writing verse. He wrote a number of hymns and I have written melodies for at least six of them which are now approved by the Liturgical Commission of the Colombo Archdiocese to be used for religious services. Some of the hymns penned by Fr. Elmo are poignant expression of deep faith and love for the Lord. Below is the translation of one of the Sinhala hymns written by Fr. Elmo and which was sung at his funeral.
Lord if I remain closer to your heart
There wouldn't be loneliness that scares me
To be in under the wings of your love forever
Strengthen me with your words, courage and light
 Cleanse the dark patches of my sins with your mercy
Free me with your divine paternal love 
Let me have the beauty as pure as yours
As a flower withers leaving the love in the world
The void created by Fr. Elmo's departure will be long felt by me, my siblings, extended family and wide range of friends including priests, nuns and laymen in different strata of society.
Fr. Elmo, as a family we were so blessed to have a darling Malli like you in our lives. Though you are with the Lord now, we will always feel your presence with us and among us.
Your ever loving Aiya, Raymond
---
Precision and accuracy were his hallmarks
AHMED FAROOQ SAMEER
Probably the last of the Mohicans in the field of licensed surveying and levelling of a special class of professionals, descending from a distant era, Ahmed Farooq Sameer, FSI, passed on serenely in his home on October 19, at age 92.
A product of the Bradby era at Royal College Colombo, Farooq uncle was the son of the Ceylon Moor historian, Mohamed Sameer bin Hajie Ismail Effendi, and hailing from a lineage of Prince Jamaluddin of the pious township of Konya in Turkey. Born on December 28, 1926, Farooq uncle was the younger brother to the two eminent surveyors, the late M.T. Sameer and the late M.I. Sameer, MIEC, both old Royalists.
He initially did a stint at the Colombo Municipal Council (CMC) and the Survey Department after which he took to the profession of surveying and levelling in which he excelled. His commitment to perfection in impeccably drawing survey plans won him the plaudits and respect of the legal profession, and of many a commercial bank.
Precision and accuracy were his hallmarks, especially as a court commissioner, when he used to give evidence, which carried much weight amongst the judiciary. Many a client used to drop in seeking a certified copy of an old survey plan of the premises he had surveyed, which document he made readily available.
In his youth, Farooq uncle was a music fan, especially into Jazz and Latin, but lost interest as the years waned, and lived in his Elibank Road home in Colombo, a tranquil life of peace and piety, delving deep into the Holy Qur'an, drawing his survey plans meticulously up to the time of his demise. He was a keen follower of international politics, and felt great pains at the predicament of the Muslim world, which he often expressed when we occasionally met with him.
Farooq uncle, the patriarch of a family comprising four brothers and six sisters, apart from his four kids, had 30 nephews and nieces who loved him and occasionally sought advice especially on regulatory matters relating to property, on which subject he was an institution. He was an exemplar of generosity in his charity, while at the same time being thrifty.
His contemporaries included former Chief Justice Parinda Ranasinghe, Charitha de Silva, Mahdi Hussein, Summa Navaratnam, Dr C.G. Weeramantry, Dr C.D.L. Fernando of cricketing fame, former Royal College VP Viji Weerasinghe, All-Ceylon cricketer Mahesh Rodrigo, ex-MD-SPC Sylvester Edirimanasinghe, famed jeweller Mecci Macan Markar, N.M. Udeshji of Siedles, Chris de Saram of CIC, and many a distinguished personality.
Farooq uncle was decidedly a model father worthy of emulation by the younger generation. His wife, Mazeena aunty, and children Afzun, Fahima, Ashfaq and Lamina and their spouses and grandkids will miss him most. We pray Allah grants him Jennathul Firdous (Heavenly Bliss).
  Siddiq, Fazli & Firoze
---
His unspoken  word said so much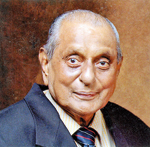 Marcelline Colin Opatha
Our Seeya was a quiet man
But his silence could speak volumes
The warmth of his gaze said 'I love you both'
The strength of his hugs said, ' I will keep you both safe'
The gentleness of his hands said, 'Both of you are precious to me'
His nod of approval for a job well done 'I will respect you both'
In the years to come we may not remember many of the words our Seeya spoke,
But the memories of what was conveyed without a word, will remain in our hearts.
Goodbye Seeya!
We loved you on earth and we love you in heaven.
Santushi and Keshla
---
 You were there for all my firsts
Ronald Nugara
I can't remember when I first ate a jam fruit
But I know who plucked it for me
Holding tiny little me in his arms
He reached up and plucked the juicy red bauble
I can't remember the first time I crossed the edande
But I know who carried me over
Who held my hand when I was ready to walk across
And who beamed from the other side when I did it on my own
I can't remember the first time I had a bath
But I know who made sure I had the best shampoo
The best soap, the best powder, the best cream
Who pretty much made me a branded baby
I can't remember the first time he spoke to me
But I know they were words of love
I remember the last time he spoke to me
And again dear Papa spoke only words of love.
Stephanie Nugara
---