Mickey Arthur joins SLC after Ramprakash, Farbrace snub
View(s):

Sri Lanka Cricket's 'hire and fire' policy of coaching staff seems to have taught them a bitter lesson. After two frontline candidates for head coach–to replace Chandika Hathurusingha–asked for more time to decide, the Board had no option but to hire Mickey Arthur for the national team.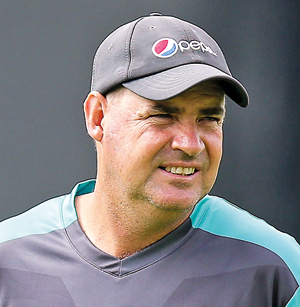 SLC confirmed that they have sealed the deal with 51-year-old Arthur and that he will join the team as an observer ahead of their Pakistan tour. Arthur, who has coached his native South Africa as well as Australia was last engaged with Pakistan team before he was axed after a disappointing World Cup in England.
Since 2011, Sri Lanka has had ten coaches with only Graham Ford seeing off his full two-year term in his first stint. The Board has sacked some while others resigned owing to politics in the governing body.
Not all coaches have taken unceremonious treatment on the chin.  Geoff Marsh, who won both the Ashes and World Cup as Australia coach, sued SLC successfully for a hefty sum for wrongful termination of contract in 2012. Ford resigned amicably for a decent compensation package during his second stint in 2017.
The Board is yet to terminate the contract of Hathurusingha. He remains suspended since August this year but is likely to be sent home before the end of the month, inviting a lengthy legal battle. He has refused to resign from the post despite SLC offering compensation package of six months pay. He wants SLC to fire him so he can take the matter to court.
"We have finalised Mickey Arthur's appointment," said SLC President Shammi Silva. "We were also looking at Ramprakash and Farbrace but they both requested more time."
Arthur has been signed up for a two-year term and will replace Rumesh Ratnayake after the two-match Test series in Pakistan. Ratnayake, the former fast-bowling coach, will then be transferred to the High Performance Center as a bowling coach. Australian Shane McDermott will be the new fielding coach of the national team.
The Board is making several new appointments to the High Performance Center with Jerome Jayaratne, the current Chief Operating Officer, returning to fulltime coach once again as the Head of the Unit. He will have the services of Tim McCaskill, the High Performance Manager at Cricket Victoria, as Head of National Development. He will now be in charge of overall national cricket development in the country.
Jayaratne headed the SLC's coaching arm for well over eight years, contributing largely to player development. He was removed when the then Board headed by Thilanga Sumathipala brought in Englishman Simon Willis as head of the unit.
The Board is also in discussion with South African Allan Donald, Australian David Sakar and Zimbabwean Heath Streak to join the national team as bowling coach.
"We will make the appointment before the end of the month," said Silva.