Appreciations
View(s):

Of student fun and ELTU days at Pera Uni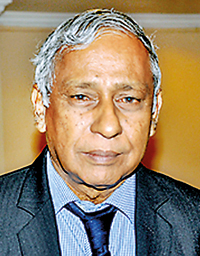 Aubrey Kuruppu
The passing away of our dear friend, colleague and batch-mate Aubrey, came as a great shock to all of us as it was so sudden and totally unexpected. Saturday, October 12 was the scheduled date for our annual batch get-together and we had assembled at the Royal Mall, Peradeniya for the event, expecting Aubrey to show up too. That was when we heard the sad news.
Then we learnt that Aubrey had taken ill just there (Royal Mall) on the previous day and had been rushed to the Kandy General Hospital where he passed away. He had come to Kandy to cover a cricket match between St. Anthony's College, Katugastota and his alma mater, S. Thomas'College, Mount Lavinia. After the match, we were told, he had come to the Royal Mall, one of his favorite haunts, to have a cup of tea. As he looked ill, his friend had urged him to see a doctor immediately. But he had gone to a pharmacy close by instead, and had collapsed there.
As his niece said later when we met her at his funeral, Uncle Aubrey died  just as he would have wished to have died -  in Peradeniya (his haven) after covering a cricket match (what he loved doing most) and enjoying a cup of tea at his habitual  haunt.  She had high praise for the students of Vidyartha College and Rahula College who had been of immense help to her during his funeral, handling most of the arrangements. He had been their cricket coach for decades.  We were gratified to hear that weeks before his passing, Aubrey had been honoured and feted in grand style by Vidyartha for his services as cricket coach.
In 1965, Aubrey, Manel Eriyagama, Kumari Wadugodapitiya and I entered the University of Peradeniya along with our batch-mates. Then too, just as now, only a handful of students offered English for the Degree, and consequently we were a close-knit group. By the  end of our third year, the special (English) batch had dwindled to just two, Aubrey and I. Sitting side by side in the lecture room, we were sometimes mistaken for a couple, which we were definitely not! The chemistry between us did not work that way at all!
However, he did have crushes and a host of admirers .One day, at the beginning of our first year, Aubrey told us that miss so and so, the prettiest girl in our batch, had asked him to accompany her to the bank in Kandy, as she didn't know Kandy well. He was naturally elated! The next day, we were eager for news. He did a 'thumbs down' and told us humorously that her first sentence had been about her boyfriend! He developed a fancy for an exquisite, petite girl in the general batch, but matrimony, I suppose, was not on the cards for him. Much later, we colleagues were hopeful that he would 'settle down' at long last when romance seemed to be in the air once more. But it was not to be. Aubrey's first love, I believe, was cricket.
I must write here about a story, one of many, that he relished and often related to his colleagues in the ELTU (the English Language Teaching Unit) much to their amusement. The incident took place during our undergraduate years in our third year. Our Juniors who used to join us for certain lectures, had dared him to do something 'naughty' and he had accepted the challenge. Unaware of all this, I walked into the lecture room and sat beside Aubrey as usual. I noticed a lot of giggling at the back but did not know what was in store. Quite unexpectedly and suddenly, Aubrey put his arms around me and planted a kiss on my cheek! Shocked and taken aback, I took up the only 'weapon' I had, the heavy volume of 'The Complete Works of Shakespeare' on my lap and brought it crashing down hard on his shoulder, amidst much laughter and cheering! Aubrey had won the bet.
Another incident he liked to tell was about Prof. Souza. One day, I was standing on the corridor, outside our lecture room,waiting to go in for his ten o'clock lecture on Chaucer. When the bell rang, to my surprise, Prof. Souza walked out with Aubrey in tow. Prof. stopped and glared at me and said accusingly "you're late Miss!" I was flustered and muttered that the lecture was scheduled for ten o'clock and not nine. Then he turned to Aubrey (who had obviously got the times mixed up) and said "Young man, you have the makings of a good journalist!" This proved to be prophetic.
In 1970, Prof. Doric de Souza,  our much revered lecturer and later our 'Boss' invited us to  join the Sub Department of English even before our results were out. A request from him could not be disregarded and so Aubrey and I joined the ELTU as 'casual' teaching staff of the Sub. Dept. of English, and were paid a small stipend (Rs.15 per hour). On days that we had no teaching, we just kept away not wanting to claim payment for just hanging around. Prof Souza summoned us one day and asked us how we managed to pay our Hall fees when we earned so little and we had to admit that our parents came to our rescue. Then, peering at us over the rim of his glasses, he ordered us to report for work daily and we did!
Aubrey was to become the much loved Coordinator of the ELTU of the Faculty of Arts -a position he held with distinction and dedication until his retirement. He was in his office and at his table from 8 a.m. to 4 p.m. daily, never absenting himself from work, as long as I can remember. He was charming and easygoing, but firm when tough decisions had to be made. He couldn't countenance 'shirkers' and had no patience with them. Aubrey was particular about discipline and sound routines. Everybody looked forward to the fortnightly meetings he conducted, not only because of the 'goodies' brought by each member in turn but even more for his wit and humour  that we greatly enjoyed.
Aubrey was a true democrat and endeared himself to all. He was equally at home with those who held the highest offices of the university like the Vice Chancellor and Deans, and just as comfortable with the non-academic staff of all grades of the university. He was popular among the students too. It is indeed a privilege to have known him – the perfect gentleman. We will miss him greatly.
Sumangalika Dharmadasa
---
 He gave time and love to all
Shums Mariff
Impeccably dressed in a crisp white short-sleeved cotton shirt, light trousers, socks and shoes, and a white sailor cap. This is how Shums Mariff is remembered. His passing came as a shock to his family. He left suddenly, without much ado, as was his character. On Friday, September 27, two months shy of turning 76, he was preparing to leave for Friday prayers, had bent to tie his shoes, when he collapsed.
One can't begin to explain the void he has left in his family. He came from a family of 7 children who when they were between the ages of 13 and 2 lost their mother. They grew up with the oldest daughter taking on the role of the mother. When their father (A. F. Mohamed [circa 1905-1973], Proprietor, Shums Stores and Qamar Stores, Pettah) passed away two decades later, Shums  Mariff, by circumstance, choice or perhaps by the goodness of his heart, became the default male figure and father to his younger sisters. Later, he was the same to his nieces and nephews growing up in the absence of parents. He was the fort that held together the family, in joy and grief, never claiming any kind of authority or gratitude for it, but being very much present in his quiet, constant and comforting presence. His was the kind of giving that never expected anything in return. He gave and did so generously, with time, effort, love, and attention for all.
'Poo Maama' was father to his nieces and nephews who had lost theirs early. This was no obligation to him; he took pleasure in tending to these children he considered his own. Many of these children grew up with their uncle beside them. One of his nephews notes that it was through Poo Maama that he learned in the 80's, the procedure to obtain a curfew pass during a family emergency. Our uncle was the person everyone turned to during crisis and calm alike. He had great tact and an even better sense of humour.
Another of his nephews says that it was Poo Maama who took him to Galle Face Green for the first time. That he had learned the concept of a "trip" from our uncle. Of going outside and looking at and learning from the world. A warm memory for most of the children in the family is being piled on to the back of Poo Maama's white Datsun pickup, the adults in the front, to be spirited off on another exciting impromptu trip. He introduced to these children of the 70's and 80's, the joy of the "surprise" unhindered by technology. While I can't claim to have been particularly close to my uncle, a childhood interaction with him remains with me to this day. Once when I was 12, he sought me out during a family gathering and placed a packet of chocolates in my hand, conspiratorially whispering with a twinkle in his eye, "it's your share, don't give the others". That gesture of his, of remembering me amidst the ruckus of a family event, moved me greatly. He had a place for everyone in his heart, the big and the small.
Poo Maama had wide and varied interests and pursuits. Apart from being an avid reader, he also undertook photography and gemmology in his youth. Later, he pursued diverse fields in his career of business ranging from curios, gems, jewelry, footwear, importing leather, exporting sweetmeats, spices, coconut, tea, and prawn farming,to list a few. His passion for learning and growing never ceased. Poo Maama graduated with a Bachelor's degree in Social Science in 2013 from the Open University of Sri Lanka at the age of 70. He achieved what he could not during his youth with the same or perhaps more enthusiasm than a 20-something would.
His sisters fondly maintain that their Poo Nana could have given a run for Raj, Shammi and Shashi Kapoor's money at their prime with his charm, intellect and wit. Kind twinkling light eyes behind rimless glasses, an expression showing that you are soon to be teased and an infectious resounding chuckle that accompanied said harmless teasing; all that was missing to complete the Dumbledore-look was the wispy white, waist-length beard. With the passing of Poo Maama comes the end of an era. The memory of Shums Stores of First Cross Street, Pettah is difficult to hold in the absence of Shums himself. To those seven children who had grown up together in the absence of their mother and later their father, who had only each other to lean against, this is the first separation in over forty-five years.
Shums Mariff leaves behind his wife, children, grandchildren, siblings, and numerous nieces and nephews. He is sorely missed.
May he attain the highest rank in Jannatul Firdaus.
 Tasneem Hamead
---
He left lasting impressions in people's minds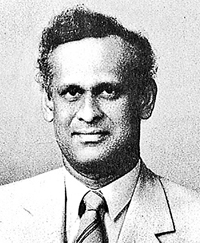 SIRIPALA JAYASINGHE
It is hard to believe that 30 years have passed since the cruel hand  of death had taken him from our midst forever. Sri Lanka lost a versatile engineer when Siripala Jayasinghe passed away 30 years ago after a brief illness. His untimely death was an irreparable loss to the construction industry in the country and to Link  (Engineering) Ltd, in particular.
He was the affable managing director of Link (Engineering) Ltd, and its associated companies and had the distinction of being one of the first few Sri Lankans to have a post – graduate degree in construction management from the Loughborough University of Technology at that time in the 1970s. It was due to his unfailing efforts and dedication that ICTAD awarded the construction excellence prize to Link (Eng) Ltd., for the first time in 1984. Two years later this was repeated.
After his demise in 1988 it was not the same.
Siripala Jayasinghe had a wide circle of friends in whose company he was happy. Barriers of race and religion did not affect his friendship. His pleasant personality, exceptional fluency in expression, general knowledge and common sense, unrivalled experience in the subject matter, dedication and hard work were the hallmarks of his success, during his short span of life. He was religious and respecting of human relationships, traditions and authority.
Though his approach to people was always one of cordiality, he maintained a distance for sometime until he had studied the person and was able to make am assessment of their qualities.
After he formed his judgment which was generally correct and if it was favourable, he would place implicit trust on those on whom he could rely. This sort of reliance naturally imposed heavy responsibilities on them and they were very faithful to him.
One of his most outstanding qualities was his humility for he never considered himself infallible. It was here that the writer received a training that he would never have had from another head of his stature. Particular mention of this quality in Siripala Jayasinghe has to be made because experience has shown it is very rare. As a general rule, when there is a great disparity in ability and experience or even without that when there is a considerable difference in position, people are generally stubborn and self opinionated to the extent of resenting advice. Siripala was diametrically the opposite. This admirable quality in him made a deep impression on me as to have been almost assimilated into my system.
Such rare qualities made him very popular with all who knew him. He has left lasting impressions in the minds of people with whom he had worked and associated.
 C.A.A. Gunaratne
---
Fond memories of him will remain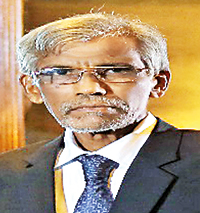 N.S. Adhihetty
Nandana Sunil Adhihetty, "Thatha" to his children, Lalendra and Budhhima, subsequently to the newest member of the family, Maheeka, and "Sunil" to me, left us very suddenly almost one and a half years ago. His demise was so unexpected, that we are still trying to come to terms with the abyss he created in our lives. He would have been 73 on November 14, had he lived.
Born to a well-known family in Baddegama, he was very proud of his southern roots. Educated at St. Aloysius College and later at Mahinda College, Galle, he combined excellence in both studies and sports. After completing his higher education at the University of Kelaniya with an Hon. Degree in Economics, he joined NIBM and served the institution for around 35 years, culminating in his appointment as the Acting Director General.
His was a fount of knowledge, being armed with two Masters degrees from two reputed European Universities, and with the gamut of experience he derived from the many short term training programmes abroad, on various management related topics, he dedicated himself to developing and enhancing the managerial capacities of those who were interested in career development.  He was an inspiring 'Guru' who encouraged all who came to him, to be committed to continuous professional development. His greatest happiness was in seeing his proteges achieve greater heights in their chosen fields.
As a close friend indicated, "Sunil always engaged in intellectual discourse when in company of others and never gossipped." Another observed, "He never spoke ill of others and always saw the positive side of human beings." A rare quality in a human being! Yet, he never hesitated to call a spade a spade.
He was a person who was unfailingly caring and kind. His optimism brought hope and sunshine to those in need, making the world a better and happier place. He always said, "Gratitude is a noble quality!" and never forgot to show it to those who helped him in any way, with a phone call, a thank you card, by sending photocopies of useful documents, or a personal visit when possible, with something from the garden. Such was his thoughtfulness!
His love and respect for his parents, as well as his in-laws, was touching. His earnest request to "Treat Aachchi like a VVIP!" is faithfully followed by us to this day. Sunil, you will always be a beacon of hope and a guiding light to the members of your family. You were my "Rock" and I miss you every day!
He was a wonderful human being, with refined and humane qualities. A humble and simple man of integrity, he found contentment in the simple things of life. Beautiful, fond memories of him, his guidance and counsel are the treasures he bequeathed to us, which help us to carry on.
May his journey through samsara be short and joyful!  May he attain the supreme bliss of Nibbana!
 Saroja