Servicemen honoured at "Midway" premiere
View(s):

'Midway', a newest war film based on Pearl Harbour attack and subsequent Battle of Midway during World War II was recently screened with the participation of large number of Navy and Air Force personnel.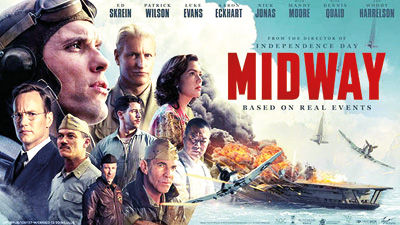 Movie Works Private Limited invited over 80 Air force and Navy servicemen and women for 'Midway', which was internationally released on November 8, and had its Sri Lankan premiere on November 9 at the Maxlite Cinema, K-Zone in Moratuwa.
The premiere was dedicated to the brave young men and women, who fought many battles in the seas and in the sky to bring peace to Sri Lanka.
Directed by Roland Emmerich and produced by LIONSGATE, the film stars Ed Skrein, Patrick Wilson, Luke Evans, Aaron Eckhart, Nick Jonas, Mandy Moore, Dennis Quaid, Tadanobu Asano and Woody Harrelson.
'Midway' centres on the Battle of Midway, a clash between the American fleet and the Imperial Japanese Navy which marked a pivotal turning point in the Pacific Theatre during WWII. The screening at Maxlite Cinema was graced by Rear Admiral. Y.N.Jayarathna of Sri Lanka Navy and a number of media personnel and celebrities.
Movie Works Private Limited founder and Managing Director Anura Jasenthuliyana addressed the gathering and spoke about how Americans still want to tribute their veterans by making movies on battles that have taken place over 70 years ago.
Rear Admiral. Y. N. Jayarathna stressed on the historical importance of the battle of Midway.
Movie Works (Pvt) Ltd., is an entertainment-based company engaged in building and operating state of the art luxury mini cinemas and importing and distributing world-class Hollywood and Bollywood movies. The company aims to provide the glory and the magic of world cinema to the Sri Lankan patrons with all its original quality and glamour with most modern technologies available.