Movie based on three real tales
By Susitha Fernando
'Mandara'
View(s):
Filmmaker Priyantha Colambage who is wellknown for his earlier directions like 'Arumosam Wehi', 'Aadaraneeya Kathavak' and 'Dedunu Aakase' will start filming his latest direction 'Mandara' on November 21.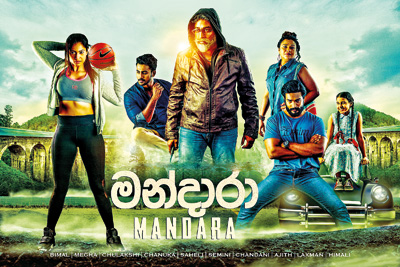 A story revolving around a newly wedded young couple whose dreams are shattered unexpectedly, 'Mandara' is based on three true stories that took place in recent past in Sri Lanka. Priyantha was inspired by incidents including missing of a child in Colombo hospital that took place recently.
"All three incidents had an impact on me and I thought they were good stories for cinema," said Priyantha speaking about his directorial venture.
The film is narrated around Vishwa, a young architect by profession who gets married to Mandara, a basketball coach. Their meeting is an accident and the marriage is objected by Mandara's mother and her step father. However Vishwa, a hot tempered by nature gets married to Mandara despite the objection by her parents.
But Mandara who comes to know about Vishwa's natural weakness is shattered and their relationship leads to an unexpected juncture.
Parallel to the story of Vishwa and Mandara, is the tale of 'Yashora' who loses her mother when she was young and forced to go through a series of difficulties and challenges.
Produced by Mahen Perera for Blueshift and Creative Force Production, the film stars Mega Suriyarachchi, Bimal Jayakody, Chulakshi Ranatunga, Chanuka Prabudda, Saehli Satharasinghe, Semini Iddamalgoda, Chandani Seneviratne, Ajith Lokuge, Lakshman Mendis and Himali Sayurangi.
In the technical staff, Ruwan Costa is the cinematographer, Priyantha Colambage and Wajira Kasthuri wrote the screenplay, Megha Kavindha Colambage is the editor and Milinda Tennnakone-music director.
Make up by Nalin Prematillake, sound designing by Diran Wijesinghe, art direction by Mangala Fernando and production manager of 'Mandara' is Nimal Senadhira.