Embrace your colour, says Lankan beauty blogger
By Ruqyyaha Deane
View(s):
Known as Sri Lanka's first beauty blogger, Roshani Kumarasinghe, the face behind 'Beauty by Rosh' wrapped up her Masterclass World Series session in Sri Lanka earlier this month leaving Colombo's fashionistas with tips and tricks of the trade to pull off that perfectly glammed look — be it subtle or as extravagant as one wishes.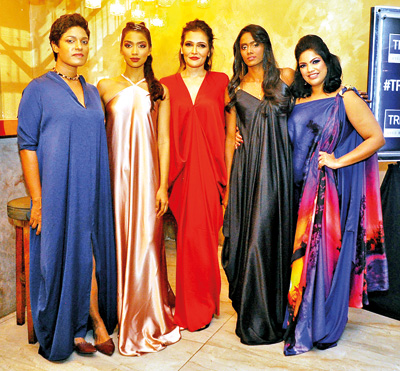 "My time in Sri Lanka has been great. We had a masterclass which has been like the main event that we showcased – how to do your makeup for everyday women. It's a series of masterclasses that I am doing all over the world – in Sydney, Perth, Melbourne, Colombo, Bali and Bangkok," Rosh tells the Sunday Times as she elaborates on the week she spent in the country.
Despite not having a professional background in makeup, Roshani has built quite a following on her social media platforms garnering even the attention of Vogue India.
"This year, my theme for the Masterclasses is based on smokey eye makeup because it has become my signature thing. For next year's campaign it will be 'All that Glitters' as I have been experimenting with glitter and I love it," Roshani laughs telling us that she has planned masterclasses in Sri Lanka annually and hopes to do masterclasses in L.A, New York, Singapore and two other, as yet undecided cities.
To end her week in Sri Lanka, that started off with a pre-glam event before her main masterclass that was held at Jetwing Colombo 7 and followed by an after-party at Ask For Fern, Roshani hosted a 'Glam Night' at The Chiller Room on November 6.
She showcased four makeup looks including herself whilst collaborating with fashion designer Charini Suriyage, whose designs all four of the models wore.
From a dramatic use of a pink and gold eyeshadow to an edgy red lipstick, Roshani explained why she used certain colours and palettes on the different models and their individual skin tones. She provided tips such as how layering shadows and using a gradient of colours will bring out better the look that you want.
"I do want to tell you about colour-matching especially in Sri Lanka because it is so important." Although she herself is light skinned, "I still want to talk about the issue of how being fair is being pretty in Sri Lanka. I want to encourage people to embrace their colour and embrace their beauty," Roshani pointed out when talking about foundation and skin tones.
You can check her work out on her Facebook and Instagram with her handle beautybyrosh or her YouTube channel 'Beauty by Rosh'.