Culture, history and more at the Korean film festival
By Ruqyyaha Deane
View(s):
The Embassy of the Republic of Korea in Sri Lanka and the Korea Foundation held its 6th edition of the Korean Film Festival at the National Film Corporation (NFC) Theatre last week, in partnership with the National Film Corporation of Sri Lanka. The films were shown free of charge and included English subtitles.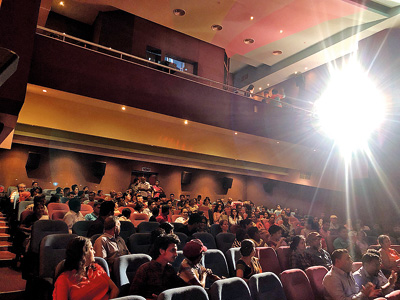 Speaking to the third secretary of the Embassy of the Republic of Korea in Sri Lanka, Chae Eona who is also the cultural secretary and coordinator of the Film Festival, tells us, "This year it (the film festival) is more special than ever. The year 2019 marks the 100th year of Korean Film. The Korean Film 'Parasite' directed by Bong Joon-ho won the first time in Korean history the Palme d'Or award at the Cannes Film Festival. "
As it is a momentous milestone, there were four critically acclaimed Korean films that were screened for audiences to enjoy. 'Little Forest' kicked off the Film Festival as the opening movie. A movie about a young woman who returns home after a fruitless venture into the city-life and the journey she goes on with her two childhood friends, 'Little Forest' is a movie that is said to be 'openhearted but still sharp-minded and quietly mysterious.'
'Stand by Me' another film tugged on heartstrings as the story revolved around a terminally ill grandfather who attempts to build a life for his two grandchildren. The heartbreaking movie shows the importance of family ties and explores the nuances of different relationships.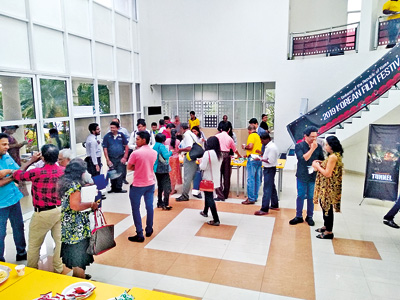 The festival featured a different pace of movies including an action film 'The Tunnel' which has been described as a 'fantastic survival drama-type film'. The film's storyline is about a man who gets trapped under a collapsed tunnel in his car and the race against time to rescue him, this movie had everyone on the edges of their seat to see the final outcome of Lee Jung-soo (played by Ha Jung-woo).
Another inspiring film based on the real story of the Korean women's national ice hockey team and its challenge in the 2003 Aomori Asian Winter Games, 'Run-Off' was also featured at the festival on the final day. The film tells the story about an odd group of women who form South Korea's first ice hockey team
"Films speak a universal language, it has meaning and relevance for all people regardless of their national, social and cultural background. Film has been a popular means of modern art. I hope the film festival will be a wonderful opportunity for Sri Lankan friends to understand culture, history, customs and social developments of Korea," Eona said.