Young Sri Lankans wrap themselves in glory in Pakistan
View(s):

Sri Lankan T20 squad, without 10 senior players, 'whitewashed' the No.1 ranked Pakistan team 3-0. The statistics itself reveal the story.

Three Sri Lankans, Bhanuka Rajapakse, Danushka Gunatilleke and 27-year-old debutant Oshada Fernando head the batting statistics, while 4 Sri Lankans again, Hasaranga (8/79) Nuwan Pradeep (7/46), Isuru Udana (5/49) and opening bowler Rajitha (3/48) head the bowling statistics. Need one say more?

When 5 new faces were selected for the 3rd T20, a 'whitewash' did not seem a possibility. Maybe, the Selectors were thinking of blooding new youngsters. However, after winning the 1st T20 by 64 runs, the 2nd by 35 runs, Sri Lanka edged through the final game with a close call of 13 runs. In other words, the Pakistanis were making things difficult for the touring Sri Lankans.

At the outset, it must be remembered that Sri Lanka was really making a courtesy call by visiting Pakistan, despite security reasons, when most other international sides were wary of touring this beleaguered nation. But one must also recall past history. Of course, there will be many Pakistani heads that would roll after this fiasco, just as Humpty Dumpty did.

Sri Lanka was in a similar situation in 1996, when Australia, followed by Mary just as the dutiful lamb (the West Indians) followed suit, citing security concerns. That was the occasion when the Indians and the Pakistanis formed a joint team and visited Sri Lanka and played a game. However, the fact that these nations refused to tour Sri Lanka helped the Sri Lankans to head the table, without donning their colours!

It was also Pakistan, led by former skipper Abdul Hafeez Kardar (1925-1996), who fought tooth and nail to promote Sri Lanka into the Test arena, with the able assistance of the then Secretary of the Sri Lanka Cricket Board, Neil Perera, to realize our dream. After having seen the Sri Lankans in action, Abdul Hafeez invited a few Sri Lankan coaches to visit Pakistan, to be trained by their own coaches.

Kardar was the father figure of Pakistan cricket, a highly respected personality, much in the lines of Imran Khan) but, resigned from cricket politics due to government interference (does that ring a bell?) and passed away, aged 71, on April 21, 1996, in Lahore. A little over a month earlier, on March 17, Sri Lanka won the coveted World Cup under the leadership of Arjuna Ranatunga. Hopefully, Kardar may have been aware of Sri Lanka's success. After all, he was the pioneer who assisted Sri Lanka get to the high table in 1981.

Getting back to Sri Lanka's current T20 success, Sri Lanka are now due to play 3 T20 games in Australia on October 27 (Adelaide) and 30 (Brisbane), and November 1 (Melbourne). In all likelihood, Lasith Malinga will be recalled as skipper for the Australian tour.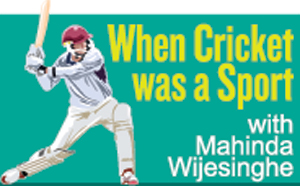 However, with almost 10 senior players having made themselves unavailable for the Pakistan tour, they must surely be looking over their shoulders to gain favour with the Selectors! Players of the calibre of Danushka Gunatilleke, Bhanuka Rajapaksa, Oshada Fernando, Hasaranga, Dasun Shanaka, (not necessarily as skipper) and Nuwan Pradeep to name a few, cannot be ignored.
The writer is disappointed with the left-arm leg-spin/Googly bowler Sandakan. For starters, it is best he keeps away from T20 cricket. Just bowling 4 overs is not his cup of tea. At best, he may be considered for ODI cricket, but he must be trained to play Test cricket with an important proviso. Sandakan must practice his skill to almost perfection. He must take a leaf from Sangakkara's book, where batting was concerned, or to go back to history again, learn from the famous Australian leg-spin bowler Clarrie Grimmett. Grimmett, who only had the basic facilities at home (no nets), trained his dog to wait at the other end to return the ball to his master, over and over again, and this practice helped.
No wonder, when Richie Benaud requested Don Bradman to select a so-called World XI (it was rumoured that Bradman may include Shane Warne in that side, to exclude our Murali). This was not something Bradman enjoyed doing. So Bradman told Benaud to reveal his so-called team, posthumously, not before. Indeed, there were 2 leg-spinners in Bradman's side. But no Shane Warne! The two leg-spinners were Grimmett and O'Reilly.