All things traditional take centrestage
By Oshani Alwis
View(s):
Traditional paduru woven in vivid patterns, lacquer pots in bright shades, exquisite masks and puppets, delicate wood carvings and many more were among the array of handicrafts at Shilpa Abhimani 2019, the Presidential Handicrafts Competition and Exhibition held from October 3 to 6 at the BMICH.
The creative platform for Sri Lanka's traditional and contemporary handicrafts industries highlighting the skills of local craftsmen is annually organised by the National Crafts Council (NCC) in association with the Ministry of Industry and Commerce with the aim of preserving, developing and encouraging traditional handicrafts while enhancing the socio-economic status of artisans.
P.G.Jagath Wijeratne from Matale, a regular at the exhibition is a skilled laquer craftsman. At his stall, Jagath demonstrated how a wooden pot is coloured with a piece of shellac. Shellac, a resin extracted from the lac insects native to Asia, is the primary material used in the lacquer industry. He claims that the insect is extinct locally and dry flakes of shellac resins are imported. "The exhibition is important to create market opportunities for our products and to share the knowledge of our traditional artwork," he says.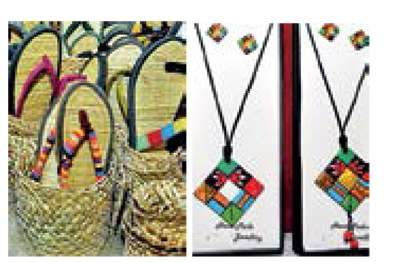 Colourful earrings, necklaces and accessories by Ajani Creations, Battaramulla all made with clay and pieces of coconut shell catch one's eye.
K.A.Ajantha who runs her hand crafted jewellery as a home business is happy to be at the exhibition every year. The jewellery is hand painted in delicate designs by her.
There were crafts from other countries too – stone studded jewellery, glazed pottery, embroidered items, sarees and souvenirs- the work of craftsmen from Thailand, India, Bangladesh, Nepal, Oman, and Iran.
Among the stalls from Iran selling handmade rugs and jewellery, Naser Shoghi's stall displayed ceramic and copper Perisan pottery hand painted in graceful patterns along with hand stitched satchels made with cattle and camel skin, ladies pouches and anklets woven in traditional kilim slitweaves.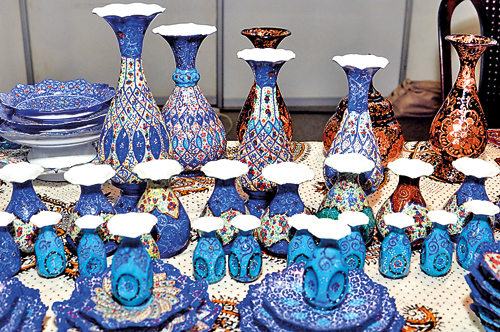 Prima Pearl based in Phuket,Thailand makes pearl jewellery, accessories and customized marine life themed ornaments in seahorse, starfish designs. Chomphunut Bunsophap, managing director of Prima Pearl enjoys exhibiting her work at Shilpa Abimani. "The exhibition is a great opportunity to witness Sri Lankan handicrafts which is different from the crafts of Thailand," she says.
Sena Eco by M.M.Edirisuriya, a local manufacturer of eco friendly handmade footwear and medicinal footwear from natural materials of reed, handloom fabrics and arecanut leaves says this Ayurvedic wellness footwear range is designed to help with skin allergies and specific medical conditions. The slippers are made by inserting a pulp made with medicinal herbal ingredients inside the soles.
Stone carvings, lace work, traditional paintings and sculptures were among the winning handicrafts creations done by students as a part of 'Shilpa Navoda', the All-Island Inter-School Handicrafts Competition.