Unlike father, unlike son!
View(s):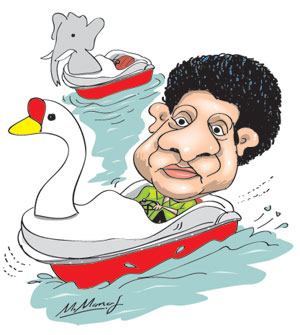 My dear Sajith,
I am writing to congratulate you on being chosen as the Green candidate to take on Gota at the big race in November. Having cleared all the hurdles put up by some Greens, you must be wondering which is the greater battle, fighting Gota or convincing the Green Man to let you run the race!
It is good that you are the Green candidate. If the Green Man ran instead of you, it would have been like a cricket match between Sri Lanka and India: the result would be known even before the contest began. Now, it is more like a game between Sri Lanka and Bangladesh: both have a chance of winning.
Even after your candidacy was announced, some in the Green camp were trying to knock you down a peg or two, saying you had agreed to 'conditions', allowing the Green Man to remain party leader and to stay on as your PM, should you win. I hope you made it very clear you will not be anyone's puppet.
Many people criticised you for the way you went about getting the nomination from the Greens. You said that if you weren't allowed to run for the Greens, you would contest anyway. In hindsight, if you hadn't tried that tactic, it would probably still be the Green Man's name on that ballot paper.
I hope you realise that this is the beginning of a long journey. There are some in your own camp who will be desperately hoping that you won't succeed. If you don't know who I am talking about, think of those people with special bonds who say that you should have passed 'O' Levels in this country.
Still, questions remain about your vision, Sajith. You need to answer them in the next few weeks. You talk mostly about following your father's policies, but twenty-six years after his death, you must be more specific than that and address current issues rather than only building houses and temples.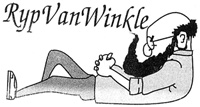 We remember the time when your father launched his election campaign. Posters asking 'me kawda, mokada karanney?' ('who is he, what is he doing?') were plastered on walls countrywide, overnight. In your case, although most of us know who you are, many of us don't know what you will be doing.
For instance, there is the question about the top job. All the Blue party leaders who held it — Satellite, Mahinda maama and Aiyo Sirisena- promised to do away with it but didn't do so. Even the Green Man promised to do away with it only because he couldn't get it last time. What then is your view?
The 'pohottuwa' chaps will make noises about Sampanthan seeya supporting you, saying you will barter the rights of the majority for a few votes. We do remember your father avoided being in the country when JR signed the Indo-Lanka Accord. So, what will you do about the devolution of power?
Sajith, I hope you will also not repeat the same mistakes that your father made. One of them was to ignore Lalith and Gamini perhaps because he felt threatened by them. That led to the impeachment motion against him. It is correct to say that that the Greens are yet to recover fully from that disaster.
Ironically, a generation later, Lalith's protégé, Ravi and Gamini's son Navin are now with the Greens with you. History could repeat itself. You shouldn't let that happen. Yet, I also think that those involved in bond scams should be dealt with, even if they have passed their local 'O' Levels!
Your father sat on a gold-plated chair that resembled a throne. He ruled with an iron fist. He disliked dissent. Richard de Zoysa was to him what Lasantha was to Mahinda maama.  People still remember all this. So, Sajith, while you should be like him in some aspects, you need to be different to him, too.
There is a lot for you to do and a very short time period to do it in. The 'pohottuwa' chaps are already on the campaign trail. You have to reorganise your party and send a message to the people that you are not representing the old, tired, defeated elephant — even if you have to come in the guise of a swan!
The Greens had their share of debates, discussions and disputes about who their candidate should be. It is to his credit that in the end, the Green Man made the right decision. Remember, he stood by your father when he was impeached- and maybe you should stand by him now. Very soon, nobody will.
When your father was second-in-command to JR, he lamented that what he was doing was a peon's job. Times have changed. With the changes to the Constitution, there are times when the job you are vying for could be a peon's job. So, if you win, Sajith, be careful about who you appoint as your PM.
When he was elected, your father said he inherited a torch burning at both ends: Indian troops in the North, an insurgency in the South. He dealt with both issues but his style was such that sadly, some lit crackers when he died. Maybe you could make the same people light crackers again — by winning!
We wish you well, Sajith, not because we prefer you to Gota but because we want the coming contest to be a true reflection of the peoples' will. They should have learnt over the last four years that getting rid of what you don't like doesn't necessarily mean that what they are getting is what they wanted!
Yours truly,
Punchi Putha
PS -A final word of advice, Sajith: in the past few months, you had been talking to Aiyo Sirisena from time to time. Whatever you do, you need to stop dealing with that chap. He will have no hesitation in betraying you and voters will disown you if they think that you have anything to do with him at all.