Sajith supremely confident: Sirisena stranded, Ranil passes the ball
By Our Political Editor
View(s):
Dramatic political developments see top two politicians being forced to climb down from their positions
SLFP likely to sign MoUs with SLPA; President now at mercy of the man he ousted
Wickremesinghe bows to pressure from his one-time loyalists; Premadasa insists there will be no conditions
UNP convention resolution spells out policies; Sajith, if elected, will work in consultation with PM
Sri Lanka's two top-most leaders were forced to climb down from the pinnacle of their positions in dramatic political developments this week.
For Prime Minister and United National Party (UNP) leader Ranil Wickremesinghe, the overwhelming pressure from within the party by a vociferous group forced him to agree to Sajith Premadasa, as his party's candidate for the November 16 presidential election. The long festering crisis first saw Wickremesinghe placing a set of conditions and later backing out after Premadasa declared he would not accept them. That also included an assurance that he would not tie the UNP in any form of alliance with President Maithripala Sirisena or the Sri Lanka Freedom Party (SLFP) he leads.
Premier Wickremesinghe agreed to the nomination of Sajith Premadasa as presidential candidate at a meeting of the party seniors at Temple Trees on Tuesday evening. He and his loyalists had made a count of the 60 odd member Working Committee to see which way a vote would go. Some of his supporters were asked to return from abroad. Still, the majority his loyalists said he would get was slim. Wickremesinghe felt that if the majority was not over a minimum of ten in his favour, he would opt out of a vote on the basis it would split the party badly.
So, it remained to yield to the Premadasa Group at the Tuesday meeting. It was endorsed by the others except for Ravi Karunanayake. Those present were Sajith Premadasa, Akila Viraj Kariyawasam, Ravi Karunanayake, Rajitha Senaratne, Navin Dissanayake, Malik Samarawickrema, Kabir Hashim, Mangala Samaraweera and Ranjith Madduma Bandara. At a meeting of the UNP Working Committee on Thursday, Wickremesinghe proposed Premadasa's name and it was unanimously accepted. A meeting of the UNP parliamentary group that followed gave covering approval. It was also in turn accepted by the partner parties of the proposed Democratic National Front (DNF).
Premadasa's nomination now awaits the formal endorsement at a UNP National Convention on October 3. His refusal to accept any pre-conditions has led to the adoption of a resolution at the convention to re-iterate the UNP's goals. They are essentially ones made in their last 2015 election manifesto. The resolution reads as : "We remain committed to take forward the Constitutional Reform process commenced during our Government with regard to (i) Devolution, (ii) Electoral Reforms and (iii) Executive Presidency with the concurrence of the Prime Minister. We will consult all stakeholders".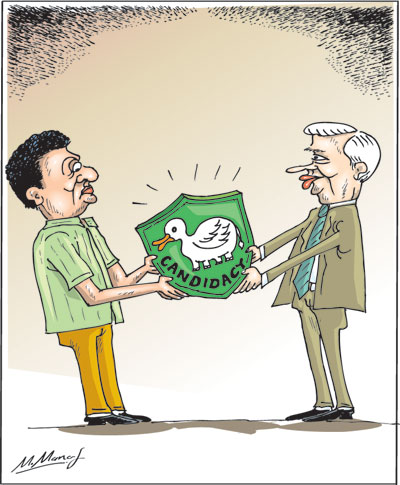 Significantly, there was some discussion on the third point — on the Executive Presidency. If elected, President Sajith Premadasa will act "in concurrence" with Prime Minister Ranil Wickremesinghe. The Sinhala text makes it even clearer. It uses the word "ekaghathawaya". While the word "consensus" would mean a "general agreement", the Sinhala word, which in law will have precedence, says the Executive President shall work with the "agreement' of the Prime Minister. The nuance is more than subtle. Thereby, if elected, a President Premadasa will take office only in early January, 2020 and work together Wickremesinghe at least in forming his first Cabinet. The new president is also precluded from holding a ministerial portfolio under the 19th Amendment to the Constitution, though there are constitutional questions whether this would even include the defence portfolio.
The introduction of a new electoral system and a devolution package to address Tamil grievances being the other two points in the Resolution, it is noteworthy to mention that such pledges in the past had remained on paper and could continue to be so. However, to re-iterate them is to allay fears, particularly in the Tamil community and the Tamil National Alliance (TNA). The TNA, which has remained a proxy to the UNF in the past, is not expected to respond until details are made public. Its first meeting with Premadasa did not go too well.
Thereafter, on Thursday night, Minister Mangala Samaraweera entertained the UNF parliamentarians to dinner at his official Stanmore Crescent residence that lay wedged between the residences of the Chief of Defence Staff (Admiral Ravi Wijegunaratne) and Air Force Commander (Air Marshal Sumangala Dias). Notable absentees for this event were Premier Wickremesinghe, and Ministers Sagala Ratnayake, Ravi Karunanayake, Vajira Abeywardena and Tilak Marapana.
Sirisena's predicament
For President Maithripala Sirisena, to avert falling between two stools, a loss of face from his own party and even perhaps political oblivion, he made a plea again to join the Sri Lanka Podujana Peramuna (SLPP)-led Sri Lanka People's Alliance (SLPA). This came during a meeting on Tuesday night with the opposition presidential candidate, Gotabaya Rajapaksa, the former Defence Secretary. It was just hours after the UNP hierarchy had decided to name Premadasa and he found no prospects of any tieup in a separate Premadasa-Sirisena alliance.
President Sirisena consulted his parliamentary group at a meeting on Friday night. There was pressure on him to insist that the SLPP changes its symbol from Pohottuwa (lotus flower) to a chair or another before they back the SLPA. Those known to be pushing hard for this were Dayasiri Jayasekera, Lasantha Alagiyawanna and Duminda Dissanayake. They had even made representations to Sirisena earlier. With the meeting under way at his official residence at Mahagamsekera Mawatha, he immediately telephoned, SLPP leader Mahinda Rajapaksa. That was for an urgent meeting.
It was scheduled for noon yesterday at the Presidential Secretariat. Basil Rajapaksa had already arrived. Both Mahinda and Gotabaya Rajapaksa were at the Convention Centre at D.R. Wijewardene Mawatha where they were addressing a representative group of farmers. When they arrived, Thilanga Sumathipala escorted them upstairs to meet President Sirisena. However, he was asked by Sirisena to keep out of the meeting.
President Sirisena began by declaring that he chaired a meeting of the SLFP parliamentary group on Friday night. He said his members were in favour of supporting the candidature of Gotabaya Rajapaksa. However, the SLFP MPs had wanted the Chair or another "neutral" symbol. He said this was why he gave the telephone call. Sirisena said his MPs had declared they would never work for the UNP. He asked, "How can we ask people to vote for Pohottuwa?"
SLPP and Opposition Leader Mahinda Rajapaksa explained that it was far too late to make a change in the symbol. However, he said that the SLPP was willing to discuss a "common" agreeable symbol for the parliamentary elections.
SLPP architect Basil Rajapaksa pointed out that presidential candidate Gotabaya was not a candidate of the SLPP but of the Sri Lanka People's Alliance. He was contesting under the Pohottuwa symbol. He appealed to President Sirisena not to make this an issue but support the candidate. Sirisena replied that he would place the SLFP position at tomorrow's meeting of the Central Committee, take a decision and inform the SLPP leaders. The CC will have little choice except to endorse the Pohottuwa symbol if the SLFP wants to join the SLPA.
Ahead of going before the Central Committee, President Sirisena may have more developments to report.
Yesterday, UNP's presidential candidate Sajith Premadasa, requested the party's General Secretary Akila Viraj Kariyawasam, to write to his UNP counterpart Dayasiri Jayasekera seeking talks on new political developments.
Jayasekera has conveyed the request after obtaining clearance from UNP leader Prime Minister Ranil Wickremesinghe. The latter, however, will not be a party to such dialogue.
On source said Sirisena loyalists made the approach to Premadasa after his efforts to have the SLPP change their symbol failed.
Around 10 a.m. yesterday, President Sirisena met leaders and representatives of smaller political parties that form the Sri Lanka People's Alliance (SLPA). That included Dinesh Gunawardena, Wimal Weerawansa and Vasudeva Nanayakkara. He also told them of Friday night's parliamentary group meeting and sought their support.  Gunawardena who spoke first thanked the SLFP for wanting to support Gotabaya Rajapaksa but declared it was too late to call for a change in the symbol. Weerawansa also declared that the matter could be discussed later and urged this be not made an issue for the new alliance.
That is not all. The SLFP was ready to sign three MoUs (Memorandum of Understanding). One was with candidate Rajapaksa, one with the SLPP and another with Mahinda Rajapaksa, leader of the SLPP. The latter is to join the SLPA by accepting its constitution. It had been prepared by the SLFP's deputy chairman Nimal Siripala de Silva. In the light of a request to change the symbol, it was not approved by MPs.
By a strange quirk of fate, Sirisena will come under the SLPA leadership of Mahinda Rajapaksa – the very person whom he ousted during the January 8, 2015 presidential election if the SLFP chooses to join SLPA. Then he made a multitude of pledges to probe alleged bribery, corruption and acts of misrule during Rajapaksa's administration. His more than four-and half-year term saw bitter rhetoric in public against Mahinda Rajapaksa and members of his family. Now, for political expediency, he wants to embrace them again.
On Wednesday, just a day after the Sirisena-Gotabaya meeting, in a bid to smoothen relations with the Rajapaksa family, President Sirisena also directed the Ministry of Defence to immediately re-instate to the Sri Lanka Navy (SLN), Lieutenant Yoshitha Rajapaksa, Mahinda Rajapaksa's second son. It was just a week ago that the President charged that two billion rupees had gone missing from moneys spent for the construction of the Lotus Tower under the Rajapaksa regime – a charge which was flatly denied by the former President as well as the Chinese companies concerned. Those denials put paid to the issue.
It is Sirisena who signed Yoshita's s discharge order from the SLN and oversaw many cases probed by the Criminal Investigation Department (CID) allegedly linked to him. Now, Sirisena has ordered that his re-instatement be backdated from February 28, 2016. As a result, Lieutenant Yoshitha, a popular rugger player and sportsman, will be able to wear his SLN ceremonial uniform when he weds on October 3. His continuity in service, without any blemish, has also been ensured.
The UNP crisis
Now to the crisis in the UNP, one where its leader, Premier Wickremesinghe, resisted for weeks moves to heed the call by backers of Premadasa to nominate him as the party's presidential candidate. Whilst insisting on contesting himself, he also declared that he was sure of 50% plus one vote thus ensuring victory. Instead of Premadasa, at one point he suggested an "alternative candidate" – Speaker Karu Jayasuriya. Though he expressed willingness and declared his mission would be to abolish the executive presidency, Jayasuriya later backed out. It is known that Premadasa had offered to make him Prime Minister if elected President.
Early this week, talks between Premadasa loyalists and Premier Wickremesinghe had almost reached consensus. Yet, the UNP leader sought assurances from Premadasa on specific conditions. Earlier, during a conversation with Premadasa, he had asked whether there was any role in his mind for President Sirisena. Premadasa had replied that they were mulling over a possible alliance. Leaks about this in the social media fuelled speculation that Sirisena was seeking to become Prime Minister under a Premadasa presidency. Premier Wickremesinghe then told Premadasa that as party leader, he would ask him not to involve Sirisena with the UNP and let him do what he wants.
Some of the conditions related directly to the pledges the UNP had made to the Tamil National Alliance (TNA). That included a new Constitution, abolition of the Executive Presidency and addressing Tamil grievances. The other was the issue of a symbol under which Premadasa would contest. The symbol suggested since Premadasa was formally contesting under the DNF was the Swan or Hansaya. To be sure, Premadasa loyalists tasked non-Cabinet rank Minister Ajith Perera to visit the offices of the National Election Commission (NEC) last week and check whether the symbol has been allotted to any others. It had not been. Yet, there is some bickering as Premadasa loyalists wished they could have the UNP's elephant symbol.
During the 2010 presidential election, Sarath Fonseka contested as the New Democratic Front (NDF) candidate under the Swan symbol. Thereafter, at the presidential election in 2015, Maithripala Sirisena also contested under the same symbol. At that time the NDF Secretary was Shyamila Perera, Attorney-at-law. She was once politically associated with the late Lalith Athulathmudali, former UNP minister. After his assassination, the Front continued to remain in the hands of Ms Perera who was with Ravi Karunanayake's political fortunes, and the party symbol was offered to Fonseka to contest the 2010 presidential election as the common opposition candidate. It was originally registered in 2009 as the New Democratic Front (NDF). Interesting enough, the motto of the NDF is "Look out for what is right – Not who is right."
A corollary to Premadasa becoming the Democratic National Front (DNF) candidate and contesting under the Swan symbol is that it allows Ranil Wickremesinghe to retain the party leadership. He also retains the position of Prime Minister, both matters Premadasa had agreed upon to clinch nomination and the presidential ticket. Yet, his being named presidential candidate, more UNP parliamentarians and supporters would gravitate towards Premadasa now. Already, several one-time Wickremesinghe loyalists have dumped him and jumped on the Premadasa juggernaut lest they be left out of a future cabinet. In the light of this, at least temporarily, Wickremesinghe's clout could weaken. "That is politics", Wickremesinghe said when it was pointed to him that those he brought into politics seem to have stabbed him in the back. The Premier has told confidants that other than supporting his candidate, he would maintain a low profile until presidential election was held. That is to obviate any criticism that he interfered after ceding the nomination to Premadasa.
Early this week, pressure continued to build up on Wickremesinghe. Former UNP Chairman Malik Samarawickrema was on a Sri Lanka Air Force (SLAF) VIP helicopter flight to Kandy with Premier Wickremesinghe the previous Saturday. The Premier was opening the Greater Kandy water supply scheme under the purview of Minister Rauff Hakeem. Hakeem had slammed Wickremsinghe just the day before for orchestrating the last minute move to abolish the Executive Presidency. An excited Hakeem told reporters on the way to Temple Trees for talks that Wickremesinghe was responsible for frustrating Premadasa's chances of winning the presidential election. On the way out of Temple Trees, Hakeem was less agitated, and the next day at water scheme opening in Kandy and in the presence of Wickremesinghe, he was very apologetic saying it was Wickremesinghe who was a calming influence on him when he got too excited.
On Monday, Wickremesinghe was in Mirigama. He was accompanied by Speaker Karu Jayasuriya, whose pocket borough it was. During a conversation on the current issues within the party, he advised Jayasuriya not to consider media, particularly television reports, about him and the party. "If they are correct, there is no UNP today," he pointed out.
By then more talks had been lined up for Tuesday and Wednesday when Wickremesinghe agreed to Premadasa but insisted on demands. Of greater interest was the demand to abolish the executive presidency. It was pointed out to Wickremesinghe that Premadasa had given an assurance during talks that he (Wickremesinghe) would remain UNP leader as well as Prime Minister. Now, Wickremesinghe was calling for the abolition of the presidency if he (Premadasa) won. There was a lengthy argument on what was called an "impractical" demand. In other words, Premadasa would have to win the presidential election, become president, abolish that office and make way for Wickremesinghe. This was one of the main reasons that prompted Premadasa to publicly announce that he would not agree to any "conditions". Wickremesinghe agreed and the talks were wrapped up. Talking to the media after the Working Committee endorsed him, Premadasa declared, "I am supremely confident that I could win."
Pushing ahead with the talks with Premier Wickremesinghe were Malik Samarawickrema, Kabir Hashim and Ranjith Madduma Bandara. The fourth, Mangala Samaraweera, took a break and was in Singapore this week. He, however, returned for the last round of talks and attended the Working Committee meeting.
Renewed SLFP–SLPP dialogue
As revealed in these columns last week, President Sirisena was livid that the SLPP had paid the deposit for its presidential candidate with no intimation to his party. Senior SLPPers learnt that Sirisena was being egged on by two key SLFP stalwarts to hit out at the SLPP and take other "punitive measures." A verbal barrage was due from Sirisena when he addressed the SLFP Matale District convention on Saturday (September 21), they learnt.
The duo was also accused of making attempts to keep SLFP deputy chairman Nimal Siripala de Silva from attending the Matale district convention for fear that he may again advocate that the SLFP supports the SLPP. He said so earlier at a meeting of the SLFP parliamentary group where all parliamentarians present (except two) endorsed the move.  For this purpose, they had telephoned another party member, a former minister, and asked whether de Silva, who was attending a funeral in Kegalle, be persuaded to spend a few hours there. That would prevent his participation at the convention. The ex-minister was asked not to mention at whose request this was being done.
SLPP and Opposition Leader Mahinda Rajapaksa who learnt of the actions of these two SLFP front-liners who were fronting Sirisena's name for their actions, went into damage control mode. He told Sirisena in a telephone conversation that even he had not been aware until the deposit of candidate Gotabaya Rajapaksa was paid. He also said politely that Sirisena should be vary of others who were projecting their own agendas as those coming from the President. One source said that the move to pay the deposit was prompted by astrological considerations. Moreover, it had to be done before Gotabaya Rajapaksa concluded other important engagements that week, the source said.
However, de Silva did turn up late at Matale. At the residence of parliamentarian Lakshman Perera, both Dayasiri Jayasekera and Mahinda Ameraweera, took him to a room in the house where President Sirisena was staying the night. There was a discussion. Eyewitnesses said later that de Silva walked out of the meeting but did not give reasons to those present.
Mahinda Rajapaksa's call appears to have had a soothing effect on Sirisena. The President did not "attack" the SLPP at the convention. This time he asked Nimal Siripala de Silva to take over the dialogue with the SLPP and report back to him. That was how he formulated the draft MoUs. Of course, Dayasiri Jayasekera was also talking to some SLPPers though it is not clear whether he was aware of Sirisena's move. SLPP architect Basil Rajapaksa telephoned Jayasekera to explain how the deposit came to be paid. He insisted that it had nothing to do with the SLFP. He pointed out that when SLFP-SLPP talks were under way, the former had written to the National Election Commission (NEC) saying the party would field a candidate for the presidential election. "Our party did not raise objections over this," Rajapaksa pointed out. He added that it was "most unreasonable" to demand a change of symbol at the "eleventh hour." SLPP leaders have now become vary of the two front-liners. They accuse them of pursuing their own line claiming they were instructions from President Sirisena.
Though a dialogue has begun, there is little choice now for the SLFP. It would have to accept candidate Gotabaya Rajapaksa and the reality that he would contest under the Pohottuwa symbol. President Sirisena has now climbed down to back Gotabaya and his MPs now want the change. As for the other issues, like quotas for candidates at different elections, the SLFP would have to wait until the presidential election is over. Earlier, the SLFP had insisted that the symbol of Gotabaya Rajapaksa should be a Chair or another "neutral" one.
President Sirisena chaired a meeting of the SLFP parliamentary group on Friday night at his Mahagamsekera Mawatha residence. It was to win the approval of the MPs to join SLPP-led Sri Lanka People's Alliance (SLPA). The two-hour long meeting saw a majority of the 18 MPs present making their views known. President Sirisena told the meeting that they had two broad options. One was to ask the SLPP to change its symbol or for the party to field a candidate. Both Nimal Siripala de Silva and Ranjith Siyambalapitiya made an appeal that the SLFP should join the SLPA without making an issue over symbols and support the candidature of Gotabaya Rajapaksa. Others who spoke included Mahinda Samarasinghe, Duminda Dissanayake, Mahinda Amaraweera, Lakshman Wasantha Perera, Faiszer Musthapa and Thilanga Sumathipala.
An eleventh hour turn of events has helped President Sirisena to engage in an exercise to save face. He had earlier placed some tough demands from the SLPP and conducted a backchannel dialogue with Sajith Premadasa and backers. That was for a role for him though among the Premadasa loyalists themselves, the move met with bitter opposition. Those who rejected the idea said such a move would only cause more voter losses to Premadasa and give rise to talk of a "conspiracy." Close loyalists of Premadasa are now steadfast that they should have no links with President Sirisena over anything related to the presidential poll.  Sirisena is now keen that he should sign the three MoU with the SLPP before October 7, the date for nominations. In a bid to carry along his MPs, he is once again insisting on the change of a symbol. The failure of this move could have disastrous consequences to the SLFP since its MPs have been in backchannel talks both with the SLPP and the UNP. It will also leave Sirisena politically stranded with fears of a lower placement if he contests.
SLPA Constitution
In terms of the 13-page Constitution, now approved by partners of the SLPA (other than the proposed approval by the SLFP), the alliance's main party, the SLPP, would be entitled to most representatives in the Executive Committee, the controlling body. It would not exceed 55 percent. Every political party which signs the SLPA constitution is entitled to appoint three members.
The leader of the executive committee should be the leader of the SLPP.
In appointing office bearers to the alliance, the power will be vested in the executive committee. The three key positions — the Leader of the alliance, the General Secretary and the Treasurer — will be from the SLPP. The positions of SLPA Chairman and National organiser will be given to two other parties in the alliance. Every other party at formation of the alliance will receive one Deputy Chairman Post and one Deputy Secretary Post.  Future nominations for elections will be decided by the Executive Committee. Disciplinary action can be initiated by the respective party in the alliance against its members.
More objectives of the SLPA have been added in the updated and approved Constitution. Among them are:
 Protecting the unitary status and sovereignty of Sri Lanka whilst ensuring that national security is not subjected to any threat from local or foreign forces and preventing division of the country.
 The Alliance will not allow any person to act against any community and would ensure that the identity and cultural heritage of the communities are accepted and protected.
 The Alliance ensures that it would not allow any kind of violation of human rights, religious extremism and other extremist trends.
 Will ensure that the war heroes who served the country by sacrificing their lives and limbs to protect the country during the 30-year-old war would not be taken before war tribunals and prevent any action being taken against them. Also, dignity of war heroes would be preserved, and anyone would not be allowed to undermine them.
  Priority given for Buddhism in the Constitution will be protected while the right for the people to follow their own religion according to their conscience will be ensured.
 Promoting and strengthening unity and co-existence among all groups.
 Improving state intervention in strategic economic locations such as the state banks, petroleum, power, water and transport sectors and preventing privatisation, thereby ensuring stability and sustainability while improving them in a manner to gain more benefits to the public.
  Giving priority to talent and research experience in appointing officials to key positions in the state sector.
 Ensuring that the Private sector can carry on with their business in a free manner and providing protection to local entrepreneurs.
  Changing unfair taxes imposed on the public and entrepreneurs.
  Protecting the natural resources such as clean water, fertile soil, trees and clean air as a basic right of the future generation and without sacrificing these resources for any other benefits.
  Ensuring that no persons are affected by the non-implementation of the law and accepting the rule of law while ensuring that all citizens are equal before the law.
  Ensuring that politicians do not acquire state resources and public property illegally and in the event if such property has been acquired taking measures to re-acquire such properties.
 Taking bribes to provide public services and to provide to the public their entitlements will be considered a serious offence and eradicating bribery.
  Taking steps to ensure safety of public and taking action to prevent social crime by initiating action on persons irrespective of their status.
Sri Lanka People's Alliance on October 5
This agreement is due for signing on October 5 at the Convention Centre at D.R. Wijewardene Mawatha. The SLFP wants to make sure that with the approval of the parliamentary group and the central committee, it would be able to join in.  The date is just two days before nominations. Thereafter, on October 8, the SLPP will hold its first polls rally in Anuradhapura.
Yet, SLFP General Secretary Dayasiri Jayasekera was critical of the SLPP at a news conference last Tuesday. He charged that the SLPP was "thinking highly of it" and warned he could not forecast the fate that would befall it since the SLFP did not want to be accused of disrupting the talks.
"The larger portion of the people's power is with the SLFP and the parties that support leftist ideologies and the SLPP.  We are looking at the talks in positive way. We are not running after conditions; we are imposing conditions to preserve and safeguard our party. There is still an issue regarding the symbol and that issue is still remaining," he said. However, with the decision to field Sajith Premadasa, the equation has changed considerably.
Even if the number of candidates goes to two-digis, two contenders are of some significance. The known one is Anura Kumara Dissanayake, leader of the Janatha Vimukthi Peramuna (JVP). He is contesting under National People's Power (Jathika Janatha Balavegaya). Another new entry is General Mahesh Senanayake, the second General in the Army to enter a presidential fray. The other is Sarath Fonseka. Gen.Senanayake is contesting from the National People's Party (Jathika Janatha Pakshaya), a party held by Srinath Perera, a former state attorney who is now in the private bar.
Wickremesinghe's woes
For Ranil Wickremesinghe, his four-and-half-year tenure as Premier has seen many ups and downs. The worst came with his estrangement with President Sirisena, an issue of cohabitation which he had even with a previous President, Chandrika Bandaranaike Kumaratunga. In October last year, he was removed from office as Prime Minister and President Sirisena foisted Mahinda Rajapaksa. It lasted 52 days till the Supreme Court ruled that it was a violation of Sri Lanka's Constitution – the first time ever by a President. Though, Sirisena publicly declared that even if 225 members in Parliament wanted it, he would not re-instate Wickremesinghe as Premier, this was exactly what he did eating his own words. Despite assurances of party reforms, Wickremesinghe has often delayed them. The issues he faced over a presidential candidate could have been nipped in the bud instead of it growing like a giant Jak tree. He failed to see the undercurrents, engineered by his own one-time loyalists, and failed to act. Alas, he has been denied the presidential candidature in 2010, 2015 and now 2019 presidential election.
He has a lot of re-thinking to do not only about his own role, but also about those around him to discern whether they always projected the right picture to him. He did not forge a relationship with Sirisena due to a tinge of arrogance and fell out with him, and then did not forge a relationship with his own deputy, Premadasa.
Sirisena's setbacks
It is no different for President Maithripala Sirisena. He was blurred badly by his animosity towards Premier Wickremesinghe. Those who were in the Presidential Secretariat blame the breakdown of the relations on both sides, and those who were having personal axes to grind with Wickremesinghe, installed by third parties, for winding up Sirisena over and over again against Wickremesinghe. As a result, he lost sight of national priorities, contemptuously ignored good advice and embarked on a voyage of contradictions. He alienated his cabinet and party colleagues, did little or nothing to shore up national security and went on placing unsuitable persons for top positions. Lives have been lost and the country's image has been shattered.
Once he told a heated Cabinet meeting that if there were unfair moves to oust him, like Hanuman, he would set fire (to his tail) and burn everything down on the way. He has not done so. That was only a threat. However, at the end of the day, he has turned for mercy and support from the very man whom he ousted and berated on public platforms repeatedly – Mahinda Rajapaksa. That speaks volumes in the country's political history. Like the pithy Sinhala saying, Kappanna beri atha, imbinna venawa or one must kiss the hand which cannot be cut off. For Sri Lankans, with a presidential election in weeks to come, they could only pray these are things of the past and will not recur. After all, Yahapalanaya or good governance has become a dirty word.