On rude political satires and the (possible) upending of an old order
View(s):

Two manifestly glorious ironies occurred this week. A former President cautioned against a return to what he termed 'the Premadasa era' and a former Chief Justice lamented that, during the 'yahapalanaya' years, the independence of the Sri Lankan judiciary had been lost.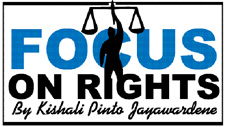 Strange logic and stranger contradictions
These claims may have been dismissed with nary a scornful sniff if it was not for the stunningly hypocritical context in which they were made. Former President Mahinda Rajapaksa's reference to the 'tyre killings' of Sinhalese youth during the Ranasinghe Premadasa Presidency at an event hosted by local entrepreneurs in Colombo drew, on predictable cue, cries of assent from an adoring crowd. But these repeated references by the former President sharpens a major paradox of which surely he must be all too aware.
The pointing of one finger at killings of civilian Sinhalese during the quelling of the second Southern insurrection during Ranasinghe Premadasa's time as inhumane butchery invariably results in four fingers of that same accusing hand being directed backwards at the Rajapaksas themselves. So when civilian Tamils were killed during the Rajapaksa decade, was this reckoned to be a necessary evil? Legend has it that when King Dhutugemunu was mourning over the killing of the invader, King Elara and hundreds of Chola soldiers, his sages came to him and asked him why he was disturbed. On being told the reason, they asked him not to grieve, saying 'O King, do not be sad, only one and a half persons have died.' Is this the logic employed to explain the strange contradiction whereby a politician can wax eloquent on 'Southern' killings as it were, but summarily disregard their 'Northern' equivalent? Let us not forget further that the Rajapaksa Presidency was marked quite extraordinarily by the killings of editors, journalists and dissenters and for good measure, anyone who offended the 'first family', (of which the most egregious example was the murder of ruggerite Wasim Thajudeen). As the former President lectures to the public regarding 'the Premadasa era', he may well keep in mind that this is a loathsomely slippery slope that he is on.
A Chief Justice and the ironies of his time
Meanwhile, ex-Chief Justice Sarath Silva expostulated at a 'Viyath Maga' conference this Wednesday that the facade of good governance has eroded Sri Lanka's judicial independence 'entrenched since colonial times.' Quite apart from his apparent amnesia regarding the disgraceful impeachment of former Chief Justice Shirani Bandaranayake by the Rajapaksas, this warning is hilarious given the International Bar Association's 2001 excellent assessment of multifarious assaults on the judicial institution under the turbulent Silva Court, ('Sri Lanka; Failing to Protect the Rule of Law and the Independence of the Judiciary', 2001). That report particularly centred on the undermining of the Judicial Service Commission (JSC). Eminent international jurists pointedly observed that they were, 'very troubled to hear complaints regarding the conduct of the JSC, disturbed to learn that judges are being threatened with removal from the bench, transfer to distant courts and demotion, and that these threats have been carried out in some instances…(and) appalled that judges were fearful of meeting the delegation for fear of repercussions' (at page 34).
The IBA report is just one of many other similar assessments at the time.  Interestingly, the former Chief Justice's remarks this week were apparently occasioned by the recent scandal over the taping of a phone conversation between the second most senior law officer of the Department of the Attorney General and a suspect in the controversial Avant Garde case. This, as in many other instances, beats a trail to the door of former President Mahinda Rajapaksa's brother, onetime Secretary, Ministry of Defence and now Presidential candidate of the 'Pohottuwa' party, Gotabaya Rajapaksa at whose office, the ex-Chief Justice held his press conference. In this conversation, the law officer who is now reportedly interdicted, is recorded as saying that she can both 'make the law and break the law.'
As insensibly shocking and exceedingly distasteful as this may be, was this not precisely what had been happening during previous decades, in the inner sanctum of the Attorney General's Department as well as (after 1999), even by the Bench? No one was, to be brutally frank, foolish enough to be caught on tape in this way but the subversion was patently clear, nonetheless. To cite these numerous instances would take far more than the limited spaces of a newspaper column. To that extent and despite acknowledged aberrations, restoring a measure of public respect to Sri Lanka's judicial and prosecutorial arms has been a signal achievement of 'yahapalanaya' rule. Much more has to be done but at least a start was made.
Attitudinal changes between then and now
Yet as this peculiar Presidential race counts down to its nail biting climax, there is no shortage of idiocies. Chief among these is the palpable dithering of those who unhesitatingly accepted the candidature of Sarath Fonseka in 2010 and of a (relatively unknown) Maithripala Sirisena in 2014 as the political face leading the anti-Rajapaksa campaign at the polls. As they stammer and stutter at a Sajith Premadasa Presidential candidacy, holding forth on 'lack of experience', 'lack of national stature'  'lack of maturity' etc, legitimate questions arise.
In 2010, the common candidate was a former Army Commander with a fraught record of complicity (taken at its best) in gross human rights abuses and who, moreover, was singularly unable to keep his unruly tongue in check. Even so, he did not meet the barrage of hostility now directed at the younger Premadasa by a few 'progressives.' Why this sharp attitudinal change between then and now, pray? It does not need remarkable mental agility to answer that question. Unlike in 2010 and 2014, leader of the UNP, Ranil Wickremesinghe cannot be safely presumed to be the virtual power on the throne with a Premadasa candidacy. Hence we see the lamentations.
That said and to be clear, this is not to be blind to risks attending a Premadasa Presidency but to pinpoint hypocrisies that stare at us. Certainly, to bewail the poor choices before the electorate is to state the obvious. It is also to reiterate that much of this is due to the uncritical 'co-opting' of 'yahapalanaya' voices into Government ranks in 2015 with consequent failure to speak out when things went clearly wrong.
A signal consideration that must weigh more than others
Indeed, the paucity of this country's intellectual leadership is reflected not only in the candidates of political parties but also in the clownish lineup of 'independents' basking in banal rhetoric even as they scuttle around posing for publicity. The Janatha Vimukthi Peramuna's third front has an exceedingly long way more to go in this Presidential poll even though it may certainly be to the good if it gets more parliamentary seats at the general elections that will follow next year.
In short and as reflected on previously, Sri Lanka does not have the luxury of choices between 'better' or 'best' candidates in these upcoming Presidential polls. The greater enemy remains the same, in fact, now more so. The 'Pohottuwa' candidate's record, besides infamously chequered, is framed by war mongering rascally Viyath Maga types that surround him. Some openly advocate the death penalty for 'anti-patriots.' The prospect of such malcontents frothing at the mouth being thrust into executive office is truly nightmarish.
Absent a significant change in that ugly posturing, that potential great danger must surely precede each and every other consideration.