First song release for 'Rush'
View(s):

The first song release and the Press show of the Sinhala movie 'Rush' was held last week at Savoy Premiere Wellawatta.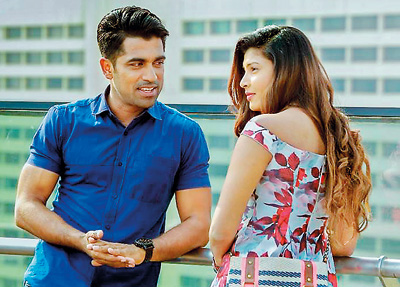 Directed by Mahesh Munsinghe and co-produced by Wasantha Wijendra and Rum Motion Pictures, 'Rush' is a romantic film about love and sacrifices.
Music directed by Eranga Jayawardena and the lyrics of the songs are penned by Nilar N. Cassim and Kelum Srimal.
It's about how a youth named "Rush" finds love and to what length he goes to keep it. He deceives his lover's family and sacrifice himself for the sake of the girl he loves. When the girl he loves has no clue who he is, and pretends to be the guy that girl's parents hoping to wed their daughter to.
Rush' who pretends to be 'Shan' is confronted by 'Shan' and hell breaks out. Pooja, the woman of his dreams is torn between her feelings for Rush and finding the truth. As she unravels the truth, she is challenged to face great grief and come to terms of what love can do to a person.
Iresha Asanki De Silva, Uddika Premarathna, Isuru Lokuhettiarachchi, Yureni Noshika, Saranga Disasekara, Sanath Gunathilake, Anula Karunathilaka, Lucky Dias star in this movie.