Brush strokes that imitate life and more
By Yomal Senerath-Yapa
The Mirror Magazine speaks with artist Swendrini Gunasekara as she and her nephew get busy in preparation of 'A Million Dreams' - an exhibition to be held at the Lionel Wendt Gallery
View(s):
Swendrini Gunasekara likes to blend into her atelier- with its cool kumbuk floors and low ceilings, littered with wooden antiques and easles. Its threshold is crowned by an antique frieze, out of whose sculpted wooden floral scrolls blossoms goddess Gaja-Lakshmi.
When she is not in the atelier, Swendrini would most prefer to be discovering an ancient Raja Maha Vihara in a rural dry zone- enjoying the calm and peace of a rustling bo shrine, cool dark temple caves with layers of palimpsest murals, and isolated stupas on windswept beacons. Or a mosque, or a veranda house, or a Dutch church.
But before she plunged in search, the serene souls of viharas and old buildings, 'Swen' once was just as psychedelic a painter as any other little girl- delighting in pink oceans and neon green skies and purple people.
She had to lose that blissful fantasia, but it was replaced by better things- "a deeper perspective of form, clarity of design and a better understanding of the world around me."
But the child still peeps out endearingly. Swen's canvases do not just imitate life. There is a thick patina of imaginary magic- a spontaneous childlike joie de vivre of the kind that marks Barbara Sansoni or- on another plane- Quentin Blake.
Her portrait of seashells on a beach combine a natural historian's fascination for detail with visual poetry. Her white stupas radiate spiritual grandeur, a natural beauty of composition and a pioneering antiquarian's delight in archaeological detail.
For helping discover her individual style, Swendrini is eternally grateful to her teacher Ruhani Rambukwella. She is one of those rare mentors who 'never lets her style and her view influence the work of a student.' Ruhani's first principle is to 'only guide a student along his or her own style and creativity.'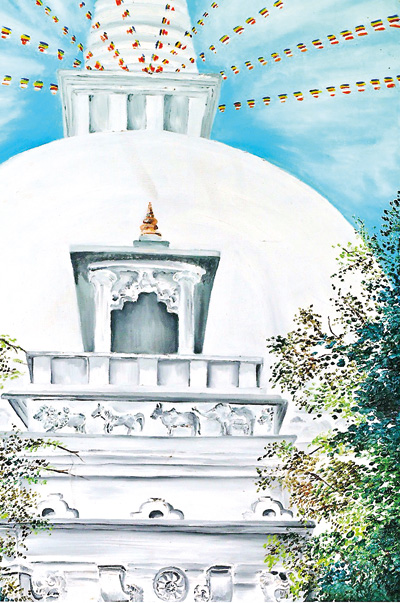 Swendrini prefers to unwrap the poetic beauty of things local- to bring out an indigenous charm- something with roots in the soil- native born and bred. Her white water lilies have petals that recall those held coyly by the Sigiriya damsels. They dance like sea anemones.
Though most of the time she paints from life, in situ, she can capture a photo from an odd angle, and make a canvas of it at home at leisure. Her scenery is haunting, like her creation of a late autumn scene in a park, where she brings out the leafy russet red and orange dusky poignance (and sweet overtones of death) of a dark November nightfall.
Joining her would be her nephew, artist Eyan Pereira, a 12-year-old student of S. Thomas' College, Mt. Lavinia. Eyan is an ardent birdwatcher, studying under Royden Gibbs, and creates hazy pale portraits of paradise flycatchers or minivets against misty green canopies, or
waterbirds against blue ones.
The two of them will collaborate in a poetic odyssey capturing the hidden beauty of Lanka's secret heart- some hidden in plain sight, all divined with two pairs of startlingly sensitive and subtle eyes.
Be there at the Lionel Wendt Gallery on Sept. 28 – 29, when the exhibition and sale will run from 9 am 7.30 pm.