'Curiously Intimate' Wedding Fair
View(s):

For the second consecutive year, the Mövenpick Hotel Colombo will be hosting its 'Mövenpick Wedding fair'. Working alongside the theme of 'Curiously Intimate', the event will take place on the 28th and 29th September at the hotel.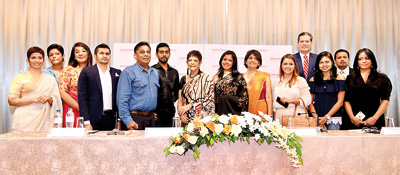 A press conference was held on Tuesday, the 17th of September together with the Management, partners, sponsors and media, whereby the Management further explained the concept and theme behind this 'Curiously Intimate Wedding Fair'.
With twentyeight carefully hand-picked and selected partners from the industry, the exhibitors have been invited to create and transform the spaces allocated to them to make this event a resounding success once again. The exhibitor list includes Charini Suriyage, Celebrations with Yasmin and Heshran Wedding Decor, Two Rings, Studio U, Nadun Baduge, Melache, KR Designer Bridal, Kingsman Studio, Hameedia, Fashion Fabrics, Caked by Amna, Michael Wijesuriya, The Wedding Project, Weddings by Shero, The Flower Place, Shine by Sanjeewani, Frances Decor, Wedding Connections, Elegance by Design, Stone-N-String, Sifani, Alankara, Robed Gift Works, Estheti Centre and Colombo Card Factory. SriLankan Airlines is the official Airline Partner while Brides of Sri Lanka will once again partner up as the event's exclusive bridal magazine. ODEL Home will be one of this year's sponsors together with Softlogic Life and Pulse has come on board as the official online partner.
'Mövenpick Weddings – Curiously intimate' aims to display the creativity produced within this industry, enabling them to showcase their talents freely.Last year, Mövenpick Hotel Colombo successfully launched its first ever 'Mövenpick Weddings' by introducing a brand-new intimate concept to the city. The event was a resounding success with over 350 visitors attending the wedding fair.
The event is open to the public on Saturday and Sunday from 10.00 am – 7.00 pm inviting all future brides and those interested in an intimate wedding the heart of Colombo.
To find out more, call 0117 450 450 or email hotel.colombo.sales@movenpick.com