Military minds discuss security threats, response strategies
View(s):

The ninth Colombo Defence Seminar which brought defence partners to Colombo this week saw insightful intellectual exchanges on challenges of religious extremism, under the theme of 'Evolving Military Excellence in the Contemporary Security Landscape' in the aftermath of the Easter Sunday attacks.

At least 800 local and world-wide defence partners, strategists, policy-makers, security experts and analysts, capable of collectively evaluating fast changing global security concerns took part in the two-day conference on Thursday. It was followed by thematic concerns for discussion in depth under nine sessions.

President Maithripala Sirisena, Commander-in-Chief, was chief guest at the invitation of the Commander of the Army, Lieutenant General Shavendra Silva.

Gen Silva highlighted the importance of broadening horizons of knowledge on contemporary defence, security and challenges.

"It is not only an effort to share victorious gains, but also to learn about debacles and it is an exercise to receive and process information among like-minded nations. Future threats and challenges need to be resolved in line with most modern triple bottom line concept, etc where new challenges are identified," he said.

He also asked how the military will operate in a multicultural society setting and how 'complexity theory' could be applied in unraveling the unknown.

"This broadened discourse focused on scope of security and its challenges would certainly generate a forum that would stimulate critical thinking on geo-strategic security matters. These carefully articulated themes would analyse emerging threats and disruptions, for which the armed forces are the first to respond in any land. It also provides a platform which could shed light on promotion of military excellence," Gen Silva added.

General (Retd) Shantha Kottegoda, the Secretary for Defence, in his opening remarks underlined the need for all-time preparedness and to address critical security developments that would directly impact the livelihood of humans.

"In my belief, a joint strategy is much more workable than individual efforts in combatting terrorism as most of the threats we face today are emerging from beyond our territorial limits and jurisdictions. Such joint strategies should be with outward focus to address capacity building projects in areas such as gender equity, youth engagement, education and skills development, as a means to prevent and counter violent extremism conducive to terrorism," Gen Kottegoda said.

He also highlighted that religious extremism is another root cause of conflict in the Indian Ocean region where religiously motivated extremist groups have become a threat to peace and stability in the region. Such militant entities and the nation states that are being affected by this cause too have become active players in the military modernization and developments in the region.

"Most importantly, this situation has presented an opportunity for the external global powers to actively involve in the regional security issues and to maintain a military presence and bases in the name of global security and stability," the one time army commander added.

In his keynote address, Nitin A. Gokhale, an alumni of the Asia-Pacific Centre for Security Studies in Hawaii and a media entrepreneur, strategic affairs analyst and author of books on military history, insurgencies and wars opined that some of the asymmetric wars have cropped up from weak states and the approach for traditional core values appear to be not applicable.

"Others related to the rise of global terrorist networks in this new reality victory in conventional battlefields are no longer transferred into the 'mission victories' and in conflicts, like in Afghanistan this is obvious, as we are witnessing. It is highly unlikely a formal surrender from the likes of ISIS similar to Bokoharam would take place," Mr Gokhale noted while emphasizing strategic geo political competition among a few economically powerful and regionally dominant states result in sail of techtronic ships, like what happened during the cold war.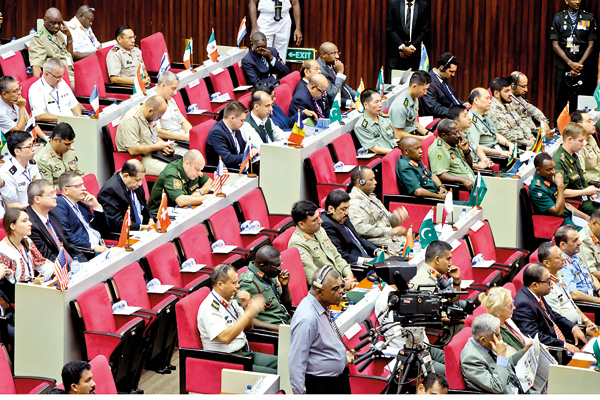 Pointing out that he was in Sri Lanka to report on Eelam War IV, Mr Gokhale said that the success of the Eelam War IV was due to political, diplomatic and military sector operations.
"The future is always unpredictable and the next war will not come with any warning and it will be a time-tested one in the battle between both governments and militaries. Most of the enemies of the nations are not from outside but they are in within as mass migration, drug trafficking, natural climate disasters affect them.''
Foreign participants, representing 42 countries includes 13 foreign and 14 local speakers where a trajectory of intellectual interactions covered sub themes; 'Contemporary Security Landscape Conflict or Cooperation', 'Confronting Terrorism', 'Military Modernization' and 'Military Readiness in the Contemporary Security Landscape', complemented by presentations of participating experts and comments of expert panels at the end of each session.
Participants and foreign delegates included high commissioners, diplomats, military chiefs, foreign envoys, governors, retired army chiefs, defence attachés, secretaries, senior officers, retired senior officers and an assembly of scholars and defence partners.