Could one person's trash be another's treasure ?
This week The Mirror delves into the various groups and charities that have come forward to help give new meaning to 'pre-loved' items and offering for some opportunities to declutter
View(s):
Consumerism is one of the biggest offenders in terms of wastage and environmental pollution. In this context secondhand goods play an important role when it comes to minimizing these threats.
As the saying goes, one man's trash is another man's treasure – and there are new homes waiting for the pile of books you no longer have space for, or the old shirts you have grown out of or probably never worn. This week, we have rounded up a few groups that give new life to pre-loved items, proving that secondhand does not mean second best.
Book Swap Colombo
Nadeesha Paulis believes that though she is a writer by profession, she is entirely dedicated to being an advocate for conscious sustainable living that doesn't harm anybody in the process – from menstrual cups to general sustainable living.
Before her journey in mindfulness began, book-loving Nadeesha started Book Swap together with her mom when she realised that there was a "balance of what you want and what you need" when it comes to affording books. As such, the basic premise is that one person can bring in whatever books they have that they don't mind swapping for others.
What started as an effort to exchange books between friends on Facebook soon evolved into a much larger community which culminated in monthly events where people met up to exchange books. "The whole concept of Book Swap is based on giving. The more you give, the more you receive," Nadeesha tells us, adding that it has surpassed her expectation with how well it has been received and how lovely the community is.
Updates on the next Book Swap can be found on their Facebook page 'Book Swap Colombo'
Follow them on facebook.com/groups/ bookswapcolombo/
 The Book Hive
'The Book Hive' is a secondhand bookstore that stems from a combination of Charith Weerakkody's (32) love to read and collect books. He started the store back in 2017 whilst reading for his Science Degree at the Open University of Sri Lanka.
Since graduating, Charith continued the store and is fully invested in it today. Most of the books are imported from the U.K or India. When the books arrive, Charith would publish a picture of them on the page. The advantage of buying from the store, Charith tells us, is that buyers can get more books at a low price.
Charith would receive almost five to ten inquiries on a daily basis. In most instances, he is able to find the books the customer wants. They are then personally delivered by him, if the orders are within Colombo and the suburbs, or are transported via a courier service for places out of Colombo.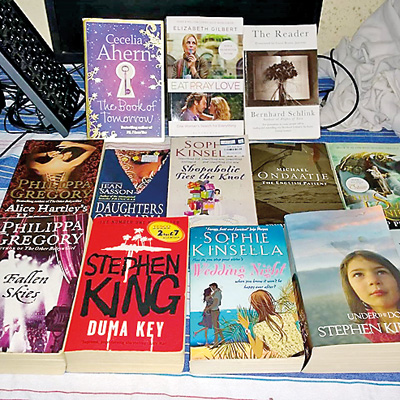 He tells us, sometimes people would also ask him to buy their used books.
Prior to purchasing books Charith checks the books for quality and then decidea on a price for them.
Charith firmly believes his bookstore contributes to protecting the environment as well. He explains that trees are used to make paper and by re-reading a book, you're essentially saving several trees.
Readers can get in touch with the store by sending a message to "The Book Hive – Sri Lanka" via Facebook at the following link :
www.facebook.com/groups/bookswapcolombo/
Chibby's Closet
One of the many curious stalls at last Saturday's Good Market at Colombo Racecourse, 'Chibby's Closet' made their third outing selling donated secondhand clothing items, homeware, bags and accessories. It is a project by non-profit organisation Chibby's Friends and House of Hope, to support children under 18 with lifelong and incurable diseases.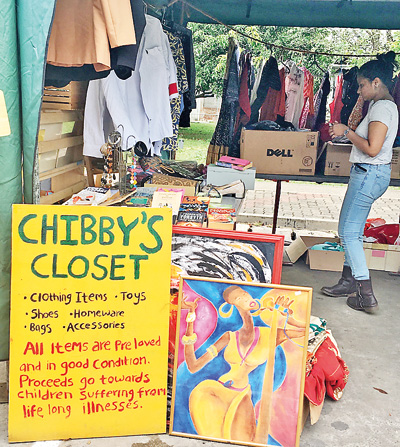 Projects and Events Coordinator Ayodya Abayasiri tells us that since providing uninterrupted financial assistance is tough, 'Chibby's Closet' hopes to bring in those much needed funds. The team asks for donations of pre-loved items in good condition on their social media platforms and sells them at their pop up events, with all proceeds going to the children.
As Ayodhya tells us, the organisation is also all about supporting sustainability and environmental friendly projects – such as as their monthly beach cleanups.
As such, selling secondhand items fits right in with their ethos. It also has the added bonus of promoting thrift shop culture in Sri Lanka, which is hardly unheard of.
For updates on the next thrift shop events as well as other projects, follow their Instagram page @chibbysfriends
The Store
Similarly, The Store located in Thimbirigasyaya was also created to assist with funding and support for children with special needs. Headed by non-government organisation Women.lk and CHA (Centre for Humanitarian Affairs), all proceeds go to their in-house programmes.
Amidst the jumble that is the remnants of their last sale, Project Associate Lithmi Gunawardana tells us that 'The Store' was started in part because of the clothing donations that they didn't know what to do with.
Now they take inventory of all the items they receive, decide if they're in good condition or not, and build up enough for a sale on the last week of every month.
However for every item in good condition, there's always something that cannot be sold, though the environmentally conscious team sees that as a challenge. "The whole point is to not throw away the clothes!" Lithmi tells us, and as such they also include a 'free pile' for people who want to repurpose the items, and are looking to upcycle torn sarees and clothes into tote bags, purses and scrunchies
"It's a bit of work! But we've done about 5 sales now, and it's been growing," Lithmi says, though she adds that 'The Store' is looking for a donation of a permanent space for a thrift store that can substantially support the charitable work and projects that the organisation runs.
For donation information and updates, The Store functions entirely on Instagram @thestorelk