Bringing onscreen art to life
Young artist Aishwarya Tennakoon shares with the Mirror Magazine his love for sculpting and crafting through the creation of his dioramas
View(s):
Young sculptor Aishwarya Tennakoon's amazing work has caught the eyes of many cosplay fans that have been impressed with the intricacy and the detail that goes into his pieces. Working under the banner of the Tenai Workshop, at 22 he is already quite experienced when it comes to sculpting.
A former student of Ananda College, he currently studies architecture at the University of Moratuwa. Since childhood, he has always had an affinity for crafting and painting he tells us. Combining this with his love for watching movies and cartoons, meant Aishwarya would spend hours as a child drawing and making miniature models and items related to films. He paired that with a collection of classic toys and action figures related to those characters from the movies as well, which he still continues to expand on even today.
Using bits of waste materials to put together his models, like cardboard, toothpicks, and regifoam, he tells us his collection was going along well, until he stumbled upon 'The Lord of The Rings' back in 2004. Aishwarya remembers wanting the props and action figures of the franchise but not being able to afford them. It was at that point he decided if he couldn't buy it, he'd make use of his skills and make it.
"So I started making small dioramas of buildings, props of weapons and costumes by using cardboard and paper. And I was satisfied with what I created even though they were not perfect. Ever since then making stuff related to movies and cartoons became my passion."
He shares that he enjoyed this a great deal, and his family, noticing it, did nothing to stop him. "They've never stopped me from drawing or crafting since I was a child," Aishwarya said, adding that his mother used to bring home the unwanted paper from work for him to use, while his father employed all his skills as an engineer to help with circuits and electronics when his work needed it.
Even at present, his mother helps with the sewing work for his cosplays while his father helps with the electronics. He adds that they're the perfect match to his workshop. Making it a wholesome family affair, his brothers also pops in routinely to help him paint the props.
Aishwarya says their continued support helped them to further his work until he got recognized by a whole community, to which he is very grateful to them.
Speaking about the founding of Tenai workshop, Aishwarya recalls how he used to put his work up on his personal social media profiles. These photos attracted people who began commissioning him to make sculptures and props for them.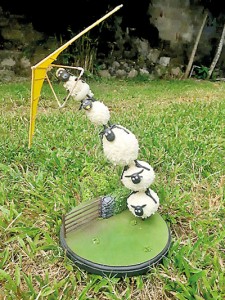 Eventually, he decided to turn it into a business. And then the commissions started flooding in, peaking around the time comic conventions and gatherings became popular. He received a lot of feedback, and among those suggestions was to start a page for his work. And so, Tenai Workshop came into being.
Mingling with the cosplay community, Aishwarya uses his sculpting and design skills to win the hearts of the cosplay community as well. This has made the face of Tenai Workshop (and by default, Tenai Workshop as well), reach a lot of new people. His cosplay in 2018 of Hiccup (How To Train Your Dragon) got him featured in international cosplay pages as well.
Aishwarya tries to choose iconic characters that have been sidelined by people as his cosplays. The unique criteria means that he needs to make sure his attention to detail is spot on in order for people to recognize his cosplay.
"And I get my inspiration from different sculptors, cosplayers and prop makers around the world. I follow their work on social media. So watching their reviews and tutorials keeps me motivated and makes me want to do better."
This attention to detail is what makes his work stand out among so many others.
Tenai Workshop is now a very successful two and a half year old venture. It has seen numerous sculptures, props, costumes and other merchandise being created under its name. It has also seen a lot of repairs to broken action figures and statues too! Aishwarya says, quite happily, that the feedback and comments he receives from his clients are very positive, and the number of commissions have only kept increasing.
For him, he says the best thing about sculpting, is that it helps him build his concentration and patience while being a huge stress reliever and the feeling he gets when he looks at a project he just completed is, he says, beyond words.
For Aishwarya, Tenai Workshop is more than a platform to showcase his talent and work it's also a place to create new friendships and make contacts. Aishwarya plans to someday make props and costumes for the local and international film industry. But until then, he says, he'll keep building, and sculpting, and focus on the little hurdles, like learning to use metal as a prop material.
If you want to check his work out, look for Tenai Workshop in facebook and instagram! at www.instagram.com/tenaiworkshop/
(Paramie Jayakody)